44 Elegant Valentine Room Decoration Ideas 2023
by
admin
January 3, 2023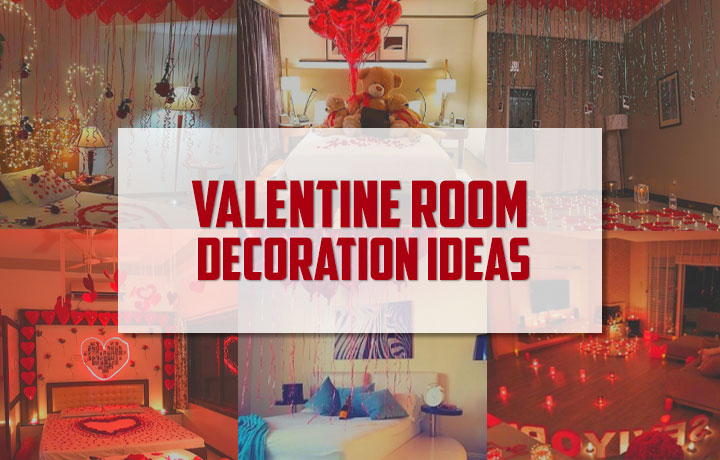 Do you want to do something memorable for your boyfriend or girlfriend this valentine? Do something close to the heart and unique that can bring butterflies to their stomach. Valentine's is all about love. Decorating a room is an ultimate way of showing your love. A room full of lovely stuff, dim lights, and air filled with love and compassion. It can add warmth to your lover's heart.
So, the question is how to decorate a room for valentine's day? Here are some ideas you can bring to life and surprise your loved ones this valentine's day.
Valentine's room decoration ideas for roofs
If you have a small roof or limited space, make use of roofs to decorate your room. Here you can find creative Valentine day room decoration ideas for roofs:
---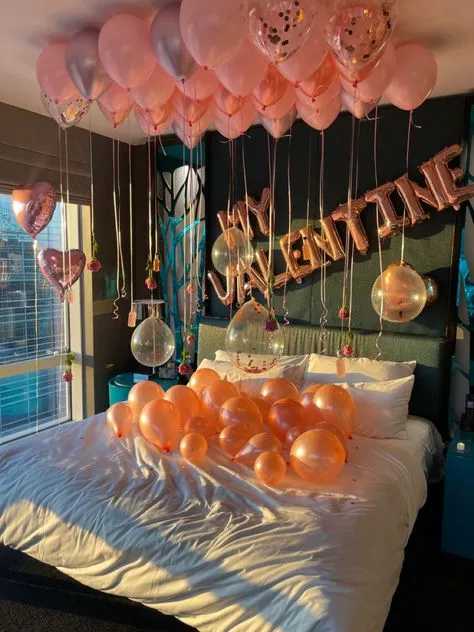 ---
Foil Balloons and Red Roses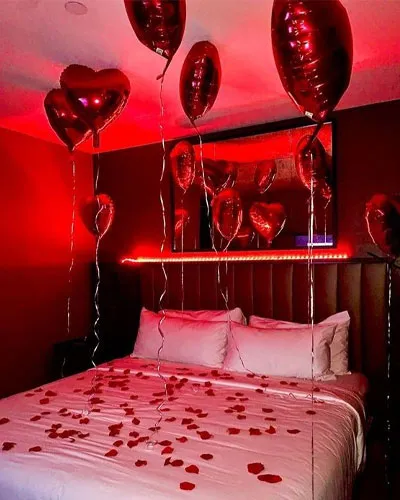 Who doesn't love balloons? And especially a room full of red balloons. You can decorate the roof of your room with heart balloons. Foil balloons nowadays are easily available in the market.
Buy some red balloons and leave them hanging on the roof as shown in the image. Flowers are a compulsory element of valentines day. Spread some flowers on the bed and you are all settled for your valentines day.
Latex Balloons with Hanging Pictures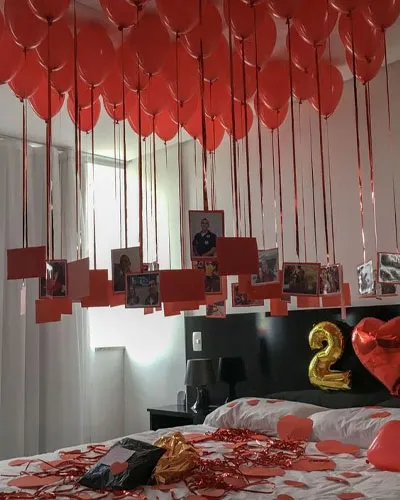 Other than foil balloons, you can use simple balloons to hang on the roof. Being creative and thoughtful is the key to decorating a simple bedroom into an elegant one. Develop some beautiful memories with your partner and tie them with threads of the balloon. It is a perfect idea for Valentine's day room decoration to surprise your girlfriend/boyfriend.
Contrast Balloons with Hanging Roses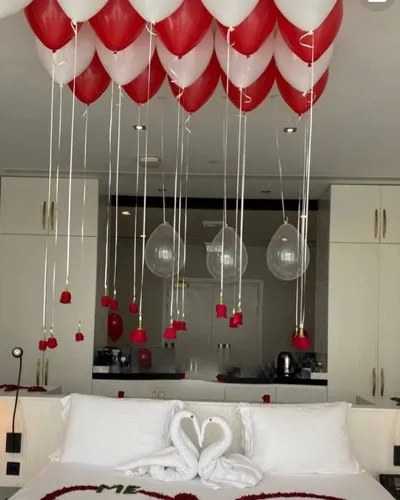 Use mixed colors of balloons like white and red. And use roses to hang with the threads of balloons. Be as creative as you can.
It is a simple way to just spread flowers on the floor or bed. Hanging the flowers inverted is a unique idea. It can give your valentine's day room setup a stunning and new look.
Valentine's day room decoration with cloth
If you don't want to spend a lot of money on flowers, make use of cloth to decorate your bedroom. Buy some gifts and flowers in small quantity to make your day special. Check how to use cloth for love day room decoration:
---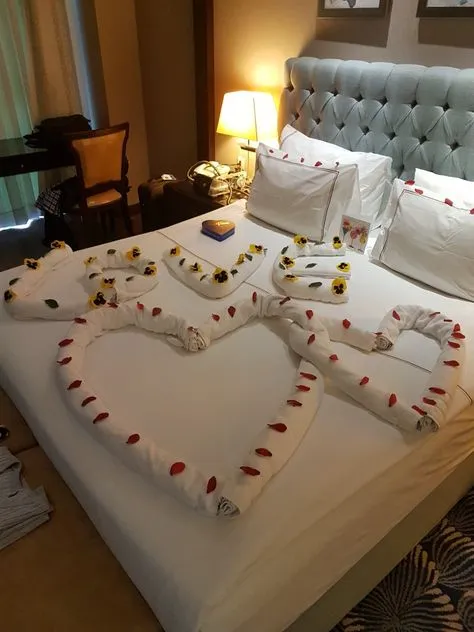 ---
Make A Heart With Red Cloth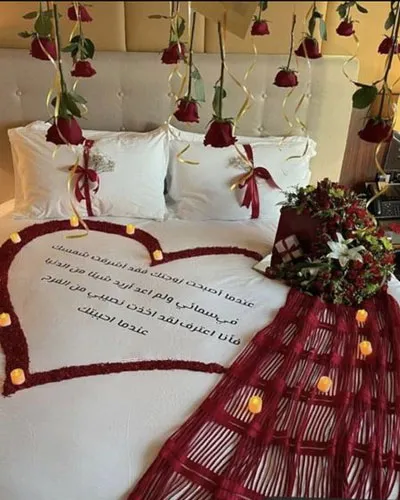 Not only the balloons can make your room look elegant. There are some other ways such as using cloth as a spreader on a bed. You can get the idea from the image given below.
Related read: Gift Ideas for 7 days before valentine's day
White Heart With Fresh Red Flowers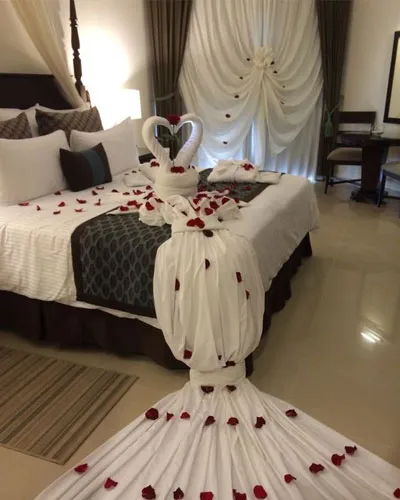 It is one of the best valentine's day hotel room decoration ideas. As this decoration is somehow difficult to do without a helping hand. If you are thinking of booking a hotel room, ask them to use cloth for the whole room decoration.
Make A Swan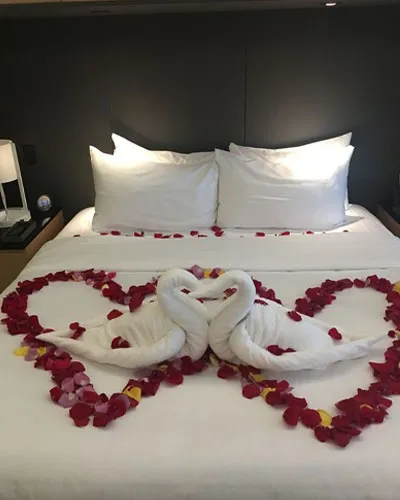 Swan is considered a sign of love. White is a sign of purity. Together it makes a perfect mood for your valentine. Use some red flowers to add a touch of grace. It is a great example of a romantic room decoration service.
Make Use of Different Items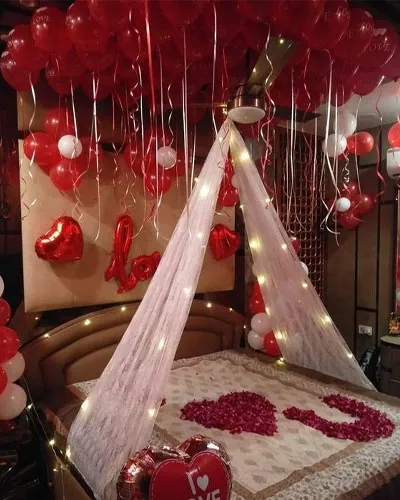 It is an easy valentine's room decoration idea. Use two vertical pieces of clothes and tie them with the fan. Use balloons, flowers, mini gifts, etc to add extra beauty and decoration to the room. Girls love these types of decorations so it is one of the amazing valentine's day room ideas for her.
Valentine bedroom lighting decoration
You can also use fairy lights or any other lights you have to decorate your bedroom for your partner. But be careful while doing anything with elecricity. Make your your spouse feel special for a never ending relationship. Scroll below for romantic valentine bedroom decoration ideas:
---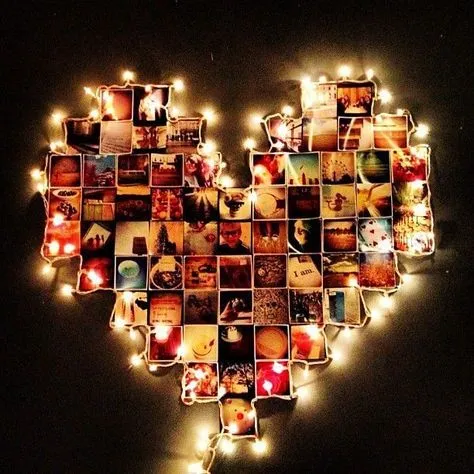 ---
Arrange Lights On The Floor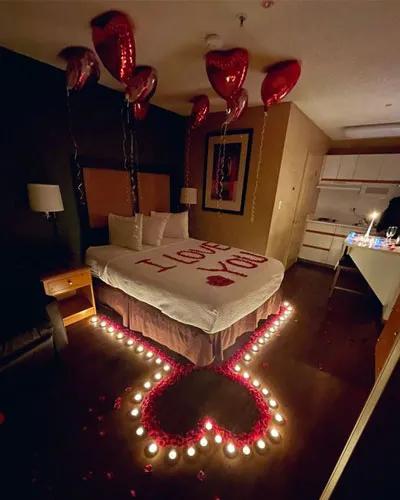 Use lights to light up your day. Lights add a great ambiance in the air. You can just arrange them on the bed or you can arrange them beautifully on the floor along with flowers. Or decorate the room according to the availability of the items.
Use Fairy Lights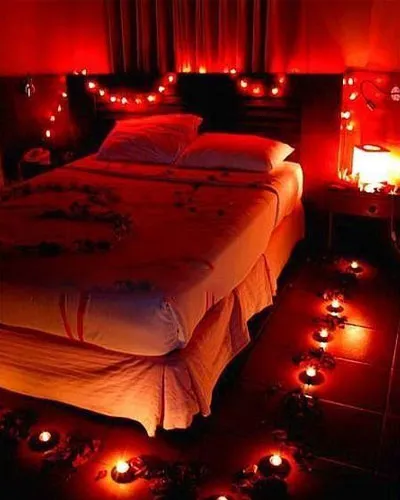 You can use fairy lights to decorate your valentine's bedroom. Arrange them on the back of your bed, on the bed or sides of your bed. You can use various colors i.e. red, white or golden as per your choice.
Garland Valentine room decoration ideas
Garlands are usually used for birthday decoration, but you can also use balloon garland for decoring your room on valentine's day. Check creative valentine room decoration ideas:
---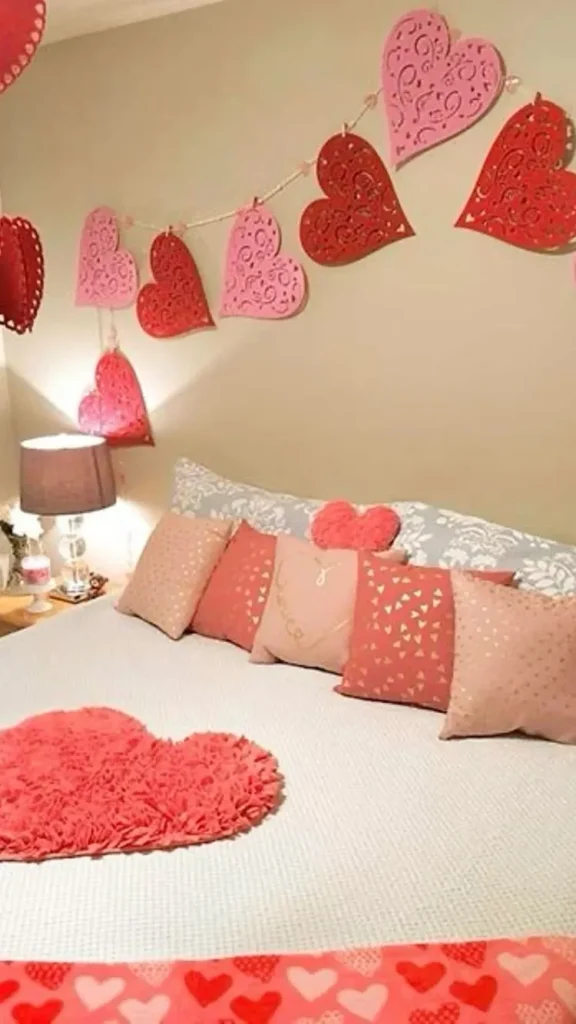 ---
Hearts Paper Garland Hanging On The Roof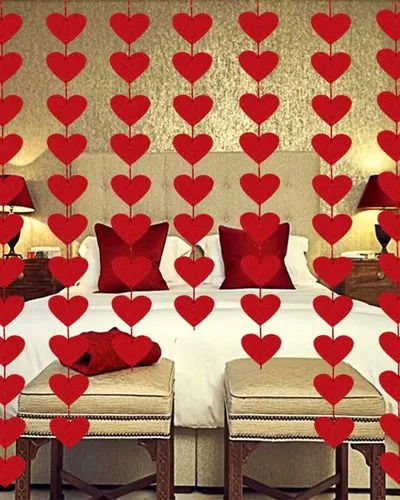 Garland is a perfect item to decorate a room for your valentine. You can find a huge variation of garlands in the market. If you want to keep your room simple but graceful. Hang the garlands of different shapes or hangings with written love lines. I.e. I love you or Happy valentines day.
Light Garland Hanging on The Roof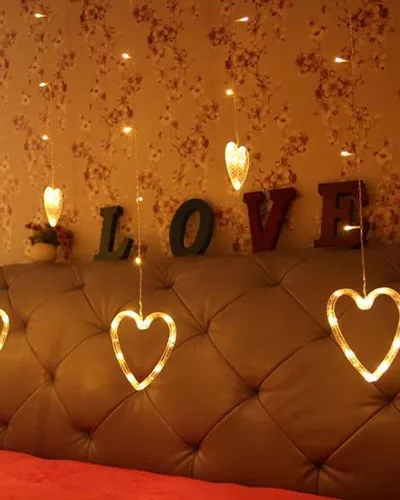 Other than paper garlands, light garlands also look astonishing and eye-catching. You can use heart shaped garlands to match Valentine's day. And use some other fairy lights. It is one of the best valentines day room ideas for him.
DIY Garland With Images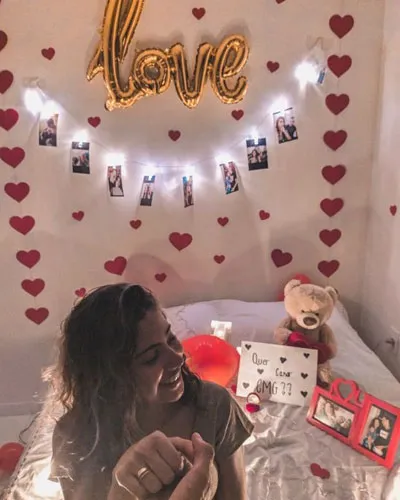 You can make your own DIY garland with images. Use a fairy light or thread, punch holes in the images and pass them through the thread or tie them. It is one of the good concepts for valentine's day bedroom decor
Bedroom wall valentine decoration ideas
Want to know a classic way of decorating your bedroom for your valentine? Treating someone distinctively makes them feel special and unique. Use wall of your bedroom if you have space issue. Check ideas below:
---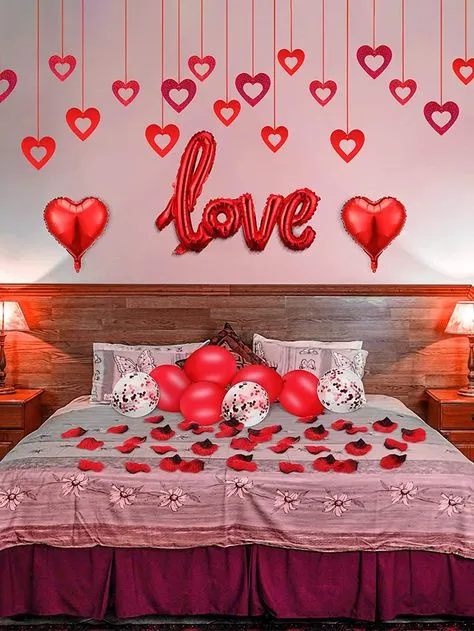 ---
Use Alphabet Foil Balloons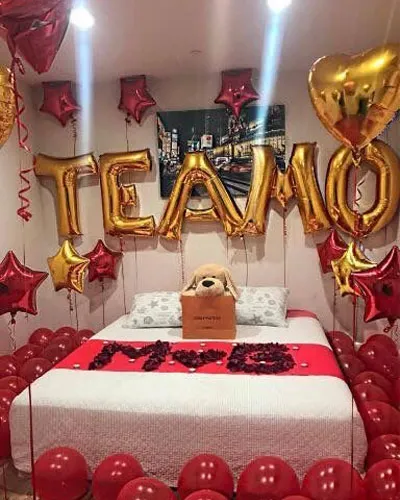 There are alphabet balloons that you can buy conveniently from dollar shops or markets. You can stick them to the wall. The words can be your own love language i.e. I love you, his/her name, etc.
Make A Balloon Garland With Wall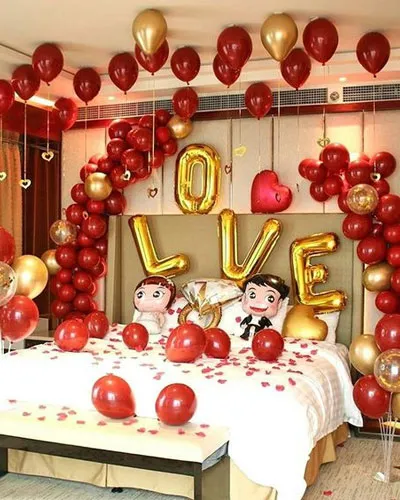 Blow a bunch of balloons and start sticking them together using a balloon strip tape on the wall in a semi-circular shape around the back of the bed. When you click pictures with your partner, it can give a perfect look to the photographs.
If you don't know how to pose with your valentine, check our 30 trending couple photoshoot ideas and make your valentine memorable.
Valentines Day Room Decoration Ideas with roses
Decorate your bedroom with flowers this valentine. Scroll below to get ideas:
---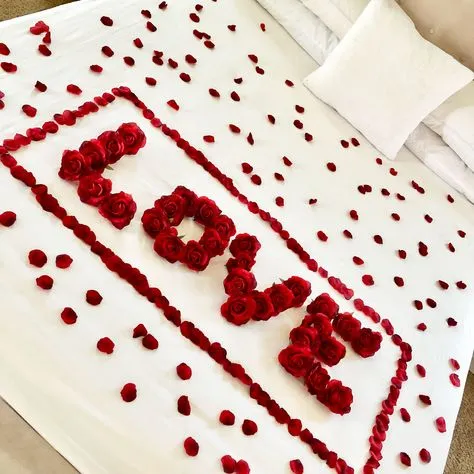 ---
Bedroom Valentine Surprise Idea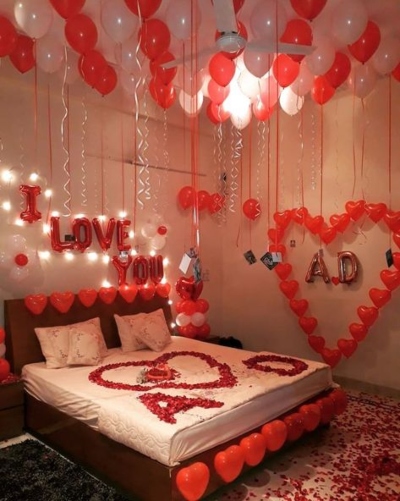 Roses are outstanding elements for valentine's day room setup ideas. Instead of just spreading the rose petals all over the bed or floor. Use them to write something. Such as the
idea given in the picture shows you have spent one year and there is much more to go.
Valentine's day decoration ideas at home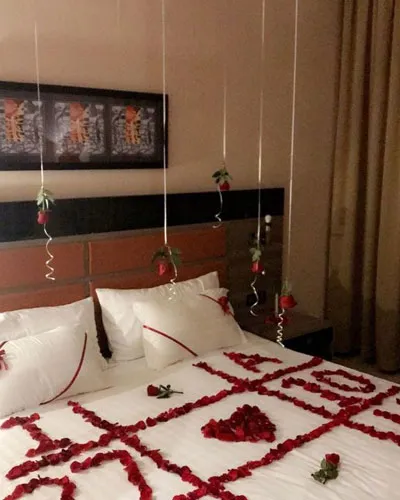 It is one of the creative Valentines day room decoration ideas for him. Cover your bed with white sheets to add elegance. Write the initials with flowers and the date when you both met for the first time and enjoy the valentine room decor.
Bouquet Valentine Room Decor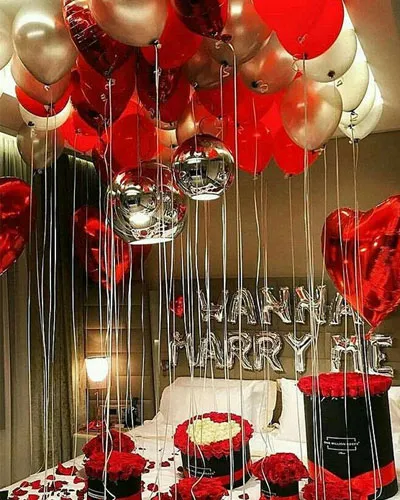 Flowers make women feel special. It is the representation of appreciation and admiration. And girls love it. Fresh flower bouquets look really amazing. So try the valentine room decoration this time with bouquets.
Rose Bear Surprise Valentine Room Decoration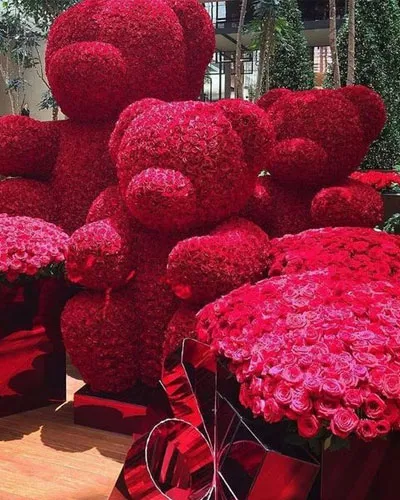 Rose bears are the best for valentine room decoration ideas. Place the rose bears in different sizes on the bed or adjust them anywhere as per your preference and surprise your girlfriend/boyfriend.
Simple Valentine Bedroom Idea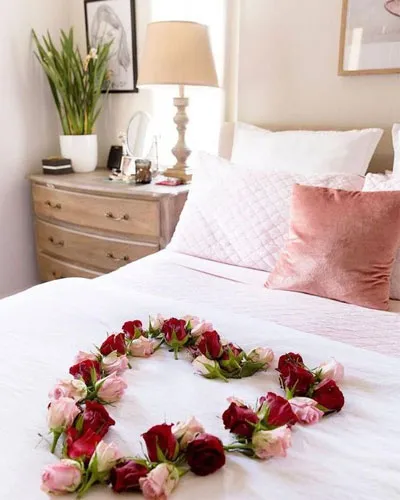 Do you want an easy valentine room decor? Well here is the option, simple and graceful. Buy individual fresh flowers and position them on the bed in a heart shape. It is one of the smartest ideas you can try on this valentine's and looks really elegant.
Valentine's day bedroom decor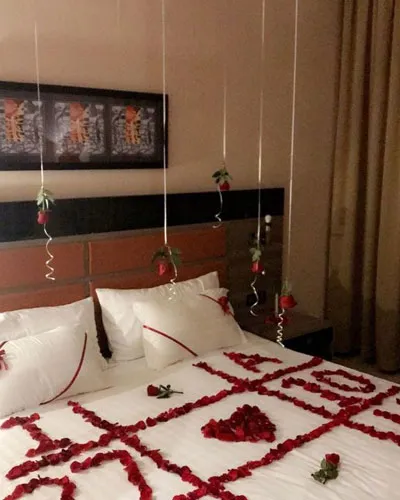 Want to know a classic way of decorating your bedroom for your valentine? Treating someone distinctively makes them feel special and unique. Everyone buys flowers and other things to decorate their bedroom for valentine's. You can do something different.
Other Creative Valentine's day bedroom decor Ideas
Everyone buys flowers and other things to decorate their bedroom for valentine's. You can do something different.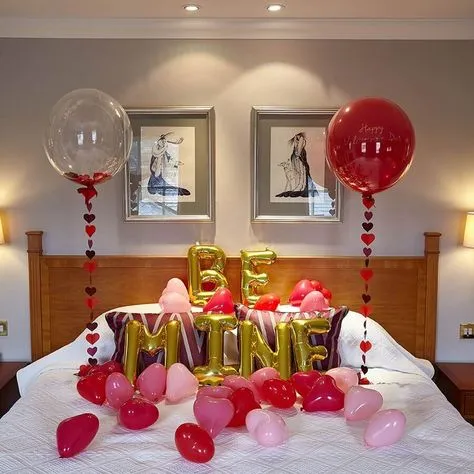 These are some modern way of welcoming your partner in a bedroom without spending much money.
Final Words
With our given Valentine's day room decoration ideas, you can decorate a bedroom in the best possible way you can. With personalized accessories, amazing stuff, lighting, and the romantic setting of the bedroom, one can make their valentine's day passionate and warm.
Rather than focusing on recreating the whole image, choose what touches your heart and decorate the bedroom your way. Happy Valentine's Day!