30 Trending and Cute Christmas Couple Picture Ideas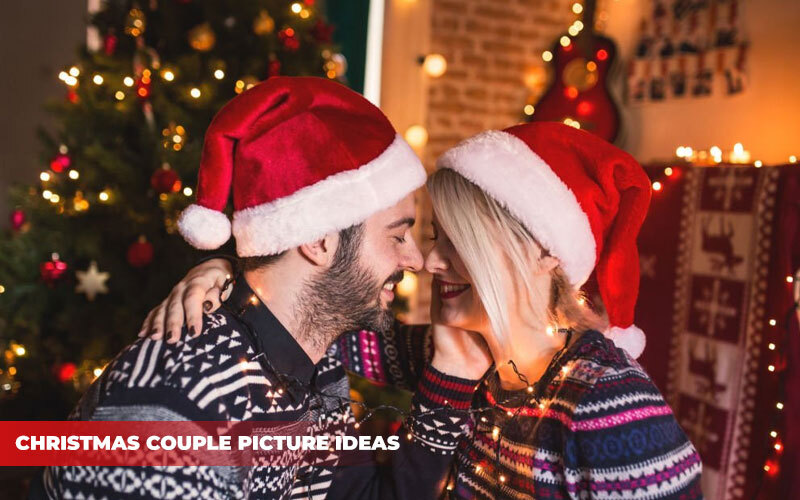 Christmas season is around the corner. Photography trends for couples are changing. Before couples took photos with fake smiles, but now people are more inclined towards candid. Every couple wants to take pictures and capture moments that they can cherish afterward.
Different props, funky clothes, colorful edibles, fun gifts, lights, and weather, all of these play an important role in taking pictures and give an ooze to the aura of the picture.
Christmas undoubtedly makes the perfect time to capture funny, cozy, romantic, and quirky poses with your partner. It is the ideal time to show the joyous and endearing moments with your partner and show off them to others or on social media.
Romantic Couple Christmas Photoshoot Ideas
There is a bundle of ideas to pose and capture lovely pictures. You can take them indoors, outdoors, with different props, or wear different clothes of your own choice or personality.
---
---
1: Make a picture with Christmas Tree
You can click pictures with your partner while selecting a Christmas tree or just stand among the Christmas trees. This is a great way of showing off your love in a natural setting. You can make this photoshoot special in many ways as you like.
2: Don't neglect the natural beauty
If you are heading out to the tree farm to cut down your Christmas tree, don't neglect this ideal chance to get the best Xmas shot. No traditional staring at the camera would be the best thing you do.
3: Aesthetic couple picture idea
You can take a good Christmas picture with your partner while standing outside, in front of the door of your home. You don't have to go anywhere but just step out of your home and take pictures. Make sure to hang some Christmas lights or anything to add aesthetics and give the Christmas vibe.
4: Use fairy lights in your photoshoot
Using different props is a great asset for great pictures. Fairy lights are available in almost everyone's home. Cheapest and the most romantic option for couples. A sparkly tree behind can add an extra glittery look to the picture. While wrapping the fairy lights around you and your partner.
5: Take pictures in casual
Many people ask What should I wear for a couple photoshoot on Christmas? Wearing tracksuits of different Christmas prints or flannel are the most inn of Christmas photos. Clothes are something that conveys the message. They show your personality as well as what are you showing through what you wearing is of great attraction to people.
Thus they play an important role if you don't know what props you should use or what places are good to take pictures. Just wear an outfit you like according to Christmas, pose some good poses and there you go.
6: Make use of the staircase
Staircases are one of the creative places to play with when taking pictures. You can take pictures in a lot of different ways. While standing beside the stairs, on the stairs posing with a partner, sitting on the stairs, or sitting beside the stairs.
There are other various ways you can do yo prefer your joyful moments in a more real way or that suits you. You can also use solar stair lights to enhance the beauty of your picture.
7: Hold edibles in your hands
Eatables like lollipops, candy canes, candies, etc result in really cute and adorable pictures. How do you take cute couple pictures? And this is the answer to that. Holding edibles in your hands or any other way is great for taking a couple of pictures where both of you and your partner are looking at each other holding props/edibles in your hands adorably.
8: Wrap a blanket around both of the partners
People ask what colors are good for Christmas photos. Rich colors like Red, Green, and Gold are the best-looking Christmas colors. Wrapping a vibrant-colored blanket around both of the partners gives a burst outlook to the image. You and your partner can even get snuggled up together and wrapped in a comfy fleece blanket, showing the warmed-up sentiments.
9: Don't neglect the natural sceneries
Use nature as an idea for taking Christmas couple pictures this upcoming season. If you don't have any props or don't want to use any props, just go out, look here and there and find out a good spot to take pictures with your loved ones that show your feelings and emotions. Put your heart in it while taking pictures. The results will come out smoothly.
10: Show your emotions while taking pictures
Go out in a less wintery season, you can do it standing in the snow too. But standing in the cozy colors of nature gives more vibe to the picture. Hold a small stem of any tree/plant of your choice hanging over your while taking a picture. You can kiss the partner or stand in any way you think will look good.
Cute Boy and Girl Christmas Picture Ideas
Here you can have ideas if you want to shoot with your girlfriend on Christmas:
11: Coffee cups are the best choice for taking good pictures
If you think that what makes your picture special is just a cup of hot chocolate. Go for it. You can create various poses and styles by holding decorative cups in your hand and the photos will come out Wow. It is your choice if you want it indoors or outdoors. Natural daylight is best for these types of photographs.
12: Use a Merry Christmas banner or neon sign
You can hold the Merry Christmas lights or banner in both of your and your partner's hands. You can take pictures outside on the road, in front of your house, in parks anywhere that suits your choices and demands. Props add aesthetics to the pictures and add extra purpose to the photos which give out the message and convey feelings more clearly. This way people can connect to you more skillfully.
13: Snow falling is a plus point
If it is snow falling outside then it is a plus point for you. Otherwise, you can take glitter in your hands and blow it out the way shown in the picture. It turns out so good that you will be eager to post it everywhere and put it on your wallpapers for a long time. It adds whizz and sparkle to the photographs.
14: Signboards are great to show your love language
If you think that just taking pictures wearing the related event clothes is not enough, signboards work great in such cases. You can write your wishes or whatever you want and add other elements to the drawing which look great.
15: Take pictures from the back
Always taking pictures in front poses with all smiles and laughs gets boring sometimes. It's not only the way to click pictures. You can try other ways as shown in the picture. You can wear a favorite pair of socks and click pictures from the back. Wearing PJs related to the vent and socks add colors to the photographs.
16: Take pictures in a bubble mirror
Christmas bubbles are one of the creative ornaments. You can use them for different purposes. Holding them in your hands, or pose with them in a playful mood with your partner. You can also take Christmas couple pictures while looking at the bulb and take picture of the bulb showing you and your partner in it. An example of such a pose is given below
17: Make use of winter stuff
Take a Christmas-colored muffler and wrap it around your and your partner's neck. Colors that match with the Christmas colors are preferable so it seems like Christmas, not any other event. You can pose in other ways like looking at each other or holding each other while the muffler wrapped around both of you. It makes a great Christmas couple picture.
18: Use paints or colors if you don't have props
Not only clothes, props, and other ornaments can make great photographs. Paints are something that is considered unrealistic and connects to a different level than any other medium. Red and green are Christmas colors. Take the colors If you want to stand out this Christmas, this is one of the best ideas for Christmas pictures for couples so far.
19: Make a wish with your favorite scented candle
Take a candle and pose a 'Make a Wish' pose with your partner. The light of the candle adds ambiance to the photograph. The change of lighting shows the moods of the environment. If you want such lights and colors in your couple photographs, try candle and yellow lights for your pictures.
20: Use something sparkling (Fireworks)
Christmas trees and ornaments on them are something that gives a sparkly appearance. But there is something else that gives twinkle, shine, and sparkle to the pictures. Fireworks play their role well when the topic is about light and shine. Holding fireworks where the focus is on the firework and the couple in blur effect behind is a great idea for Christmas.
Cool Husband and Wife Christmas Photoshoot Ideas:
Want to make romantic and cool poses with your wife on Christmas but don't know the ideas? Here we have 10 best Christmas couple picture ideas:
21: Site outside and look at here and there
Instead of taking all the pictures standing, posing, or holding things. You can just sit on the hanging swings easily available nearby your homes, in playgrounds, or in parks. Wear Christmas-colored clothes if possible or just use something around the swing to show the idea of the event and that's all.
22: Use gift boxes in your photoshoot
Instead of using ornaments or props, you can get away with boxes covered in Christmas wraps looking like presents. You don't need actual presents to click photos. Just take two or three empty boxes and wrap them. Photographers use the same technique. Use them in your photographs and pose differently as you want.
Tip: You can also take pictures while giving secret naughty gifts to your partner, and if you lack money, then you don't need to worry. Because here is a list of the most affordable Christmas party gifts you can choose from.
23: Make use of monochromes
Where colors are something everyone uses in their photographs. Monochromes are a great trend nowadays. They give a unique look and stand you out from others. A shiny Christmas tree behind you and the couple imitating in front. Black and white is the new modern and gives your images a modern look. Post them on social media and it will attract others for sure.
24: Take a mirror selfie
Saying others to take your pictures or using the timers to click your couple pictures, hiring photographs, Somehow it is a tiring task. One of the easiest ways is mirror selfies. Clicking pictures in mirrors of your rooms or your washrooms is easy and playful to click. You can get the idea by looking at the couple image given below
Tip: You can also take a mirror selfie while putting on the famous Christmas pendant to your female partner to stand out unique from the rest.
25: Take pictures while watching Christmas movie together
If both of you are lovers of adorable things, pictures, outfits, or anything. This is a good-to-go idea. Get any adorable props available and click the pictures just like that given below by doing variations in it. Open Netflix watch any Christmas good movie and click pictures with various ideas in a cute comfy environment.
26: Take playful and naughty photos in the kitchen
You can have photographs with your loved one in a kitchen too. Such playful photos look naughty. Everyone likes such zing in their images. While cooking or baking for Christmas you can have your photographs by yourself. Some couples hire photographers to pose such photographs in their kitchen while baking cookies or cooking anything with a partner.
27: Blurry images – a unique trend in 2022
Nowadays is a great trend of blurry images. You don't have to look perfect always in every picture. Sometimes pictures like that left great memories. As it is said Perfection is not everything. Similarly, you or your picture don't have to be perfect to look great. Blur pictures are distinguished and prominent too.
28: Go to the decorated streets to take pictures
Before the event, All the streets are covered with Merry Christmas ornaments. You can go out with your partner and take great Christmas couple pictures, and stand in between those streets this way the whole view can be seen from behind. Choose anywhere you want and the pictures will turn out impressive and tempting.
29: Take pictures while holding hand of your partner
For a couple photoshoot, both of you don't have to be in the picture. You can take pictures this way as shown in the picture. Holding the hand of your lover and clicking the picture of the instant moment with all the lighting behind it. Both the couple's goals and Christmas goals demand gets fulfilled by this idea.
30: Lift your partner up on your shoulders
If you don't want any outdoor photos. You and your lover are more of an in-home person, it is an easy idea to go for shown in the picture. Your partner can lift you on your shoulder or you can stand side by side with the Christmas tree putting ornaments on it. Such pictures look candid and pleasing.
Conclusion:
There are various options you can use creatively with your partner and try them similarly or differently from the pictures given above. The most satisfactory way to feel yourself in your Christmas couple photos is to be yourself. What do you like wearing? How do you want the pictures to turn out? Cozy, romantic, quirky, funky, adorable? It all depends on you, So why not use that in your Christmas photos this season? and relish your own persona.