Creative First Date Gifts For Her To Win The Second Date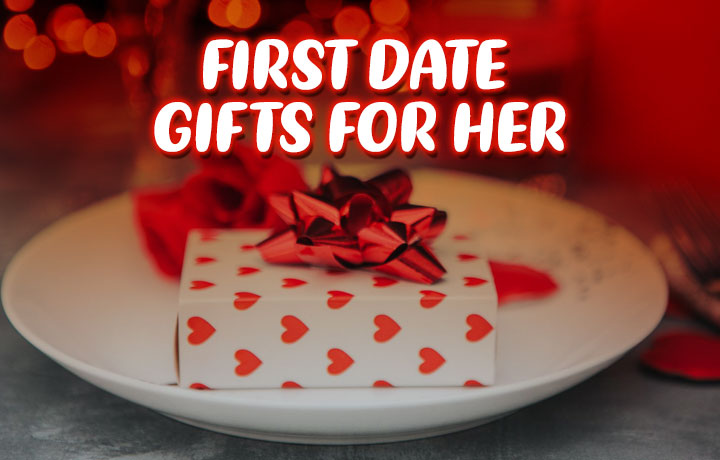 First dates are always complicated and confusing.
"If one thing goes wrong then everything ends before even starting".
Nobody ever wants that. Here is what you can do to make one of the first steps perfectly smooth and fine.
You can buy her a gift. A gift to appreciate her, make her feel special, and bring a smile to her face. These are the things that make the moments. And who doesn't want it?
Now you must be confused about what you should buy. We have presented you with a lot of first date gifts for her. At the end of the article, you will have an idea of what you will gift her.
First Date Gifts Ideas for her
Do you need ideas for your first date? The usual first date gifts include
Flowers
Perfume
Flower Bouquet
A gift Basket (containing her favorite chocolates and candies)
Couple Jewelry, etc
But there is a lot of stuff other than the discussed above. Trends have changed. Now people like something useful and creative to receive as a gift.
You can get a lot of them here. An amazing bucket list of gifts to make your date impeccable:
Interesting: Valentine is a great day for celebrating your love. But do you know there is week celebrated before valentine's day? To convince your girl for the first date on valentine day, you need to give her gifts on 7 days before valentine's day.
Need any date gift ideas for her? Girls are adorable and surely they love adorable gifts. So, why not gift your first date a cute and beautiful hug ring?
It will not only show her your affection but, she is going to love it and get impressed by you. by you. she will never turn it down as it is such a lovely gift. Whenever she wears it, it will remind her of you.
Tip: Make pictures in different poses with your partner to make your first date memorable. If you don't know how to pose, check our trending couple photoshoot ideas.
Do you want to say something to your date that makes her feel special? A morse code bracelet is a perfect gift that says a thousand words and shows all the feelings without saying a single word.
The beads in the bracelet show a coded I love you message. Surprise your date with coded text and when she is going to secretly answer you back, you will love it
Make your girlfriend feel special by gifting her this pendant. You are my sunshine is engraved on the necklace. Make her feel worthy that she deserves to be called a Sunshine, and a light in your life.
Not only it can leave a mark on her heart, but she will also love that you are expressive in your feelings. And she will be sure that you can make her feel exceptional in the future.
Can't you find a gift for girl on first date? No need to go anywhere else because that first-date gift is right here in front of you.
Girls love being cute and feel cute, oversized shirts make girls feel bubbly and cuddly. Show your love by giving her an oversized hoodie and she is gonna love it.
Does the girl you are going to date is excited and passionate about being a nail artist? If yes, this heart-shaped fluffy rug is one of the perfect first-date gifts. It is an ideal and useful gift for girls.
She can do her nail art by resting her hand over it and shooting videos. It will show her that you care about what she does, you appreciate her and she will be very impressed.
It is certain, she will not expect such a gift on her first date. Surprise her, make her happy and you will be happy too.
Gift her this shirt. She is going to fall in laughs after opening such a gift.
In response, girls can also give their boyfriends the I Love My Girlfriend T-shirt to do twinning on any event specially on valentine's day.
Unique First-Date Gifts for Girlfriends
Want to find some unique ideas for your unique girlfriend? Here are a bunch of unique ideas from which you can choose one easily.
Some girls aren't into flowers much. And you want to buy a bouquet for her. Well, there is an alternative, you can buy a rose bouquet enclosed in a transparent balloon
This exquisite luminous balloon will illuminate her face with happiness and joy. Because girls love to have such gifts and if it comes from someone you are meeting for the first time. She is going to like you more after that.
Are you a caring person and want to show her your love? It is the best gift for girlfriend you can find anywhere. You have to have creative thinking. And a customized message " Text me when you get home" over a hoodie and it will do the work. Whenever she will wear it, it will remind her of you.
The hoodie is going to keep her safe from cold and the message will keep reminding her that she has to take care of herself.
Do you have the cutest girlfriend in the world? Sure you have. Do you want to make her feel cutest? Buy this bunny hoodie for her without wasting any time.
It is a soft and skin-friendly hoodie that will keep her safe from harsh weather and any allergies.
A flower makeup brush is one of the creative first-date gifts. Every girl is into makeup one way or the other. There is no way it will be of no use to her.
Instead of a real rose, you can give her a rose makeup brush. Because why not? Its multipurpose characteristics are perfect for a girl. It can be used for the face as well as to remove dust from the nails.
Instead of just saying words, there is another way to express your feelings. And that way is a gift. It is another way of saying the words you cannot speak.
Lock and key earrings also convey a message of your feelings that are locked in your heart for her. And the key is in her hand. It is one of the clever-thinking accessory gifts for her.
Intimate First Date Gifts Other Than Flowers
Yes, flowers are a sign of intimacy, but other than that, there are other intimate gifts you can buy for your date. I.e.
Send your date this sizzling backless butterfly sequin top. Tell her to wear it and come on the date wearing this. It is going to make your date extra hot.
You can try such dates on beaches or seascapes. As this backless top will go with the vibe very well. It is one of the perfect first-date gifts.
What is stopping you from buying it? Don't want to add sparkle to your date? Don't think and just buy it for her.
It is a hot summer date you are going on a date for the first time. You are thinking about what could be the first date gift for her. Well, you can't deny it. As this red cotton tank top is best for your summer date. It is breathable and soft, your girlfriend will love this gift and adore it fully.
The body features and curves that will appear while wearing it, are going to make your date real-time hot and perfect.
If your girlfriend is into fitness and loves buying such products. You don't have to hesitate or go in doubt to buy this for her. Buy it and gift her in the first place because she is gonna love it.
These abs-shaping pants will make her butts look fuller and her stomach flattens giving her an hourglass body.
Want to buy something intimate for her? This beautiful colored body-shaping camisole is going to work very well for that. Not only does its body shaping specification make her curves look perfect but also the padded bra will make her look a really fine piece.
Girls love when boys buy them such gifts. She will appreciate you having all the girl's information. And indeed you will be added to her perfect boyfriend material list.
You boys have ever heard of reusable nipple silicon pads? If not, it is one hell of a wonder you can gift her. It has 2 in 1 purpose. If the bra is loose, she can wear these pads, she can also use them for nip-slip prevention. And last, she can just wear them separately.
It will increase the intimacy between both of you😜. It is one of the unique gifts for her and you both are gonna enjoy it every time she uses it and comes in front of you.
Same as said before if she is a fitness freak, why shouldn't you gift her such a perfect gift to her?
You are on your first date, and you know what she likes and does not. It will go beyond her expectations that a guy is paying s much attention to her everything.
It is a high-waisted uplifting padded underwear that will give a fitted shape to the torso and butt also.
First date gifts to make her smile
Bring a smile to your date's face by giving her a smiley gift. Buy a smiley gift for her, and make her feel special.
Do you want to see her smile each and every minute? Gift her a smiley face that keeps reminding her of a smile even in hard times. You don't have to buy big gifts, even small gifts on the first date matter.
This non-tarnish beaded bracelet is a reminder of happiness and self-love, that will keep her shining like a diamond with each smile.
Every girl has a love of decorating her room. You can gift her a neon light wall hanging. It is a good first date gift, simple, elegant and nothing could go wrong.
Seeing the smiley face on her room wall, will energize her and bring joy. So, just gift her this LED wall light without having any second thoughts.
Are you in love with her smile? Smiling is an asset of a good life. You are meeting her for the first time. So, To enlighten her smile, buy her a smiley pendant.
It is gold-plated and embellished with stones that will never get rusted, which perfectly matches her smile. A smile that is illuminating and never gets old.
It is a gold-plated smiley face ring, waterproof and tarnishes free which makes it more valuable. Among all the gifts, it is particularly one of the thoughtful gifts for girlfriend.
Just buy it and put a smile on her face. And make your first date unforgettable.
Who can deny a cute gift? Girls can never ignore or deny your efforts when you can think about such adorable gifts. Your date is gonna adorably accept you and your gift.
Let your first date be well spent without making any mistakes by choosing these cute smiley face socks.
Conclusion
We are 100% sure, now you have an idea of what to buy. From a whole long list of ideas, there must be a gift that is matching with your girlfriend's personality.
One thing you should keep in your mind is that the worth of a gesture of love cannot be compared with the price of a gift. Just buy something that is close to your heart and the real person will understand it.
If you have more ideas about what to give your girlfriend on first date, do share in comment section.