【17】 Different Types Of Shoelaces & 【9】 Distinctive Styles To Wear Them
by
admin
February 15, 2023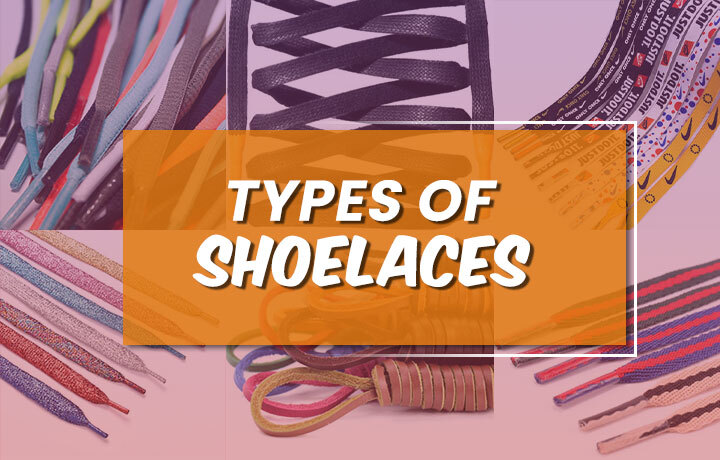 Do you know there are many types of shoelaces you can ever think of? Not only they are differentiated by colors, but by lengths, widths, and style variations. Yeah, you read it right.
Many people ask why we need to know anything about such a small item that doesn't even make a difference? Shoelaces doesn't just play the role of tie and untie. But using the correct type of shoelaces is a fashion statement. 
Researchers discovered that people can make authentic predictions about an individual's personality based on the type of shoes they wear. Shoelaces are the essential elements of the majority of shoes, so they play pretty much an important role in predicting human personality traits. 
Types of Shoelaces according to Material 
Here are the types of shoelaces according to materials. By reading this next time you will know what material of shoelaces will go better with your shoes. 
---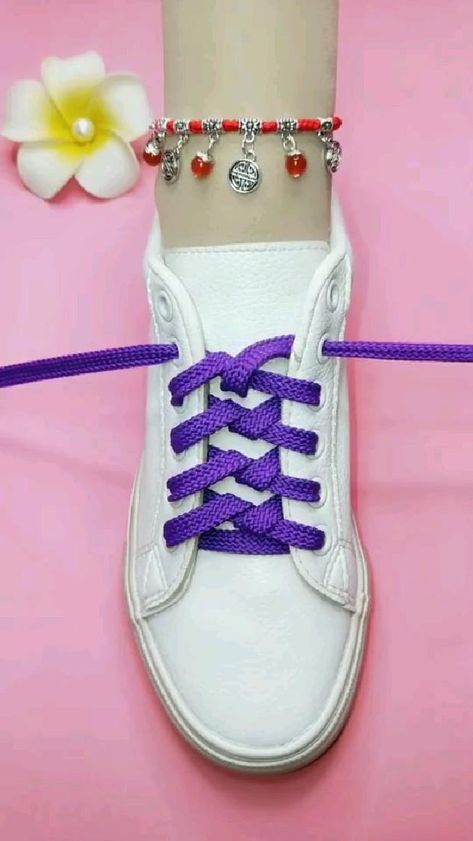 Different styles to wear shoelaces
---
1. Elastic Shoelaces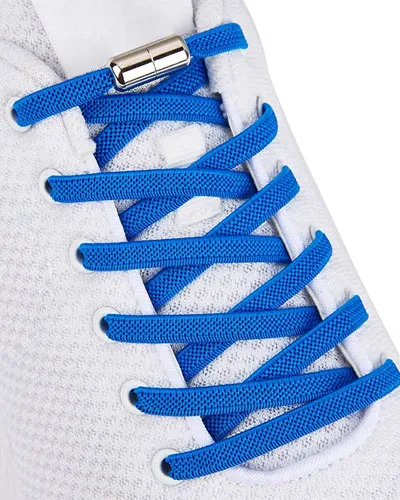 Elastic shoelaces can be made of synthetic material or natural material. People who find it difficult to tie and untie their shoelaces every time should use elastic shoelaces.
They are stretchable
Shoes can be slipped on and off without untying the laces.
They are locked in one place.
Uses: Elastic laces are specially used by athletes, elders, and children.
---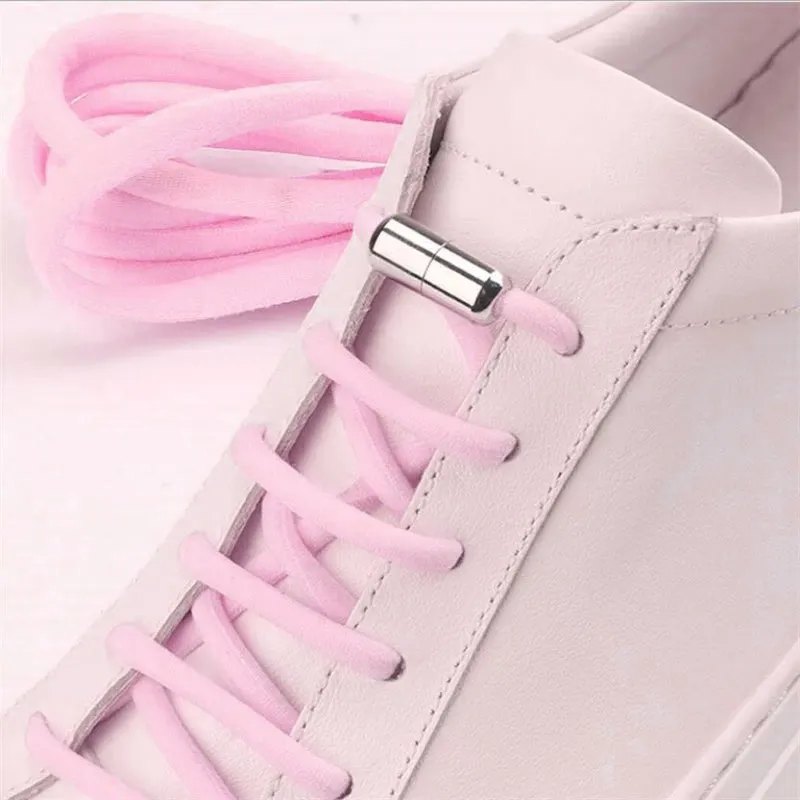 ---
2. Paracord Shoelaces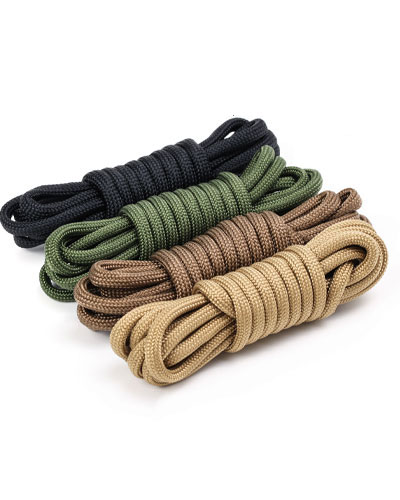 Paracord laces are also called Parachute cords. Paracord laces act as a single cord made up of nylon with several strands twisted inside.
Paracord laces are strong, lightweight, and versatile.
They are extremely comfortable and durable.
High in knot strength.
They have an overall lifespan that will outlast any regular laces.
Uses: You can use paracord laces on casual shoes, runners, work boots, and hiking boots.
3. Velvet Ribbon Laces: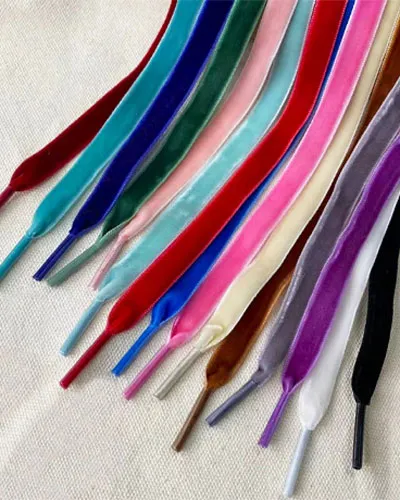 Velvet ribbon shoelaces are made up of polyester or nylon. They are flat shaped and are available in different colors.
They have a limited life.
They are not intended to be hard-wearing shoelaces.
Shoelace colors can be matched with clothes.
They look beautiful and fashionable.
Uses: Velvet laces can be used in dance shoes, dress shoes, dress boots, or plain sneakers. 
4. Silicone Rubber Stretch Laces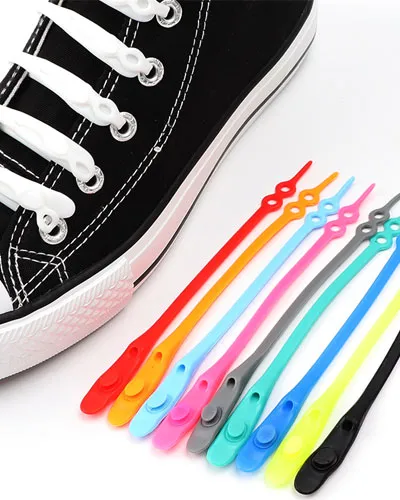 Silicone rubber stretch laces are also called Lock laces. After their insertion in the holes, the tips lock into place securely.
You don't have to tie and untie them repetitively.
They reduce the chance of shoes falling off.
They give your feet a snuggly fit.
You can easily slip your shoes on and off instantly.
Uses: These rubber stretch laces are best for kids, elders, or anyone who is tired of knotting their laces. 
5. Cotton Shoelaces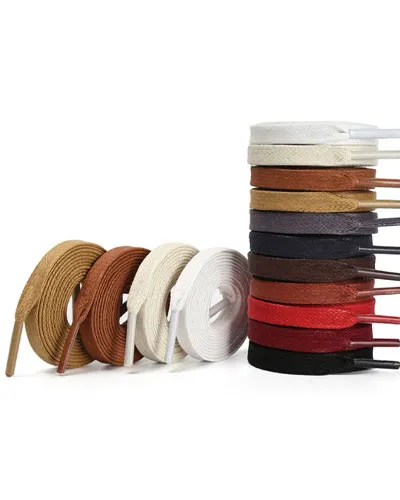 Cotton shoelaces give a soft feel. They can be flat or round. They often come in white color but you can also find them in other colors with reflective properties.
Cotton shoelaces can easily be washed.
They are cheaper in price.
They provide durability and strength.
They are treated with wax to add extra shine.
Uses: Cotton shoelaces are best for heavier-duty shoes, tennis, or skater shoes, sneakers, and fashion shoes i.e. Converse or vans.
6. Polyester Shoelaces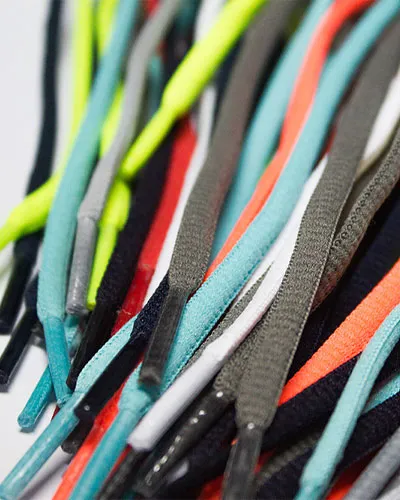 Polyester shoelaces are frequently used by people as compared to cotton shoelaces.
They are more durable than cotton.
They are water resistant.
Polyester laces do not get tangled.
They are anti-slippery, so the knot does not get loose.
Uses: These shoelaces are best for work shoes or boots.
---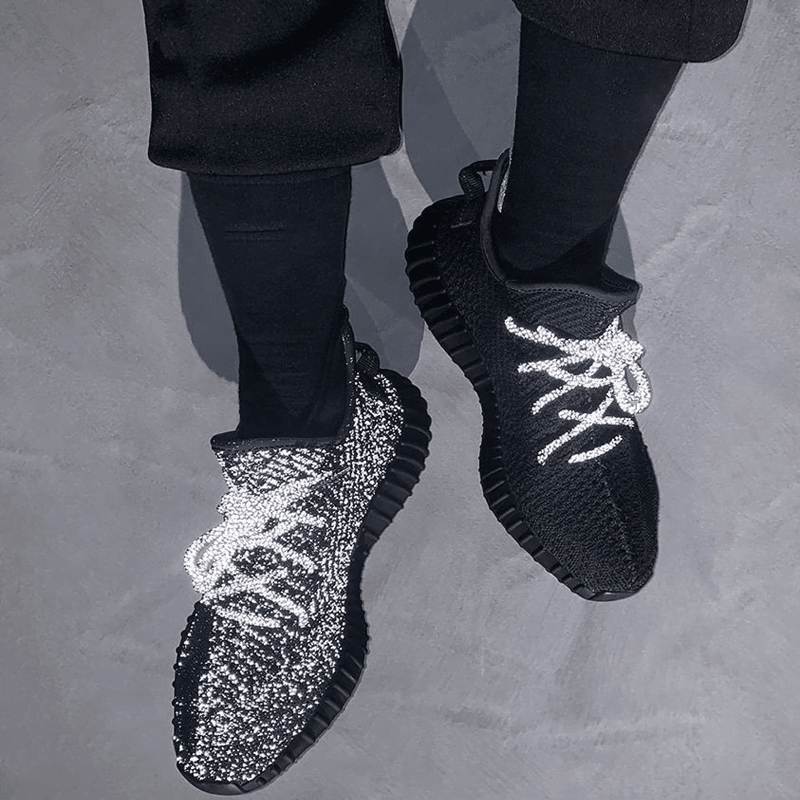 Do you know? there are reflective shoelaces that glows in the dark. These are usually in nylon material and looks very trendy.
---
7. Rawhide Shoelaces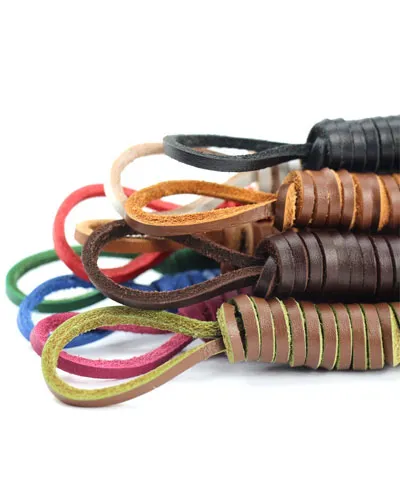 Rawhide shoelaces are made up of leather but without tanning. Such types of shoelaces look distinctive and fashionable. But they are a little difficult to handle.
They are challenging to tie up.
Knots easily get untied.
But rawhide laces are durable.
Uses: They are mostly used on moccasins or boat shoes or boots.
8. Nylon Shoelaces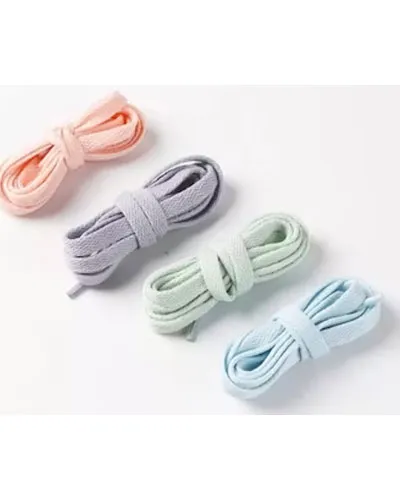 Nylon is a synthetic fiber. If you are going to use your shoes excessively, you can choose nylon shoelaces because they can bear wear and tear for larger time.
Nylon shoelaces are anti slippery.
They are anti-breakable.
They do not get tangled.
They have thicker widths so you can tie them easily.
Uses: Nylon-made shoelaces are used for snow boots, hiking boots, skating, or military shoes.
Types of Shoelaces according to Style
There are different types of shoelaces that vary in color, textures, designs, shapes, etc. they can be flat, oval, or round, and they can be plain or printed. Following are some types of shoelaces according to style.
| Round Shoelaces | Flat Shoelaces |
| --- | --- |
| Round shoelaces stay in shape for a longer period of time because they are rigid. . | Contrariwise, flat shoelaces enhance the appearance of the shoes. |
| Round laces are difficult to pass through the shoe eyelets because of their firmness. | Flat laces pass through the eyelets easily. |
| Round shoelaces last longer because of their durability and rigidity. | Flat shoelaces do not last long because they are less durable and tangle easily. |
| A knot tied by round laces is less tight because of the roundness. | A knot tied by flat shoelaces is tighter due to its large surface area. |
Round Laces
These laces have a cord that is round in shape. A cord looks like a texture of many strands twisted together.
---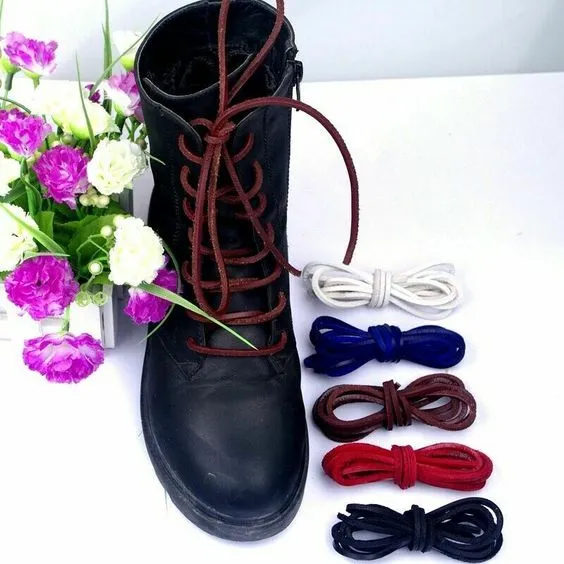 Round shoelaces wearing styles
---
1. Fine Waxed Laces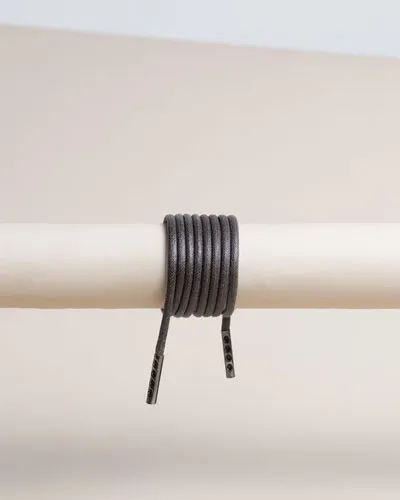 Fine Waxed laces are treated with a wax finish to enhance their performance and appearance. 
2. Honeycomb Mosaic Boot Laces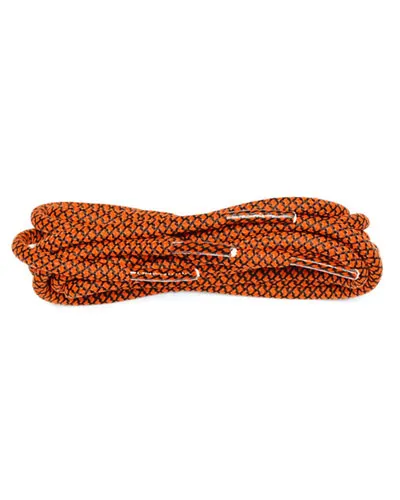 Honeycomb is a weave that you can find in clothes as well as in shoelaces. These laces may have two to three colors in them. 
3. Zest Round Laces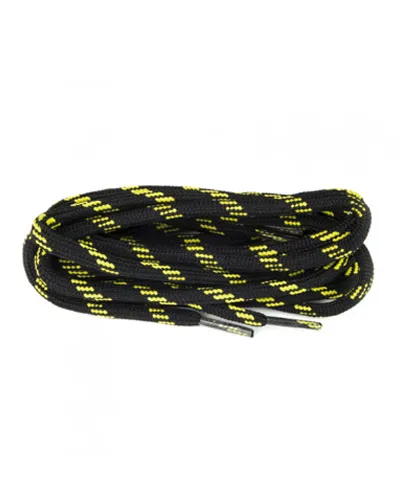 Zest laces have vertical or diagonal prints on them. Such types of laces are best for hiking boots, walking shoes, sneakers, or trainers. 
4. Polyveldt Laces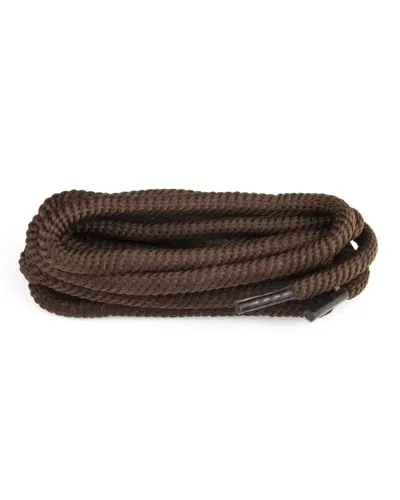 Polyveldt laces consist of a textured cord. They are made up of cotton and polyester that can withstand all weather conditions. 
---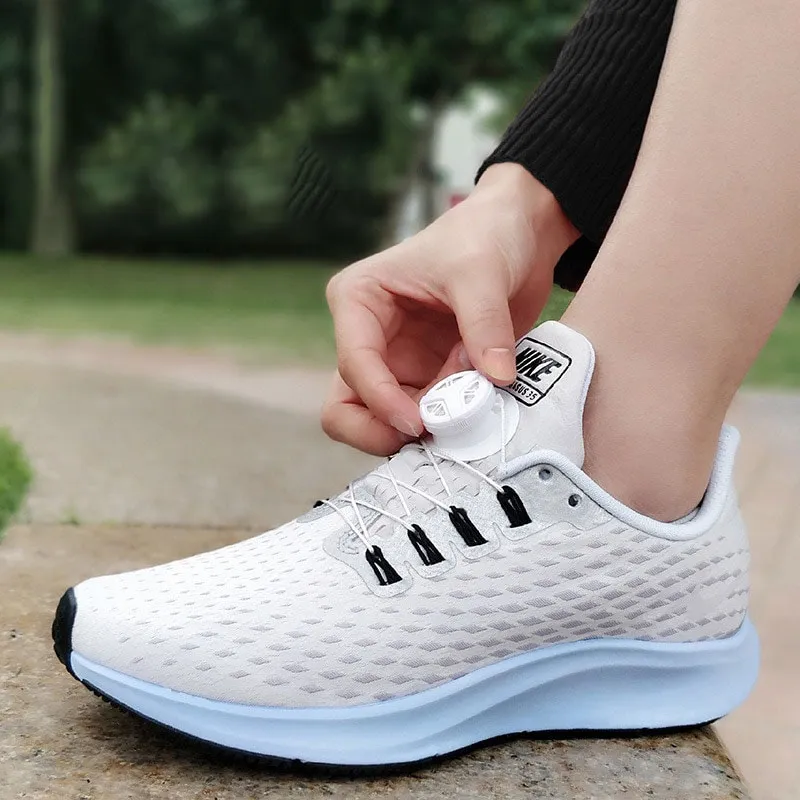 Round shoelaces are also available with a buckle. Now you do not need to tie knots. Just rotate the buckle and you are good to go.
---
5. Oval Laces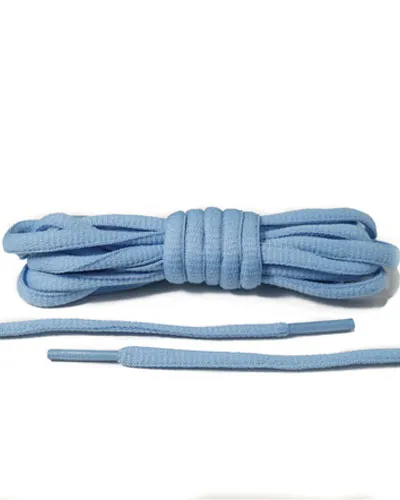 Oval laces are a mix of flat and round laces. They stay tied better than round laces. And are common in athletic shoes.
Flat Shoelaces
These type of shoelaces are flat in shape. There following sub-types of these laces:
---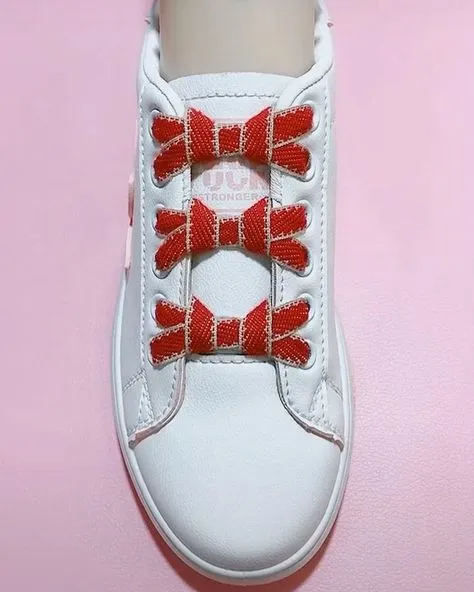 Flat Shoelaces Wearing Guide
---
1. Flat Wax Laces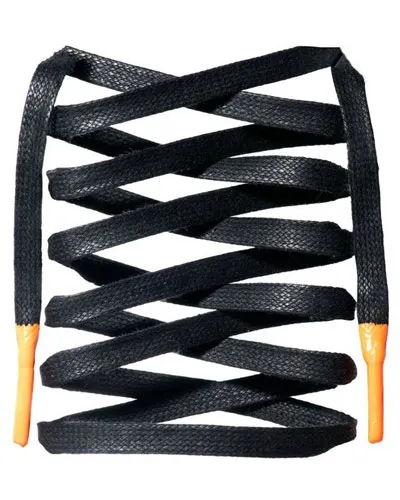 Just like the round shoelaces, flat laces are also waxed to increase their luster and performance properties.
2. Stripe Laces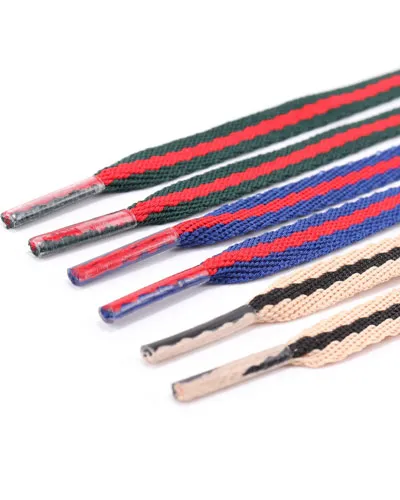 These laces have colored stripes on them. You can buy both round or flat striped shoelaces as per your preference. 
3. Printed Laces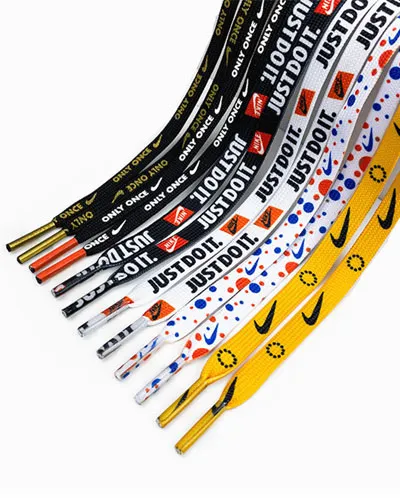 Printed shoelaces have a variety of designs on them. It can be the alphabet, check print, or other arranged elements. 
4. Glitter Laces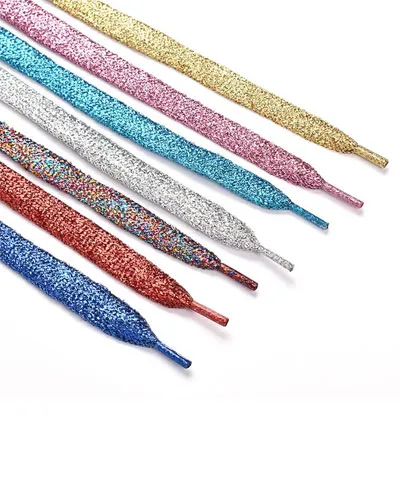 If you want to go for a funky or eye-catching look, go with glitter laces. The colors of glitter laces are vibrant. The glitter flecks capture the light and brighten your day.
Conclusion 
Understanding the types and materials of shoelaces is necessary in terms of getting prolonged results. There are different shoelaces for hiking, skating, and casual wear shoes. Knowing about them can let you make a wise decision for your next hike, meeting, or, causal tour outside. We hope at the end of this article, you have perfect knowledge about all kinds of shoelaces and now you can easily use that information to implement next time.
➡️Next Read: Different types of pedicure for foot care