35 Best Mother's Day Photoshoot Ideas To Capture Beautiful Moments
by
admin
January 10, 2023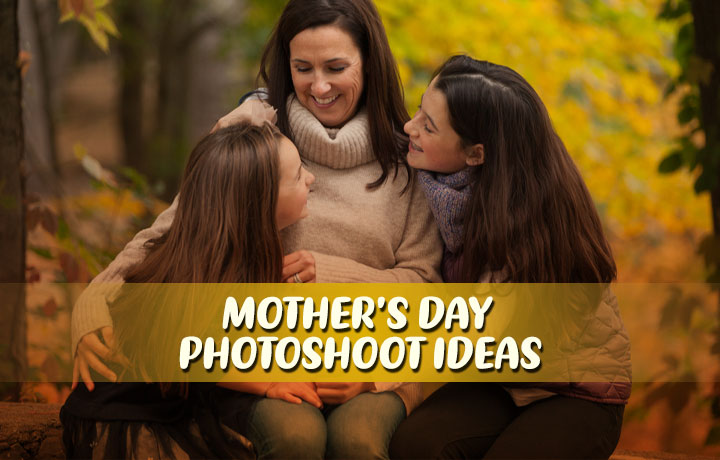 🕒3 min read
Mother's day is a day when you can go above and beyond the expressions of showing your love and gratitude to mothers. A photoshoot is a worthy gift that keeps the memories alive. Similarly, mothers can have mother's day photographs with their children. Not only you can try these photos with children but also with adult children to show your beautiful bond.
We are here to help you with your creative ideas. Even if you already have something in your mind, you can find some new mothr's day photoshoot ideas from our list that you can apply while taking photos:
Every year, mother's day is celebrated on 18th May in USA and on 19th March in UK to pay a tribute to the mother's secrifices that they made for their children.
Outdoor mothers day photoshoot ideas
Outdoor photoshoot gives very aesthetic results. Choose to go in fields or in the garden for a photoshoot this mothers day. Get pose ideas from the list given below:
1. Outdoor photoshoot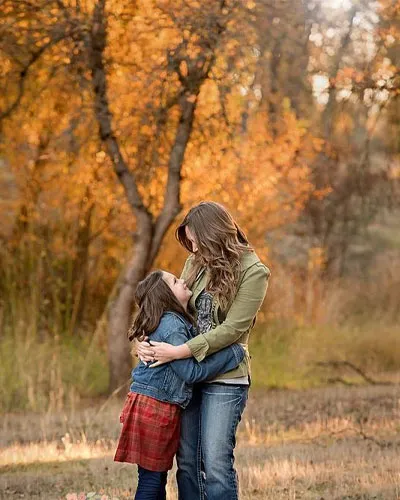 Get advantage from the season and go outside. Not everyone has a studio for the photoshoot so why not outside? It can be a forest, park, or field.
Make sure to get an insight into the place before the photo shoot, so you can get an idea if you want anything else for the photoshoot.
2. Shoot in fields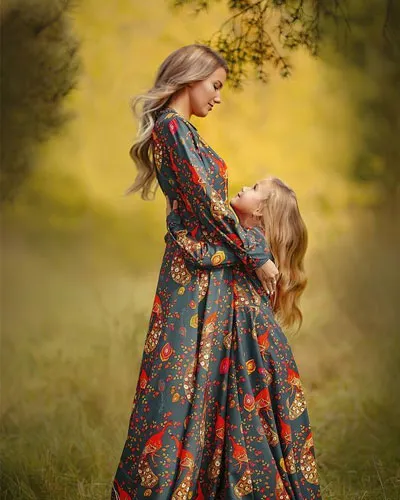 It isn't very difficult to find a lot of flowers or fields. You can go there. Make sure to wear simple clothing i.e. a white dress or soft pastels.
Try not to wear vibrant clothes as they will hide the beauty of the flowers or any green fields you choose for the photoshoot.
3. Shoot in garden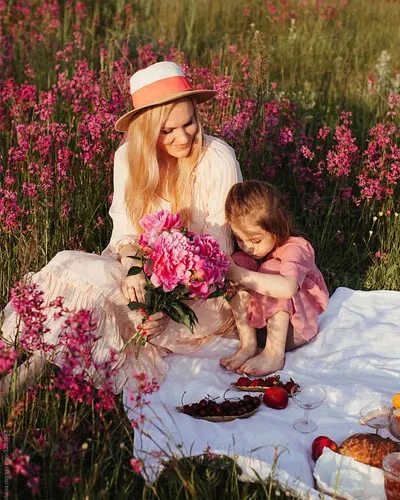 Planting flowers in your backyard, garden or public space is a fun thing to do. You can capture the natural and fun moments with your child in the blooming environment.
Also, choose clothing that works well with the environment, that is subtle, and that is not vibrant. It can be a perfect setting for a photoshoot.
Make sure to capture the flowers and plants as well. 
4. Gift giving photo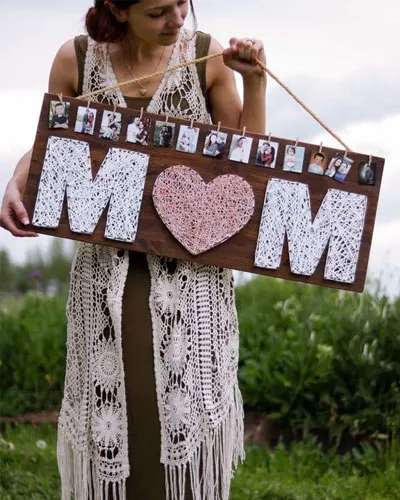 Start taking pictures as soon as the child starts to give the gift, and don't stop until mom has stopped reacting. It is one of the best ideas to capture beautiful moments on mothers day.
Such photos look photogenic if the child gives flowers and colorful cards or cake to the mom.
Related: amazing gifts for children
5. Fun with Child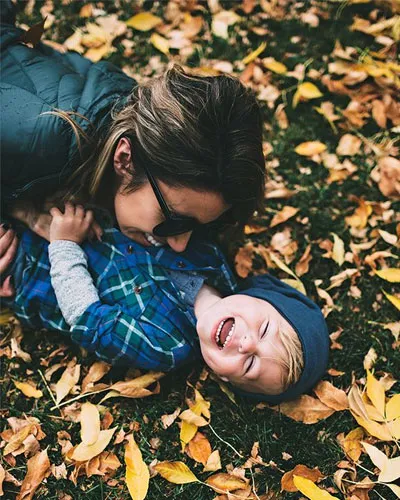 You can capture the moments between the mother and the child while they are playing, cooking, or having fun. In the first minutes it will be hard to capture any golden moments, but later after some time when both the mother and child indulge in each other, capture the beautiful moments between both of them.
6. Family Photoshoot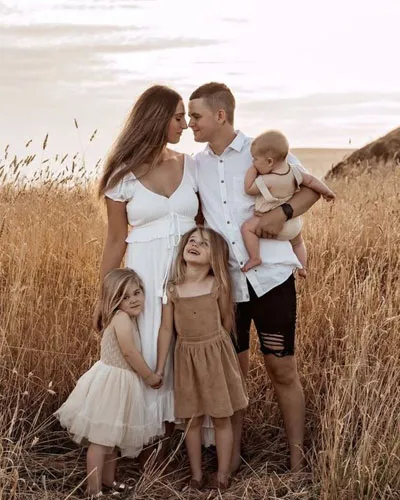 Motherhood is not about mother and child. But it is also about the whole family. So why not take photos with a whole family in one picture?
7. Shoot at beach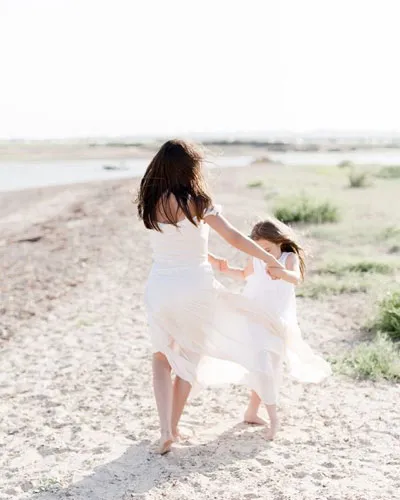 Beaches look good in every season. Beautiful views, backgrounds, and fresh looks enlighten your photographs.
You can get the most flattering light after sunrise and before sunset.
Also check: Beach accessories for outdoor shoot
8. Go green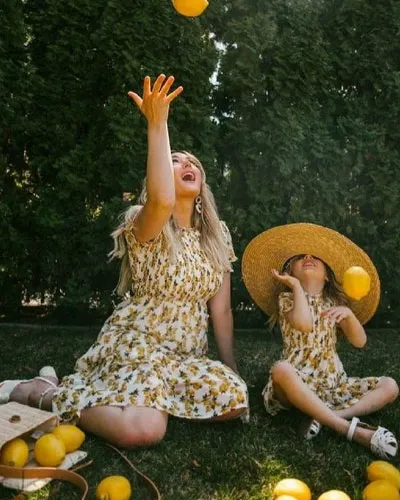 Want to make your photographs look fresh and modern? Go green with a leafy background. It will give you a neutral color background with some texture. Try to wear simple clothes or anything if you want because they will go with almost every outfit.
Indoor mothers day photography ideas
You can also take beautiful photographs indoors if you know how to pose in a better way. We have best ideas for indoor mom day photography:
9. Indoor Photoshoot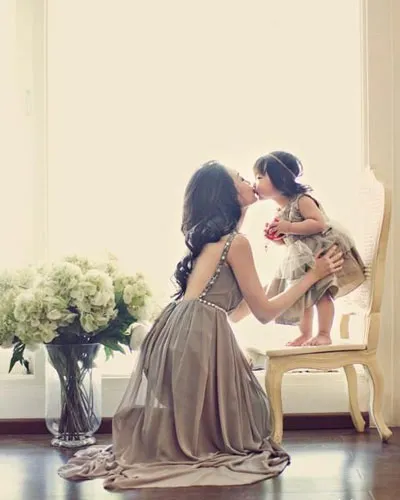 You can do an indoor photoshoot. No need to exaggerate anything. Take some white clothes and hang them as a background.
Use some old garlands or plants as side decorations. And for sure you are going to get beautiful worth-your-time shots.
10. By the window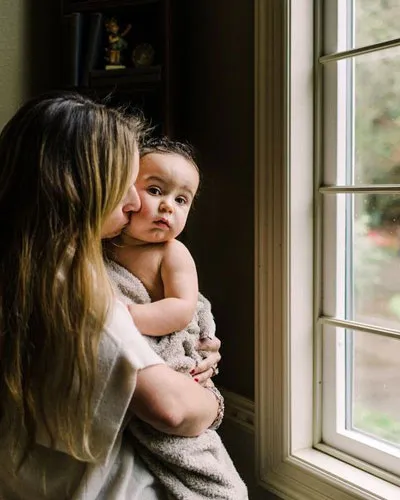 If you are shooting indoors. Find out the best windows and shoot there. Find a place where the light is not too bright.
If there is too much clutter, remove things or move your furniture from the background. Ask someone to hold the white sheet so the light can reflect on everyone's face.
11. Sit on stairs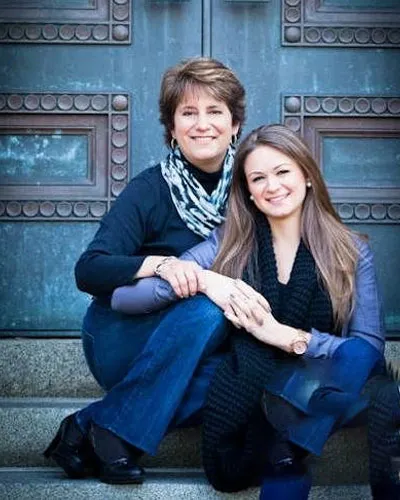 Can't find any perfect location for a photoshoot. Sit on the front steps or indoor stairs with your child and enjoy the natural light portraits. It is one of the great mothers day photoshoot ideas at home.
As shown in the picture, similarly you do this pose indoors on stairs.
11. Adulthood photoshoot with mother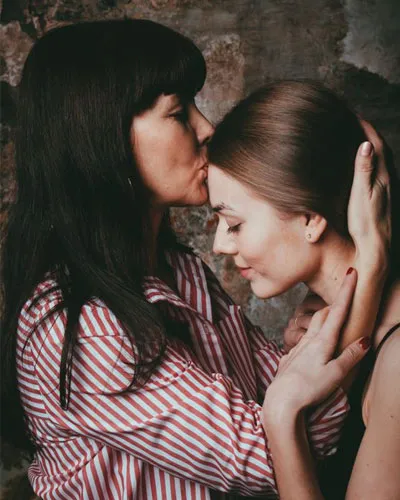 Not every picture can have a little child with a mother. Adults should also be allowed in mothers day pictures. So here is the idea. Even if you are in your 20s or 30s.
Stand in front of your mum and get a kiss on the forehead. It is an easy pose and captures the moment beautifully. So just try it.
---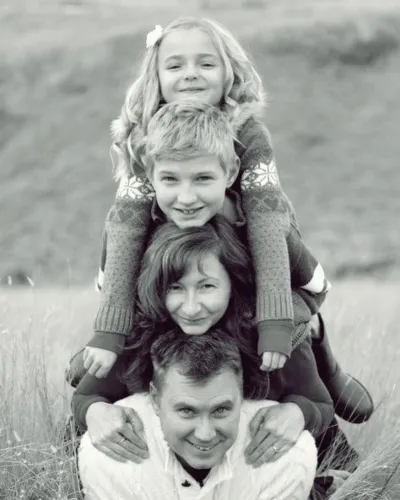 ---
12. Photoshoot with baby in your belly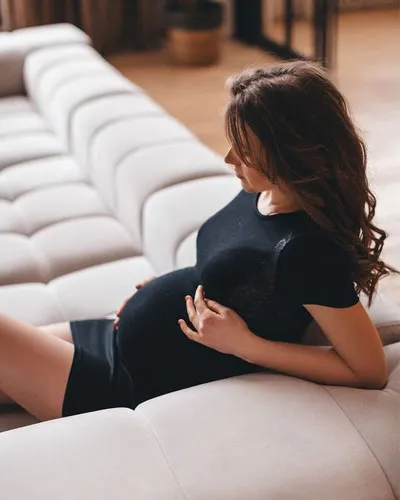 Maternity photoshoots are always very memorable and beautiful. Mom's hands on the belly are considered to be the best pose to show the connection between mom and unborn child. You can also show the interaction between the mom-to-be and the family members.
Also check: Mother's day gift ideas for mom to be
13. Fun with adult child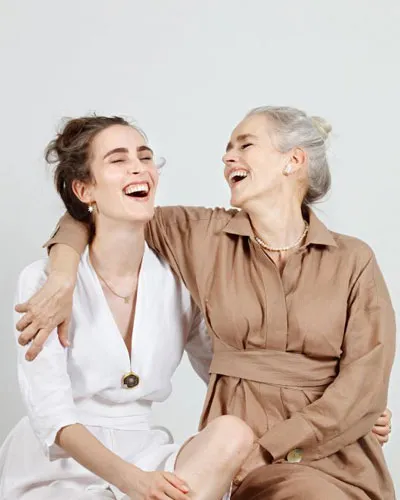 Talk about funny moments you guys have spent with each other. Stand very close to each other. It may look weird in the start but later on, it will not.
Take tons of photos so you can capture the best ones.
14. Add Little details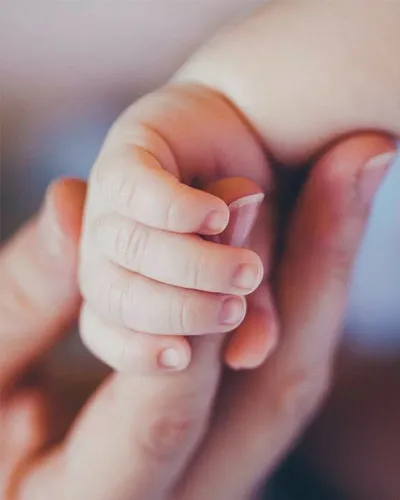 Not always the pictures with faces said to be photographed. Mother love can be shown in many different ways, you just have to focus on the details. You can get the idea from the picture given.
15. Generation photo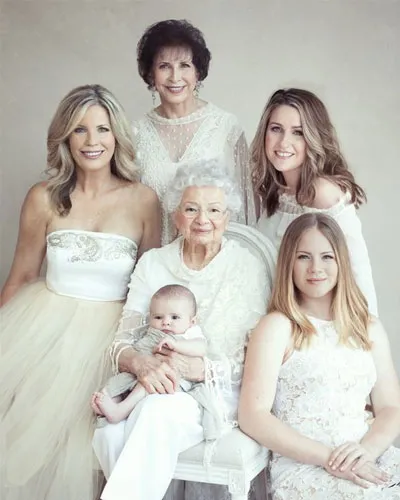 The generation photo shows a great connection to the family. The key to making a multi-generation photo work is to make people stand on different levels in the picture. Everyone should be very close together and one person should be higher than another. It is a wonderful way to show your family love and connection.
Mother's Day Mini Session Ideas
Mini sessions are short photograph sessions of about half an hour. Usually photographers book 4-5 sessions per day. So, you have to pose quickly to get maximum photos in less time. Get beautiful mothers day mini session ideas by scrolling below:
16. Mini session with a newborn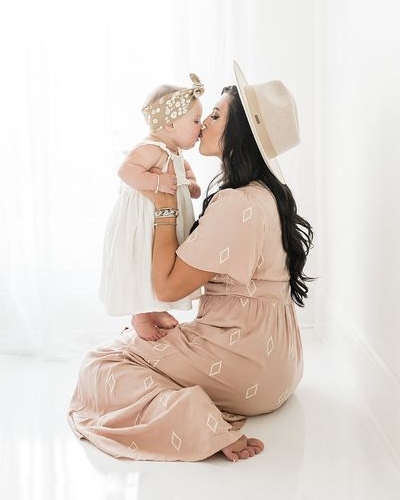 You can try a motherhood photoshoot with your newborn baby. Hold your child in your arms at different angles. Whether to sit on bare ground or on chairs. You are going to get amazing results.
17. Baby care photoshoot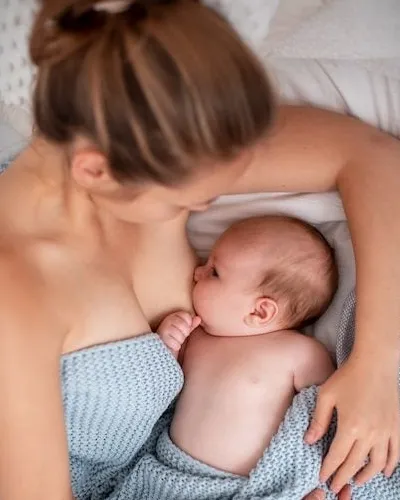 Breastfeeding is one of the most beautiful things that exist in nature. You can click photos of your child while breastfeeding. It is going to turn out a beautiful baby and mother relationship photo.
18. Bathroom session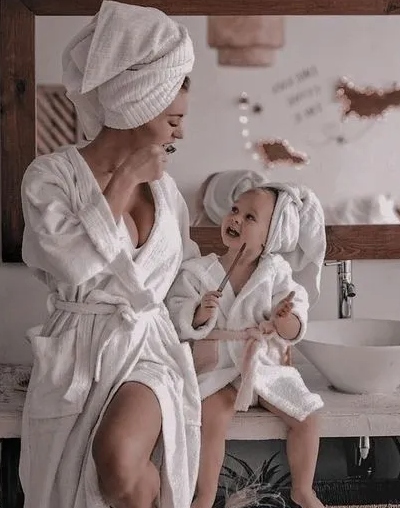 Bathroom mirror selfies are the best things. Wrap towels around the head. Hold accessories in your hands like brushes, face masks, etc. Be playful with each other and create a natural environment to get good end results.
19. Messy Bedroom photo session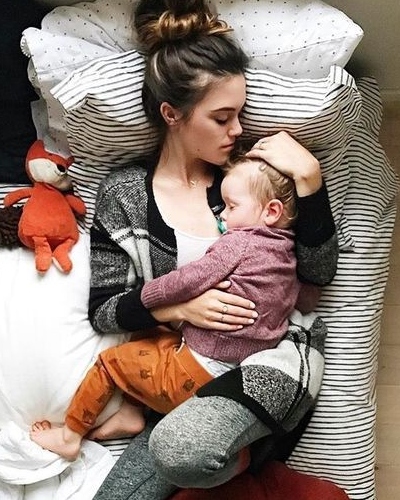 You can try creative indoor photoshoots. Bedrooms are a place where everyone feels comfortable. Get advantage of the bedroom elements and use them in your photoshoot. You can get the example from the image given.
20. Mother with their Mini Me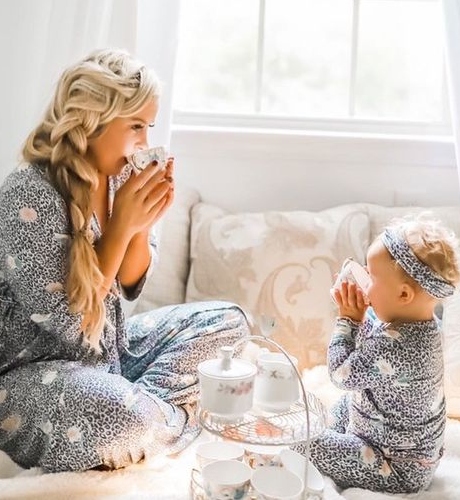 Use a tea cups as props to show how littles ones do the same things their parents are doing. Take close up shots and you'll get astonishing photos that you cannot imagine. 
21. Funky photos with matching clothes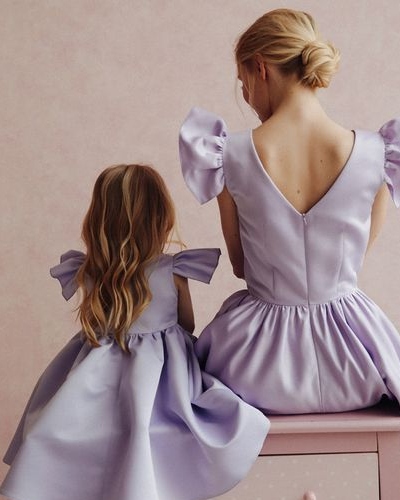 You can wear the same clothes and do some funky poses. Instead of taking pictures from the front, you can get them from the backside also, just as shown in the image.
22. Mother-daughter close-up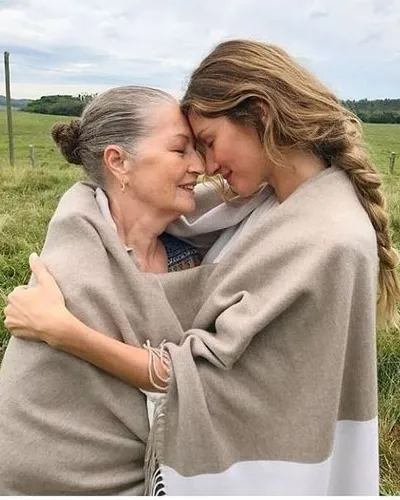 Click solo and dual photographs outdoors or indoors werever you like. Wrap a shawal around shoulders. It is a perfect idea for a mother's day photoshoot. 
23. Fashion photoshoot with son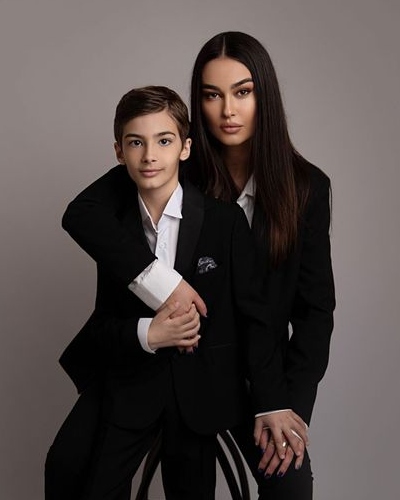 Go for a chic and fashionable photoshoot this time. Wear classic clothes with a plain background and cherish the high-fashioned dapper photos at the end.
24. Baby in your lap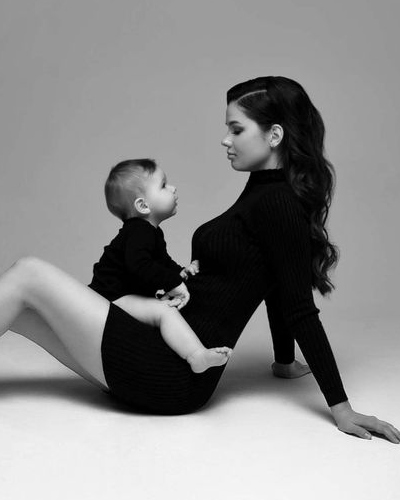 It is one of the greatest poses of all time. Let the baby sit in your lap. It is better if you and your child wear plain single-colored clothes. Solid colors make a picture look organized and attention-grabbing.
25. Beach photography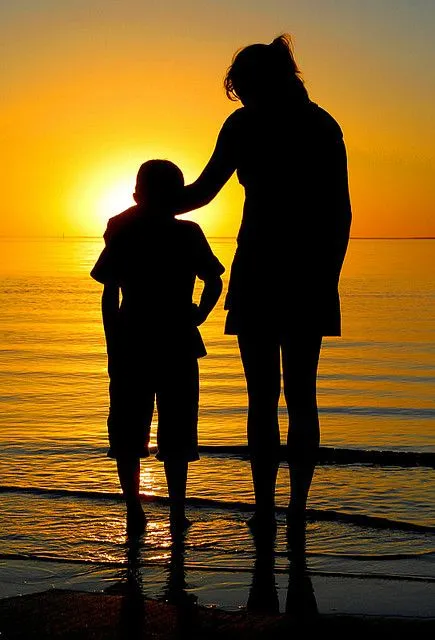 If you want some bold photos. Go to a beach this time. Silhouette photos are trending these days and beaches are the best place for silhouette photography. It is a solid, dark image of a subject against a brighter background.
Mother's day photoshoot ideas at home
If you can not go outside, take photos with your mother at home. Make beautiful poses to get amazing photographs.
26. Looking at each other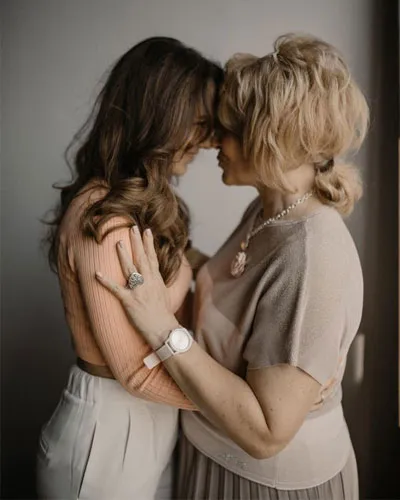 Both the kid and mom can look at each other. It shows a deep connection between the mother and child. A perfect and beautiful photographic moment.
27. Queen Mom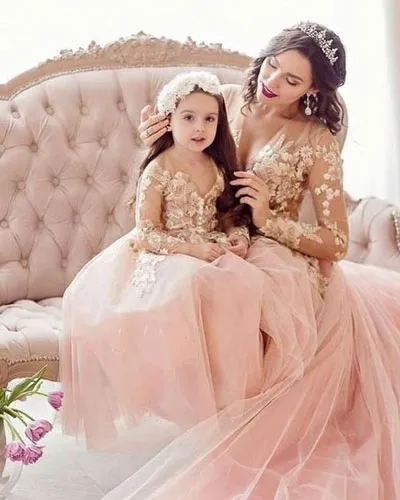 Do a cool photoshoot by wearing crowns or tiaras on heads. You can shoot this anywhere, indoors or outdoors. Pick a place that has a simple background and nice, soft light.
28. Use Confetti to add fun in photo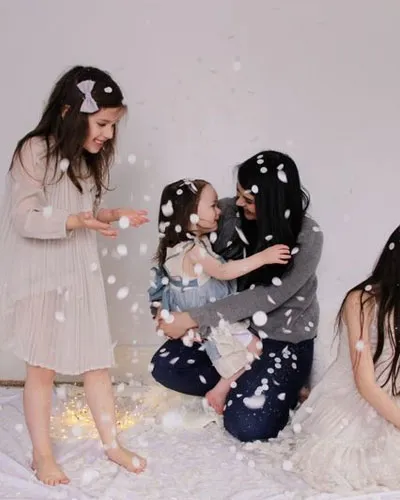 Playing with confetti is always a fun thing to do. So why not use it in photoshoots also?
You can use any kind of confetti you want and keep the rest of the shot simple. Keep the outfits simple and shoot inside against a plain wall or outside without a lot of distractions. 
29. Black and white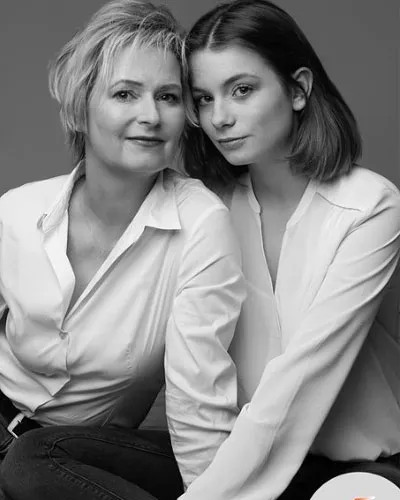 Black and white are always considered emotionally powerful as there is no distraction of color. You better have some black mothers day photoshoot ideas in your mind this time.
30. Recreate childhood photo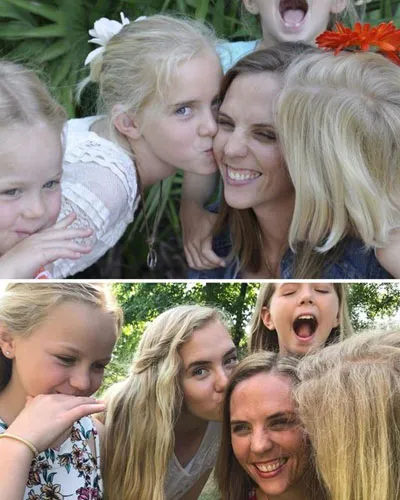 Find a funny old photo, or it can be sentimental. Recreating old photos is a huge trend nowadays. It evokes memories and very nostalgic
So why not you did this too? The more attention you pay, the more detailed the result will be. Recreate the pose as well as if the place is the same it will be more good. Similarly clothes as well.
31. Generation portrait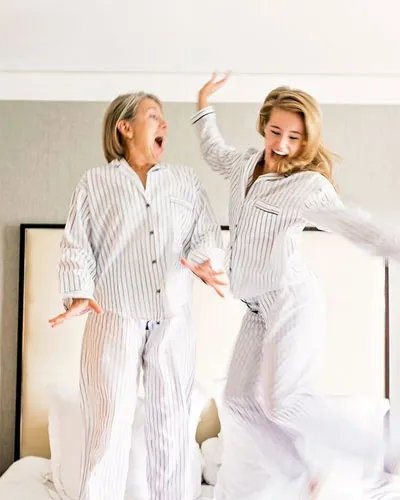 Similar to generation photos, you can have a multi-generation portrait. Several generations in a single photo are very heart-warming.
It is such an amazing photo idea that will be cherished by generations to come.
32. Matching outfit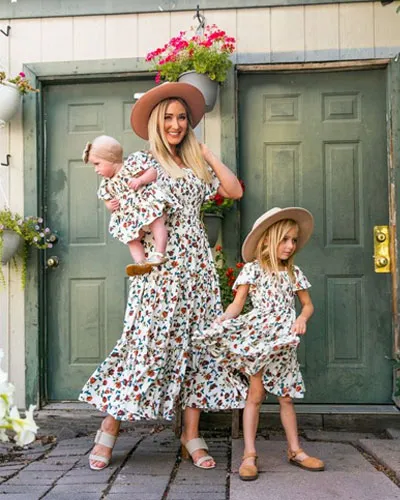 Wear matching outfits. It emphasizes a great bond between mother and child.
33. Cooking together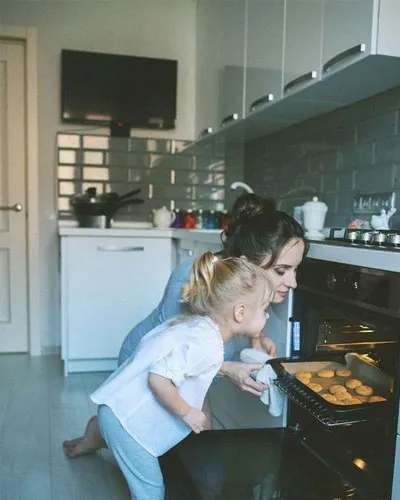 Cooking together photo ideas gives a natural vibe to the photo. So why not try it? Behave naturally, doing activities like holding something and eating, etc.
34. Pajama Party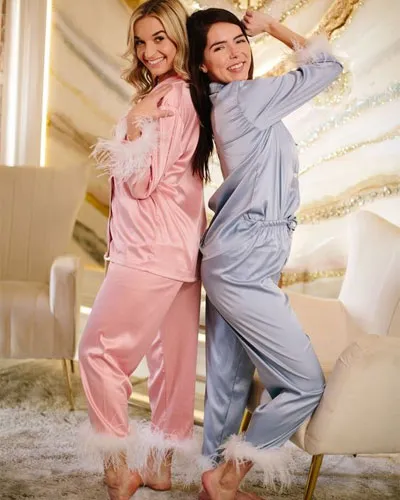 Wear your night pajamas. Try different poses like messing with each other's hair, having a pillow fight, lying together on the bed, jumping together, etc.
35. Tea time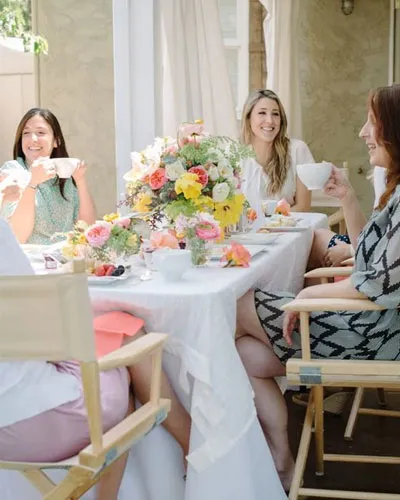 Children are always uninterested in taking photos. So why not get their attention towards something playful and then take photographs.
Set an outdoor or indoor tea party. They will get entertained themselves and you don't have to make them pose.
Conclusion
A photoshoot is something beautiful and memorable. It keeps wonderful memories alive for generations.
Such photos keep memories safe and everything is worth remembering. So why not give your mother a perfectly arranged photoshoot? Or just keep it simple. Because for mother, even small things matter. So don't be afraid and go for it.
Similarly, a mother can have photoshoots with their children in many unique ways discussed above.