25 DIY Wine Cork Crafts For Christmas To Try At Home
by
admin
December 13, 2022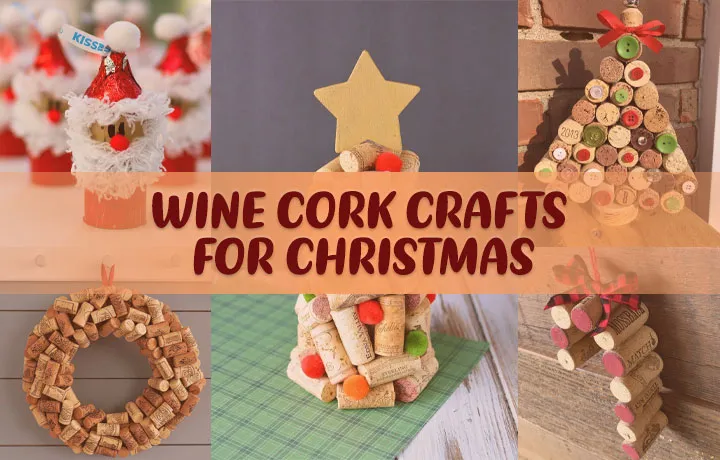 Now is an era of sustainability. A sustainable environment leads to an eco-friendly environment. Humans play an important role in it.
There is always a wine lover at home. Or time-to-time events left you with a compile of corks. You don't have to throw them but use them. Not only does using the waste material for decorations make you bring big smiles and awws to other people's faces but also makes you look visionary and creative.
We have given you a lot of wine cork Christmas craft ideas you can try and bring your Christmas decoration this year a new update.
Christmas Wine Cork Crafts
Given are the easy wine cork christmas tree crafts that you can try for Christmas and other events as well.
Wine Cork Christmas Ornament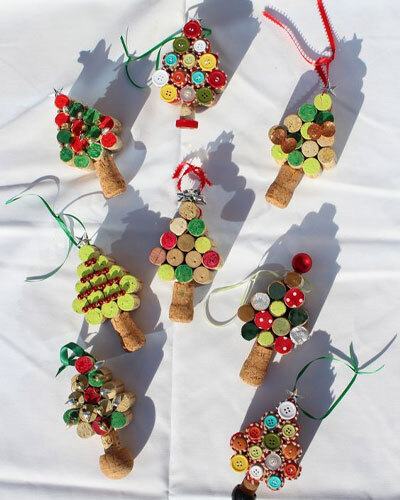 If you have plenty of wine bottles at home and a hobby of collecting corks. Now is the time to use them.
A cheap way of making ornaments and also to gift someone.
Take all the corks you have. Glue them in the shape of a christmas tree, and paint them in any colors you want. Decorate them with beads or buttons if you want.
Wine Cork Angel Ornament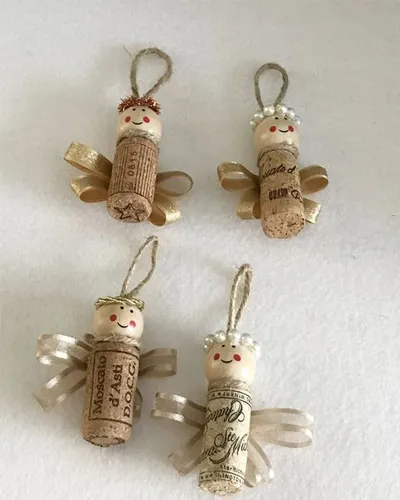 You can try several different ornaments to hang on trees.
Cork angel ornaments look adorable hanging on the tree. You can use them to hang in your rooms after christmas as well.
Wine Cork Christmas Game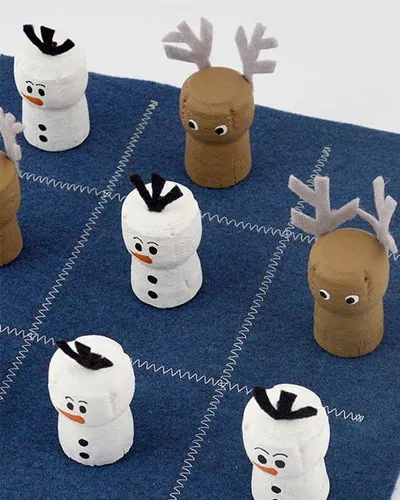 Do you want anything creative for the game night too? So you can flaunt your creativity on social media and click cute pictures.
Well, you can prepare hand-painted cute corks for the tic-tac-toe game. Here is an example you can see.
Reindeer Wine Cork Craft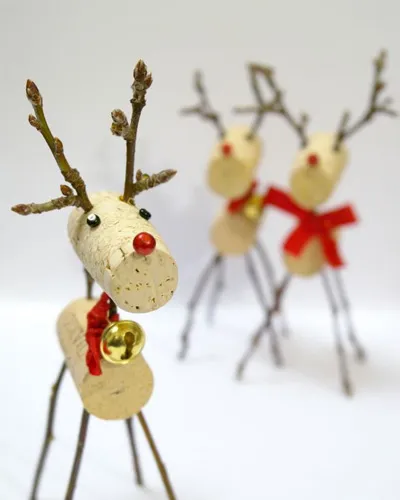 A few tiny reindeer wouldn't hurt to place on a side table or someplace you find suitable. You can find plant stems outside your home easily. Use them to make horns and legs—some beads for eyes and nose. And there you go.
Snowman Cork Ornament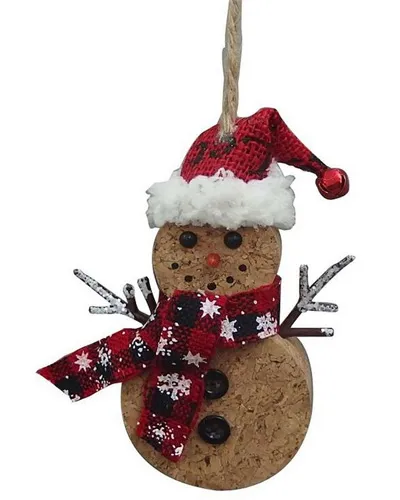 Snowman ornaments are a perfect idea for christmas. If you have a tiny christmas tree or a plant. They are gonna look perfect on them.
Cork Christmas Wall Hanging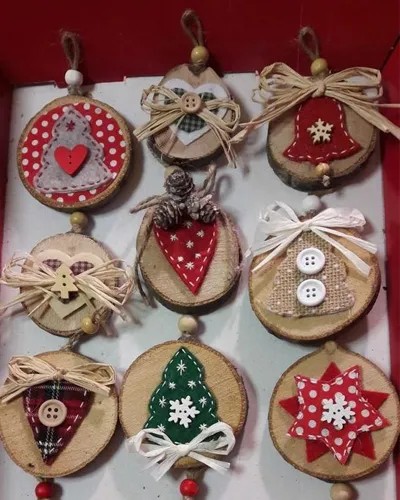 Who knows you can make mini wall hangings with just cork slices?
You can easily pass the thread through corks so there is no need to doubt. You can easily make a wall hanging with some beads and your favorite mini ornaments.
Cork Napkin Ornaments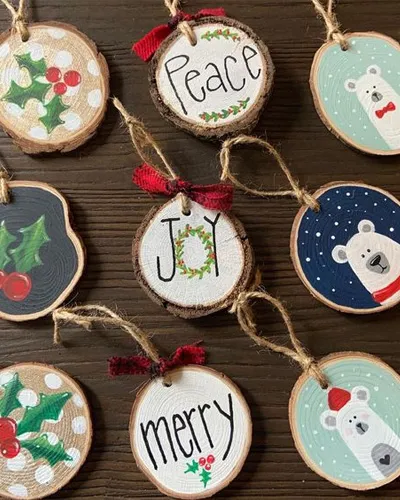 A dinner is necessary when it's Christmas. So napkin ornaments wouldn't hurt. You can give ornaments made of cork to the guests to keep them for longer time as a memory.
Paint them nicely. Write some words over them or draw something.
Wine Cork String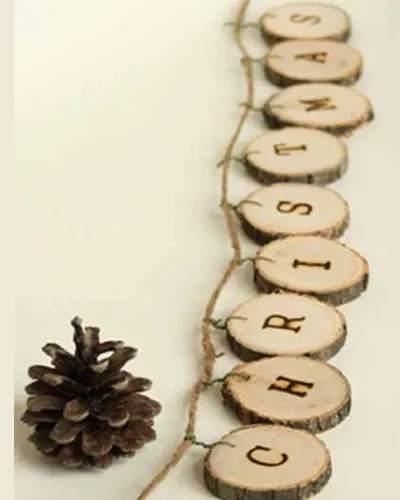 You can hang them anywhere. On a christmas tree or door, on a hanging plant pot. Anywhere you want.
Hole the wire through the corks and pass them through the strings.
Use a wood burning pen to write something special on cork cuttings.
Candle Wine Cork Craft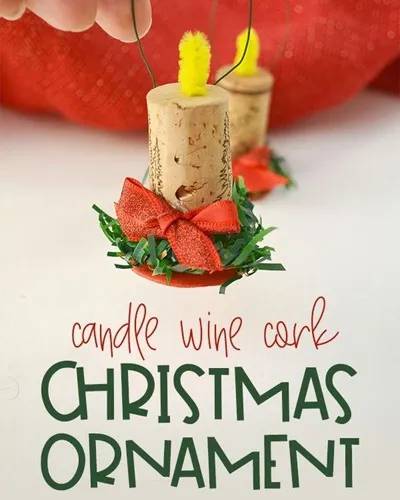 There is no point in putting on simple candles or buying expensive candles from the store When you can have your own attractive and extremely creative and environmentally friendly candles.
You can hang them or put them on a flat surface.
Use any kind of material you have at your home to decorate it.
Related: Eco-friendly flameless candles
German Advent Christmas Wreaths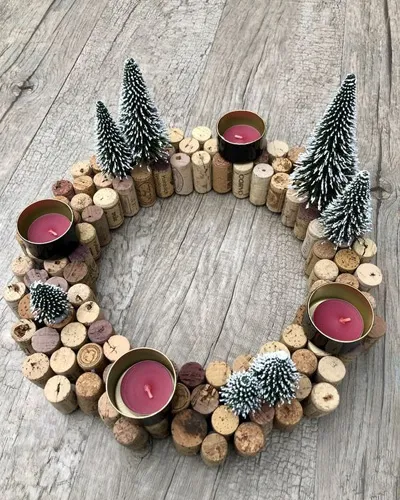 Such wreaths have candles over them so you have to lay them straight. It is a unique item to have this season. Tempting and catching sight of everyone.
You must try it to make your Christmas more joyful.
Wine Cork Christmas Ornaments
There are different ways cork ornaments can be made. We have discussed some of the ornament creations given below.
Cork Hats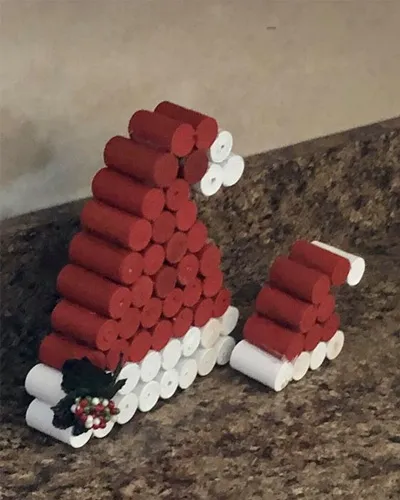 Cork hats are effortless to make. Assemble the corks in the shape of the hat shown in the picture. Glue them and paint them white and red.
Cork Candy Cane Ornament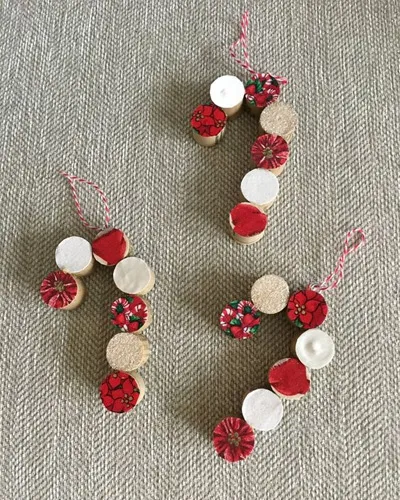 Do you want a 5-minute DIY? Uncomplicated and easy?
Well, you can try these candy canes. Put a steel hook in one of the corks and pass the thread through it.
13. Wine Cork Birdhouse Ornament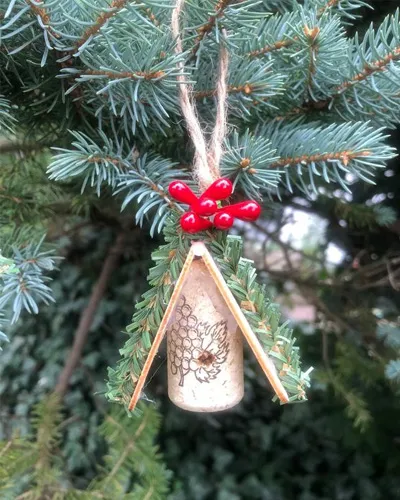 On trees, there are nests. So why not have them on our Christmas tree also?
Cork nests are very easy to make. Cut two small pieces of cardboard. Put them over the cork in an inverted V shape. Glue grass over it and decorate it with your favorite ornaments.
14. Wine Cork Gingerbread Ornament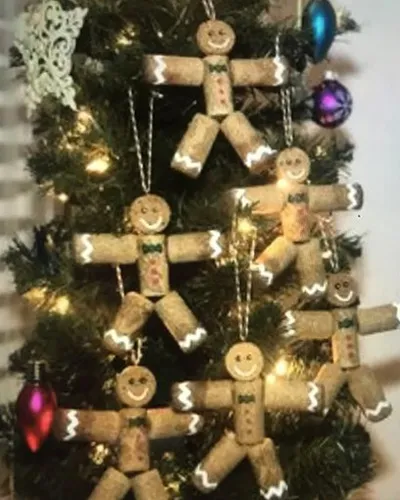 Different shaped ornaments look great and appealing. Everyone wants something that looks good and inviting at the same time. Such ornaments are difficult to find in the market. Except for spending your time going through the whole market or online pages. You can make your own. Here is the example you can see.
15. Wine Cork Tree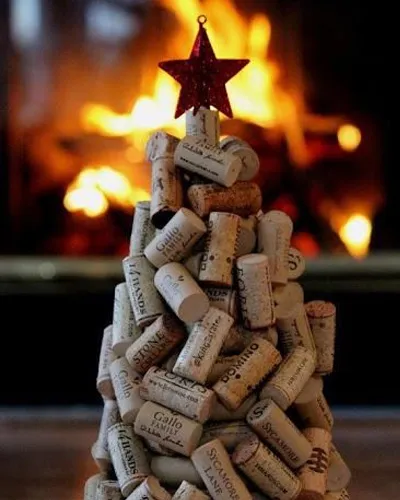 Do you want more than one christmas tree but you don't want the same ones again and again? Here is an idea. Try a wine cork tree.
Just get a lot of corks. Take a cone-shaped cardboard or anything you think will work. Start sticking the corks overlapping each other. But try not to distort the shape. Put any ornament over the top. And you get your DIY tree.
Related: 40 Best DIY Christmas Tree Ideas For Small Spaces
Wine Cork Picture Holder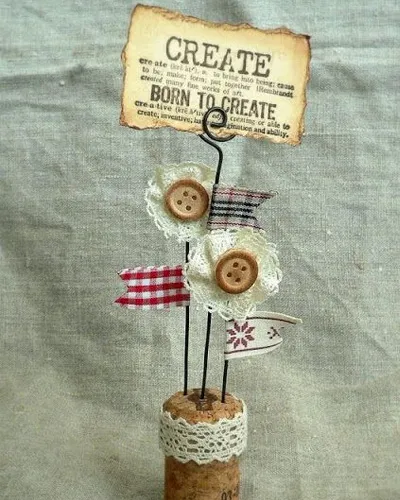 Want something like a holder for your Christmas pictures with your children or loved ones?
Wine cork holders are one of the cheapest ideas you can try. You just need some wires or decorative material for it.
Cork Bottle tags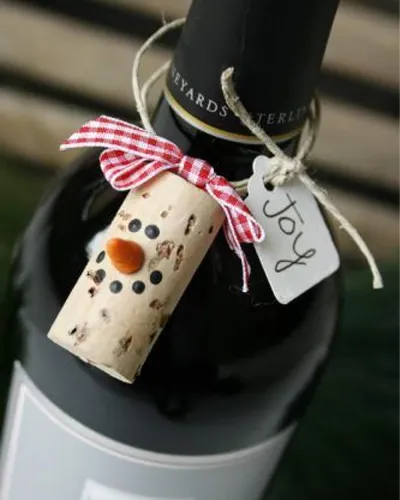 Want to decorate your wine bottles? Enhance their attraction? You can take wine bottle corks and recycle them to bottle neck tags.
You can have the idea in the image below.
Heart Christmas Ornament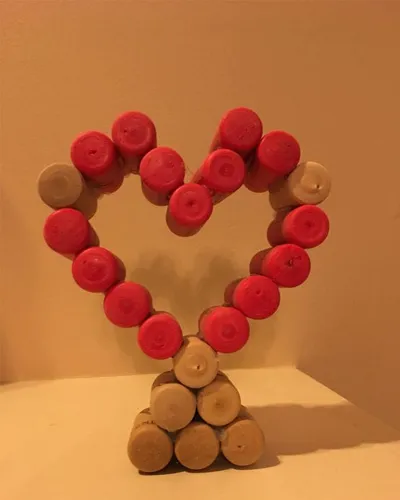 You can go with a hanging heart ornament or you can make it in a way that can be placed on a flat surface.
You can fill the heart from the inside with corks or not.
Cork Pine Cone Holder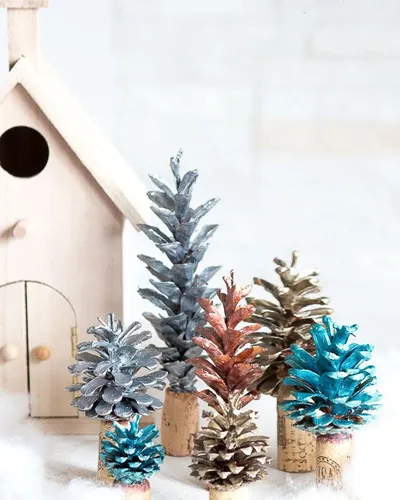 Instead of just putting the cones or hanging them. There is a new one showing them. Use cork as their holders.
It is a budget-friendly idea and the best ornament for Christmas decorations.
Christmas Cork Candle Holder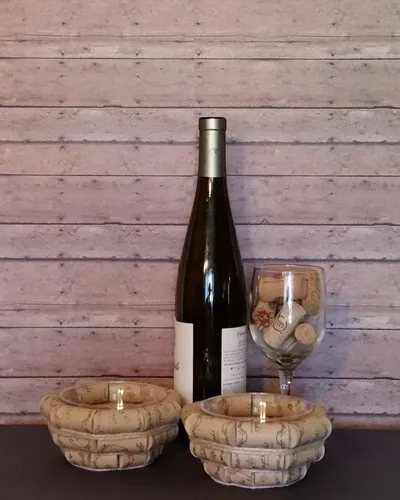 You can make unique candle holders for the Christmas season instead of just putting the candles simply on the table.
Take a round disposable bowl and glue the corks on it roundly. You can also add some ornaments or beads for extra decoration.
Cork Christmas Tree Crafts
Some of the wine cork christmas tree crafts are discussed below which you can try and embellish your home perfectly.
Block Cork Craft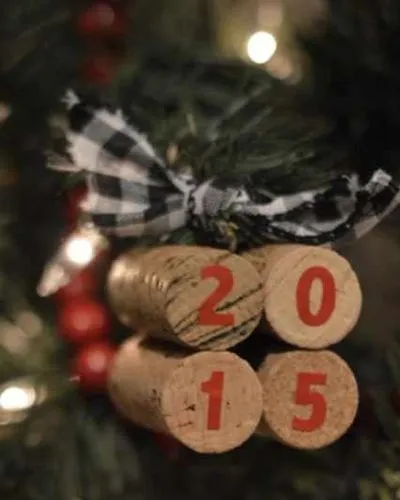 Make a block by combining four corks. Write the current year over the corks.
It is one of the unique and less-seen ornament ideas you can have this season in your home.
You can also try it with beer bottle caps after opening the bottle caps with an easy to use cap opener just by sticking the four of them and then painting.
Cork Garland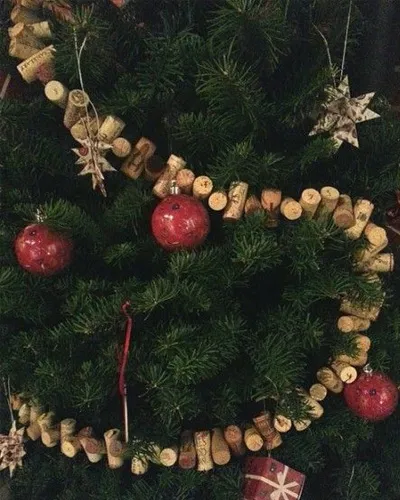 Cork garlands look great on Christmas trees. Instead of buying, have your handmade garland this christmas made of corks.
Just get a needle and thread and start passing the corks through it. Make it as long as you think is wrapped up quite well around the tree.
Wine Cork Charms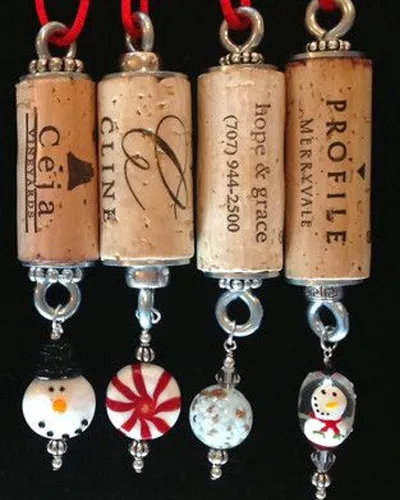 You can make keychains or hanging charms from corks for this Christmas also. Hang them, sell them, gift them, one of the best pieces to work on.
You need to buy some charms and other materials used for it from the dollar store. They look professional and the charms add a touch of the galaxy.
Wine Cork Ball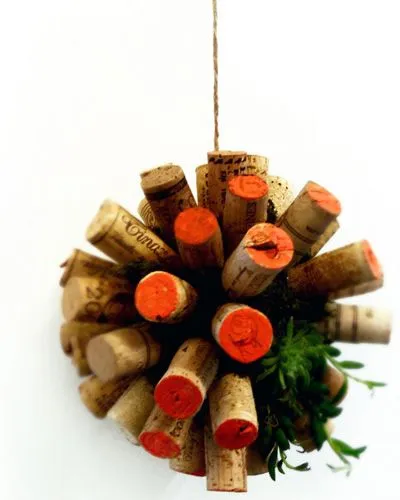 Try a new kind of wine cork ball by following this idea. Take a ball and start sticking corks in the manner the image is given.
You can hang them on your tree afterward.
Wine Cork Snowflake Ornament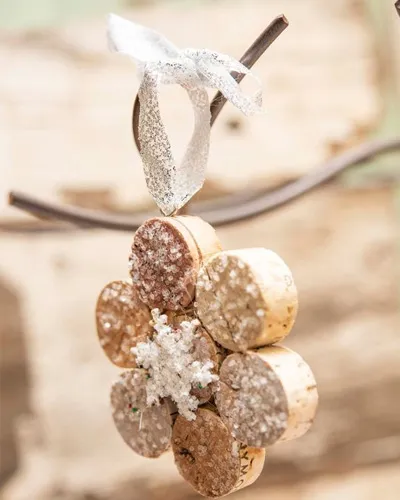 Winter season and no snowflakes? It's not right.
Get up and make some glittery sparkly snowflakes. They look so alluring that you wouldn't stop making them.
Conclusion
We have acknowledged you with a lot of unique ideas you can try at home easily. It is not necessary to copy them as it is. You can add the touch of your personality to your creation. Utilising the waste material is a cost-effective way of using resources.
You don't have to buy all the expensive products to decorate your house. You can create your products.
No need to doubt yourself. Just give it a try and let your family and friends be surprised and impressed.