40 Best Christmas Tree Ideas For Small Spaces
by
admin
December 12, 2022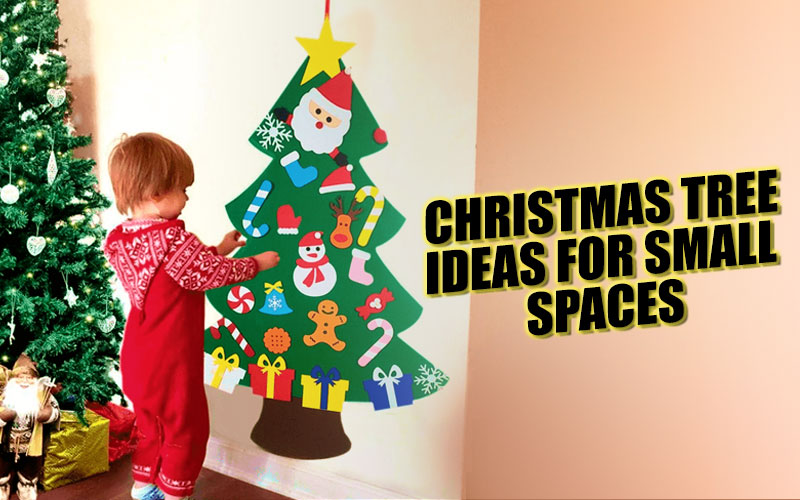 You live in a place that has limited space. And if you think you have to say goodbye to the standard Christmas tree. Then say it, because no need to worry. The idea of a small Christmas tree can be disappointing, but it cannot be if done the right way.
How to make a small christmas tree? Well, We have discussed plenty of creative and easy Christmas tree ideas for small spaces. You can downsize them and apply them to your home, living rooms, classrooms, or anywhere with small spaces this season.
Hold on guys, as we have latest picture ideas to make with your partner using a Christmas tree or any other accessory to make your Christmas more memorable.
Alternative Ideas To A Standard Christmas Tree
There are a lot more ways than you can imagine to make small christmas tree to free up your space and to fulfil your wish of making your living home creative and attractive at the same time. You can read them below.
1. Wooden sticks Christmas tree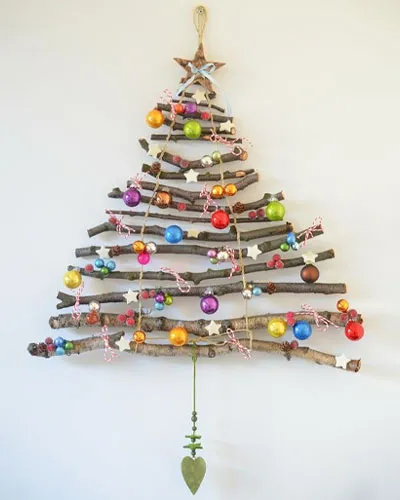 No space to place a giant Christmas tree anywhere, so there is no need to worry.
Collect some branches from outside and make a DIY homemade wooden sticks tree. Hang it on the wall with fairy lights wrapping over it, and Voila, you got your small Christmas tree ready.
2. Baubles Christmas Tree
Have a lot of baubles at home? Or do you like floating decoration pieces? Try something new this season.
Using ornaments like baubles to make a floating Christmas tree is a great idea. They will give you full size and height like a Christmas tree but a floating one. They will make your room look wide and not visually cramped.
3. Christmas Tree Shelves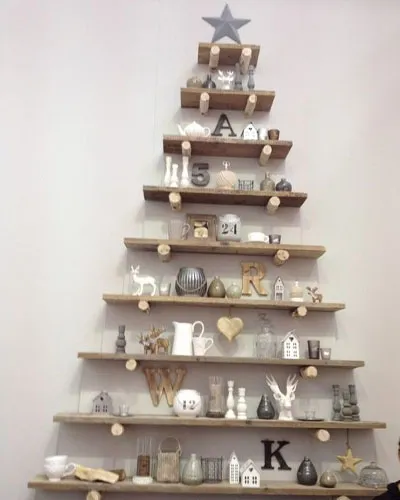 Want to show off your Christmas tree idea in a new way? Wooden shelves can help you with that.
Arranging your wall shelvings in the shape of a Christmas tree. Put a few Christmas-themed ornaments on them and there you go. No large space problems at all.
Editor's Tip: If you don't know how to provide support to a shelf, we have these folding shelf hinges. Bring these and make your shelf Christmas tree.
4. Framed Christmas Tree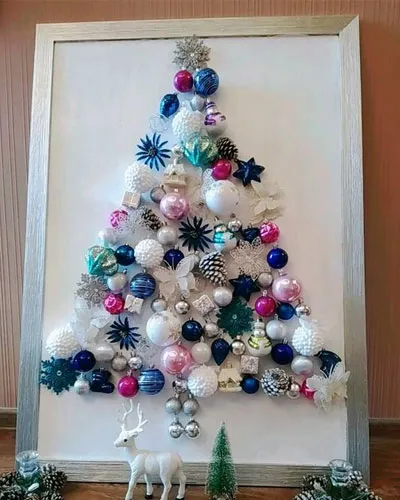 Want to keep your Christmas tree above the ground?
Take any Christmas ornaments you have and arrange them in the shape of a tree. To make it more attractive, frame the ornament tree and hang it on the wall.
5. DIY Velcro Christmas Tree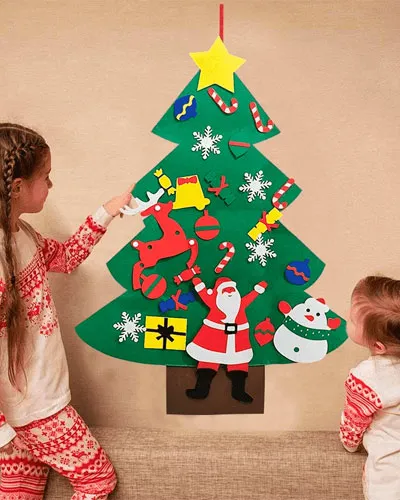 Velcro Christmas trees are great for toddlers to play at home. You can stick the Velcro Christmas tree to the wall. It has mini ornaments with it.
Toddlers can pull or stick them on the tree board and arrange them choicely. It is a good DIY project for small spaces.
Small Christmas Tree Ideas
Here is the list of small Christmas tree ideas for small spaces:
6. Fairy Light Christmas tree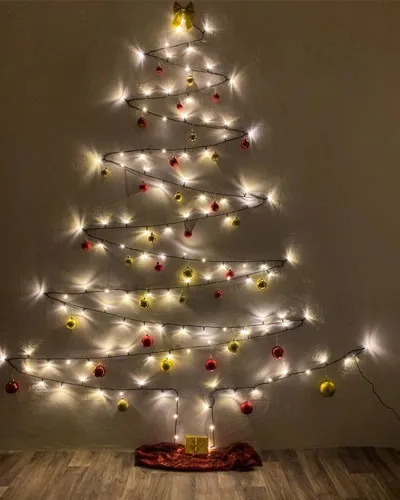 Do you have a lot of spare fairy lights available at home? Now it's the time to use them creatively.
Here is an example of how you can arrange them on the wall. You can also try decorative string lights for more attraction. Santa Claus string lights, baubles string lights, or, any type of ornamental string lights you want.
7. Miniature Christmas Tree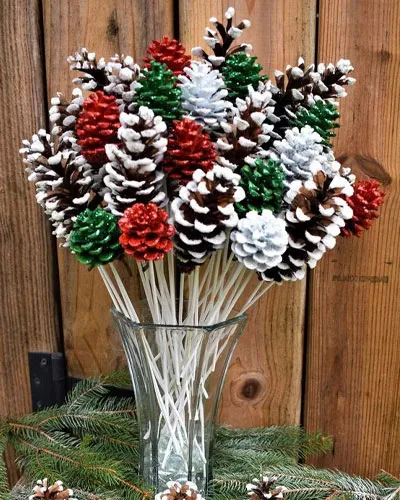 Want a small christmas tree for a table? You can make mini trees to place on the side tables or coffee tables.
Take a lot of pinecones, color them or decorate them with paints or mini ornaments. Glue them on sticks and put them in any available vase or vine bottle at home.
8. Christmas Tree Bookcase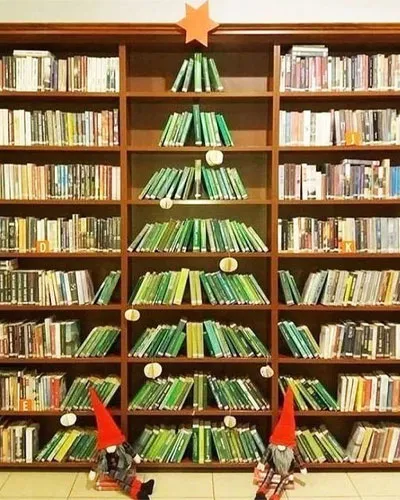 Do you have a mini library at home? Or bookshelves?
You can arrange them in the shape of a tree. It not only gives you a creative look but also looks aesthetic to you and the viewers.
9. Knitted/Crocheted Christmas Tree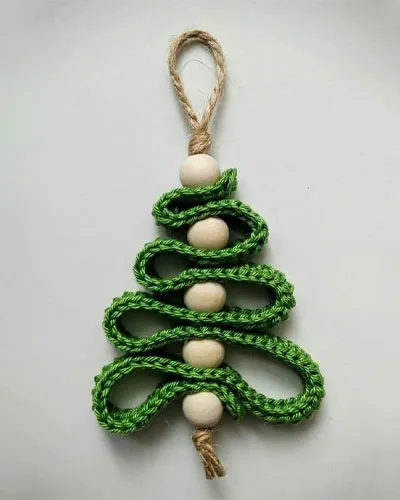 Do you know how to knit or crochet? Or want to try something new?
Here is the easiest way to learn new techniques and decorate your house at the same time. With simple crocheted/knitted strips, you can make mini Christmas trees as wall hangings.
Thus a small christmas tree for bedroom walls, kitchen, or lounge walls is ready.
10. Accordion Paper Tree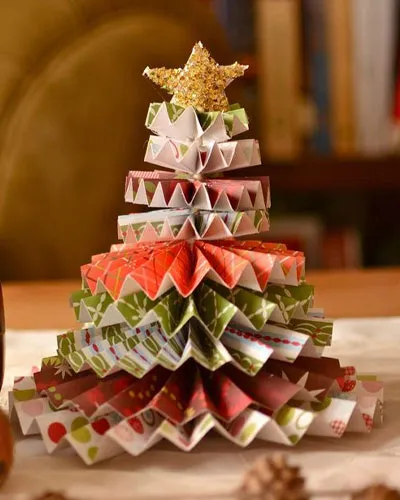 Do you know a simple paper folding technique can help you make a christmas tree?
There are different DIY paper folding techniques. Easy or technical. You can try the Accordion shape to get an amazing Christmas tree. You can place mini versions in your bedroom, dinner table, or anywhere.
Christmas Tree Ideas to Save Up Space
Find ways to save up your space using ideas given below:
11. Christmas Tree Textile Wall Hanging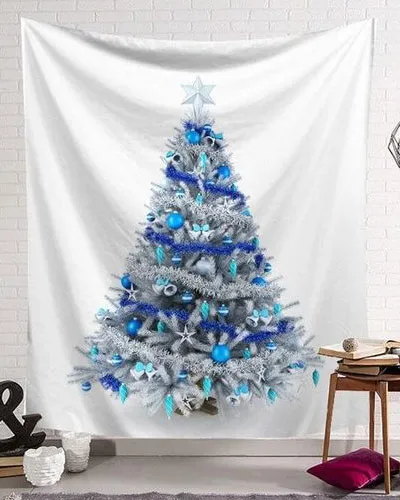 Do you want a large Christmas tree at home?
Try textile wall hangings with Christmas trees printed on them. Hang it on the wall and enjoy a new way of decorating your home.
12. Christmas Tree Wall Decals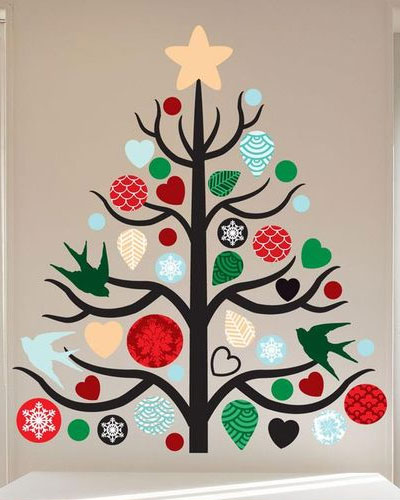 Wall decal kits are a fun way to decorate your walls on Christmas. They are applied directly to the wall. Give a flat image and fit your small space nicely.
13. Garland Wall Christmas Tree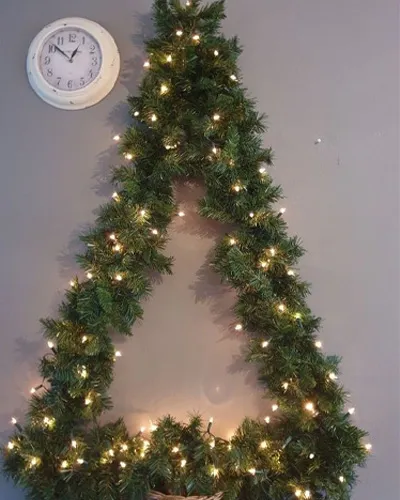 If you don't have a christmas tree or you don't even want one. Simply add a showstopping garland to your wall. You can put it in any way you want over the tree or also in a triangular shape so that it looks like the shape of a Christmas tree.
Garlands can be of any type of Christmas ornament you like. I.e. LED Garland Snow Flake.
14. Inflatable Christmas Tree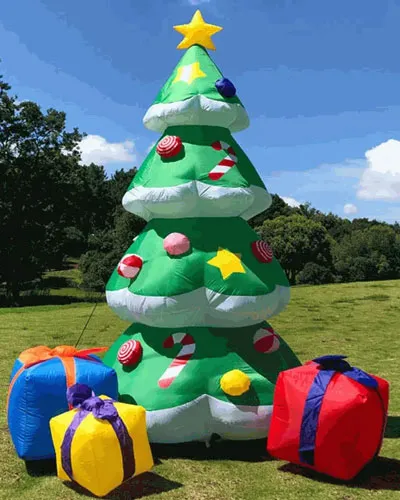 Want to stand out in public this Christmas? Don't want a Christmas tree indoors because of the small space?
Inflatable christmas trees are placed outdoors. It has a built-in fan function to inflate the tree outside and then deflate it when you have to go back.
You can place them on your porch area or in the garden wherever you want. It also comes with three mini inflatable gift packs.
15. Cake Stand Tree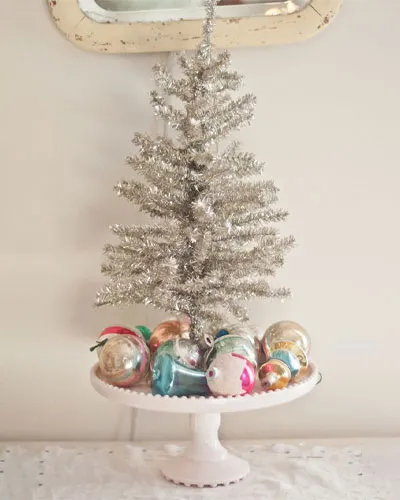 You do not want a Christmas tree? Want to fit in something in a small space? We have got an idea for you.
Take any cake stand available at home. Buy an artificial mini tree from a dollar store and present it over the cake stand with other ornaments. Do it any way you want. After all, it is your place.
Christmas Tree Ideas for Small Room
Here you can find Christmas Tree Ideas for Small spaced rooms:
16. Mini Jar Christmas Trees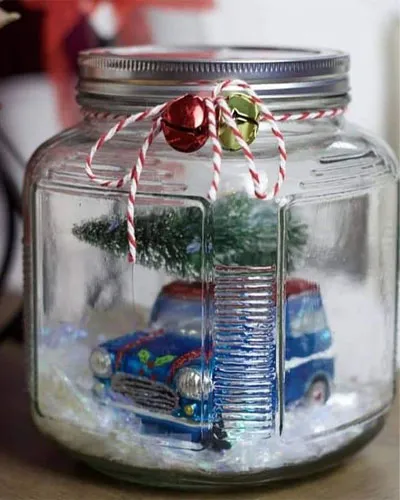 Instead of big trees, you can have your mini version of Christmas at home. Buy mini toys related to Christmas or you can have things in your home too. Put them in the jar and you get your small christmas tree for the table ready to show off.
17. Cut Paper Christmas Trees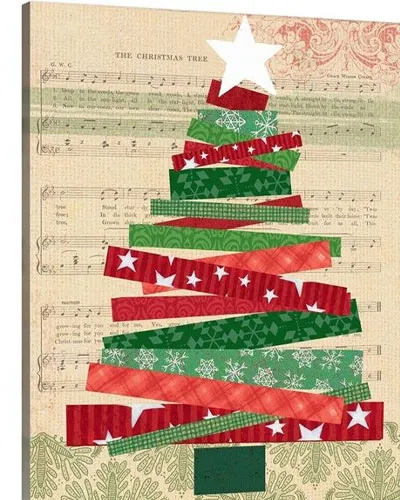 You can cut strips of different colored paper and stick them on paper in the shape of a tree. Frame your art piece and it will look good as bought from the market.
18. Staircase Garland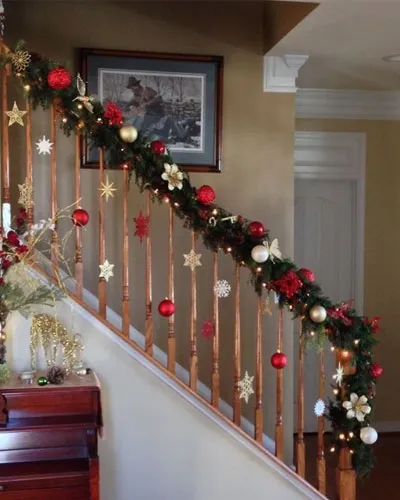 With other ornaments, buy a garland too. Not only you can put it on the wall, around the door, and on the staircase as well.
Decorate with other ornaments you like and it looks tempting to look at. For you and others as well.
Are you looking for party accessories including balloon garland, garland tape, balloon blower, etc? Click here and get accessories related to holiday decoration at best prices.
19. Holiday Card Christmas Tree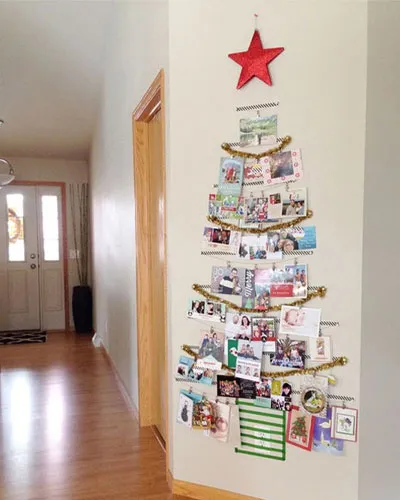 For sure there are a lot of cards or holiday cards available at home, that is of no use. But you can use them now. Arrange them on the wall. They look so great and pleasing.
Here is an example from which you can have an idea.
20. Spoon Christmas Tree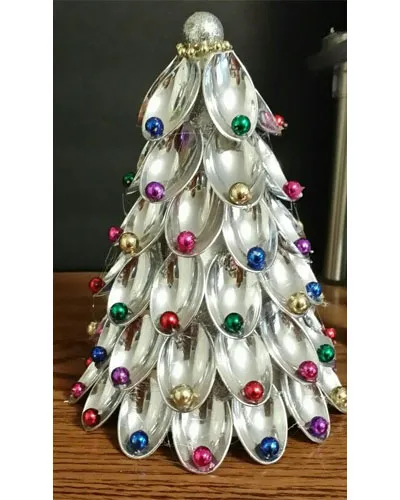 Do you want cheap and easy-to-go ideas for the Christmas tree? You are at the right place.
Disposable spoons are of great use. You can break their bark and use the front spool to make a tree. Put a cone-shaped hard chart or cardboard as a base and start sticking the spoons over it with glue.
Afterward, you can spray them with silver or gold spray paint. Here is an example for your ease.
Small Xmas Trees With Lights
Ideas given below can be used to make small christmas trees using fairy lights:
21. Tree Wreath Ceiling Hanging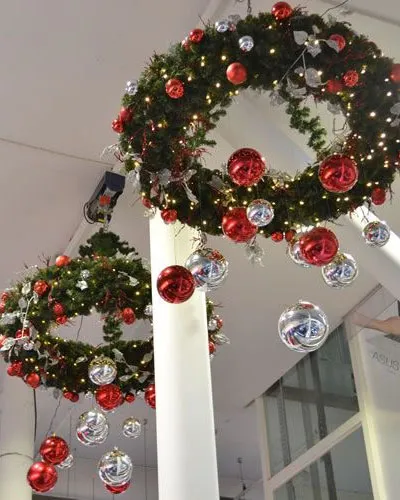 Do you know you can hang wreaths as chandeliers as well? NO? Here we are.
Not only are the wreaths used to hang on the wall but can also be used as ceiling hangings. Take any rope or jute strings to tie knots on the wreath.
Then hang it on the ceiling. It is a great idea to accommodate in small spaces.
22. Candle Christmas Centerpieces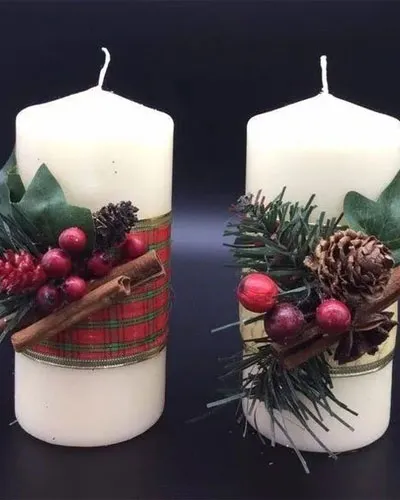 Candles can also be used for Christmas tree decoration ideas from small spaces. They are easy to make decoration ideas. Use any kind of ornaments i.e. mini trees, wreaths, baubles, or christmas related colour clothes or glitters to decorate the candles.
Thus you get a mini interpretation of Christmas trees. You can place them on kitchen tables, side tables, centre tables, or any place you find suitable and eye-catching.
Want to get rid of the candle wax mess? Try these flameless eco friendly candles to decorate small spaces.
23. Steel Bucket Christmas tree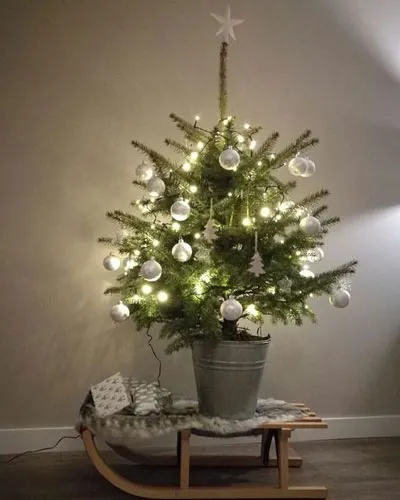 Use a steel bucket for a Christmas tree. It can easily be accommodated in a small area. Buy a small christmas tree from the tree store and put it in the bucket with sand in it. Find a good place to keep it.
24. Cane/Basket Christmas Trees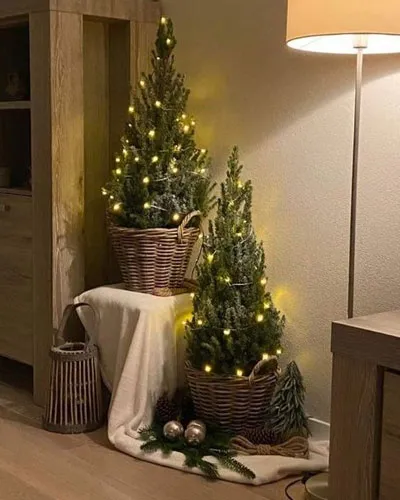 Do you want a vintage look this season? If you don't have any. Go to the store and buy cane baskets.
The colours of these baskets give a vintage look with green christmas trees placed in them. It gives a fresh vibe to the house environment.
25. Birch Christmas Trees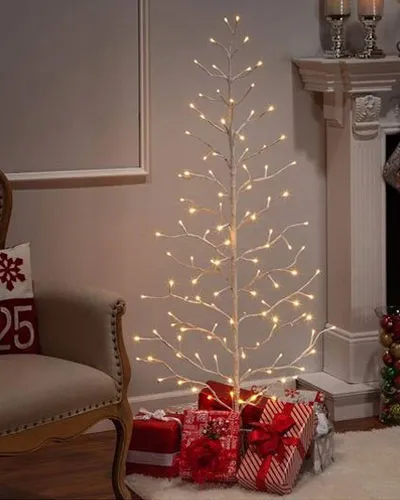 Instead of buying a whole Christmas tree, you can just use twigs with little ornaments to present the look of christmas. You just need creative ideas to do so.
Buy LED Branches from an online store. Put them in anything or stand them straight on a wooden piece. Here is an example to enlighten something new in your mind.
Christmas Tree Ideas For Small Apartments
Here you can find Christmas tree ideas for dorm room or apartment:
26. Old Pitcher Christmas Tree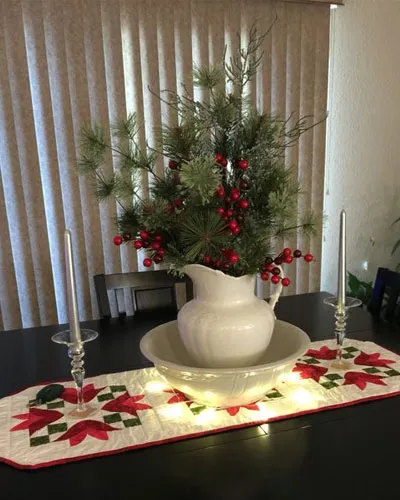 Do you have any old pitchers at home? If yes?
Just buy mini artificial plants you can put in them and you got a christmas tree that does not cover the whole area.
27. Bottom-Wrapped Christmas Plants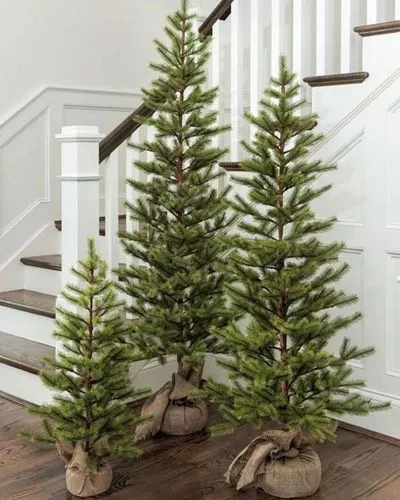 You don't want a big-sized christmas tree at home because there is not much space?
Not a problem. Instead of buying a big one, buy different size versions of plants and place them in a suitable place where you think they will fit well with the small space and still make the area look wider.
28. Boquet-style Trees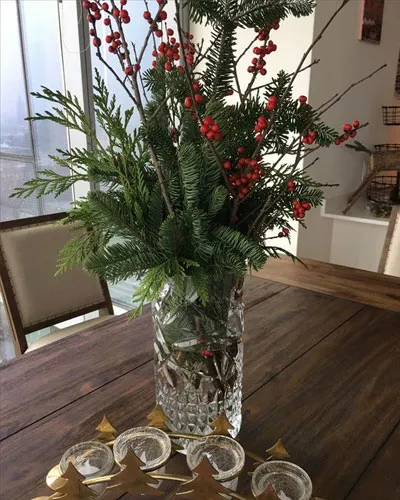 Take one or two oversized jars and fill them with water. Insert any boughs of pine or cypress. Decorate them with your favorite little ornaments.
29. Illustration Tree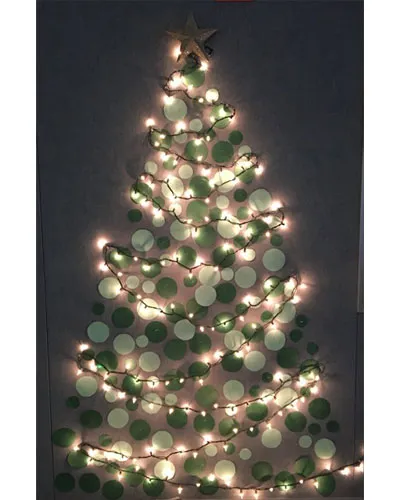 Make an illustration on a wall. Hand-painted or with cut paper shapes. It is 2D but you can make it 3D easily.
Draw the tree and put ornaments or lights over it to give it a three-dimensional look. Here is an example you can see.
30. PomPom Christmas Tree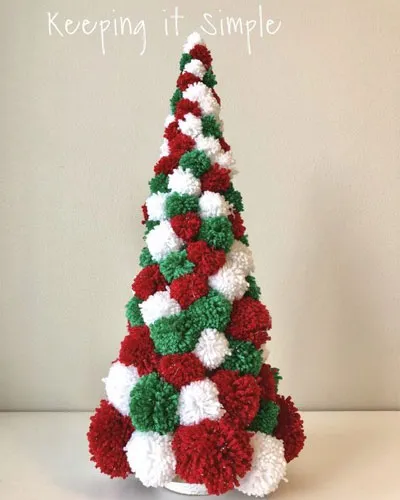 Who doesn't love cute and fluffy things?
With pom poms, you can make such a cute christmas tree you have never seen before. Make pom poms of different colors. I.e. green, red, and white and glue them on a cone-shaped paper or cardboard.
Small Christmas Tree For Bedroom
Use these ideas to make small Christmas trees for your bedroom:
31. Tussel Christmas trees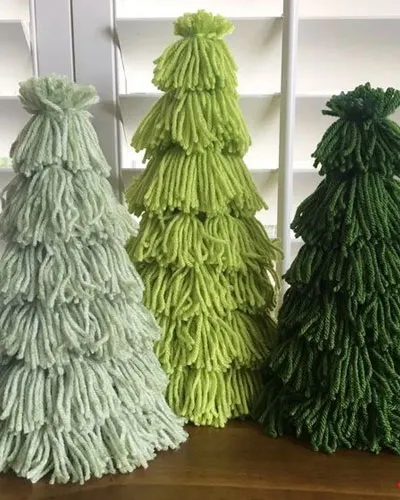 Do you want something space friendly? Here you are.
Similarly to pompoms, you can make tassels with yarn to make a cute tree. Or you can buy tassel lace from the market also. Beneath keep the cone-shaped cardboard or anything, and wrap the lace around it.
Or just glue the tassels one by one and make fun and easy seasonal decoration centrepieces.
32. Felt Christmas Trees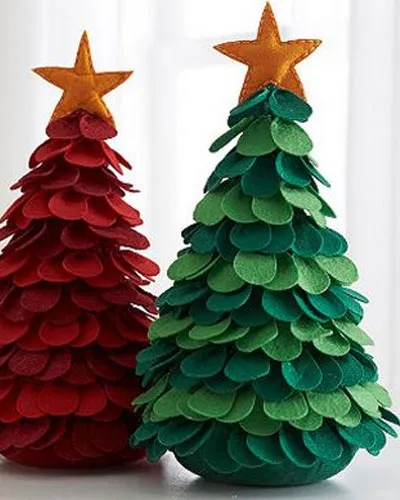 Felt is widely used for making flowers and other DIY crafts. You can also use it to make a space-friendly tree. Large or small, your choice.
Cut shapes in triangle or circle shapes, start sticking them overlapping each other and at the end, you will get an adorable version of the christmas tree.
33. Flat Wall Christmas Tree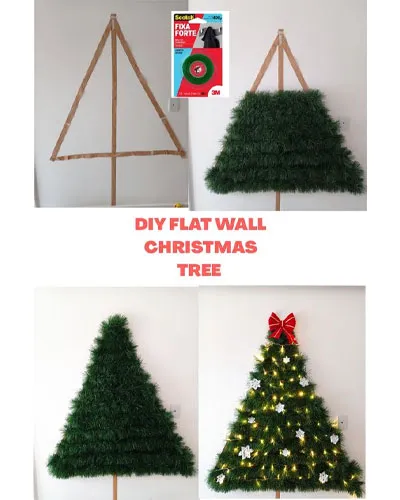 You can easily make a flat wall Christmas tree. Take anything, lace, tassels, garlands, paper cut tassels.
Stick the double-sided tape in a triangle shape on the wall and stick both ends to it. Put your favourite ornaments over it. And present to you a christmas tree with no space issue at all.
34. DIY Wooden Christmas Tree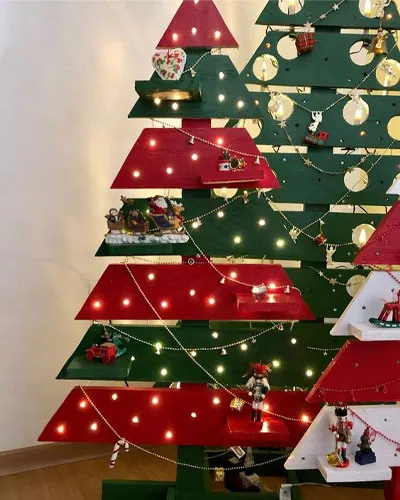 Many people have wooden plans or wooden pieces at home. They can be used to make a wooden christmas tree.
Here is an example shown, you can see and try it yourself. You can make them smaller or larger according to your choice.
35. FireFly Christmas Tree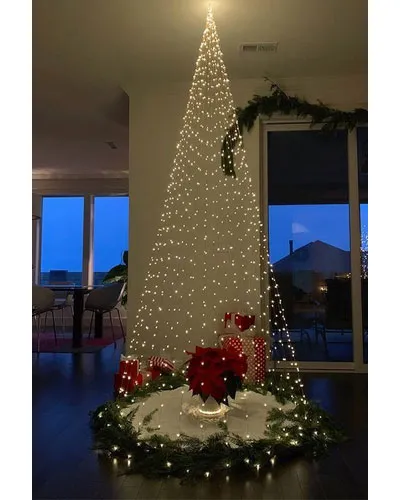 What can I do instead of a Christmas tree? A firefly Christmas tree is a great alternative. You can make the shape of a tree by combining firefly lights all at once from the upper flowing downwards. You can put some ornaments or gift boxes underneath.
Small Christmas Tree Ideas For Limited Space
Here are the best Christmas tree ideas for small spaces:
36. Ladder Christmas Tree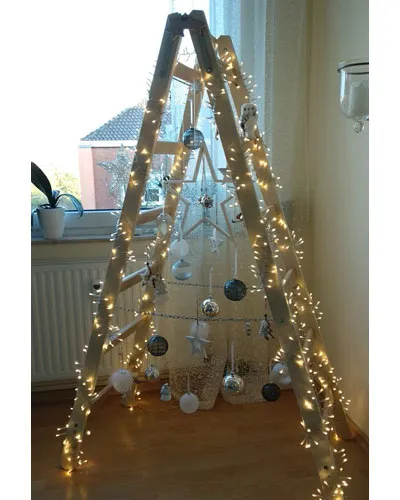 Almost everyone has step ladders at home. Ladders are a great alternative to a christmas tree for small spaces or for those who don't want a christmas tree this year.
You can wrap around or hang up the lights of different shapes.
37. Traditional Pot Christmas Tree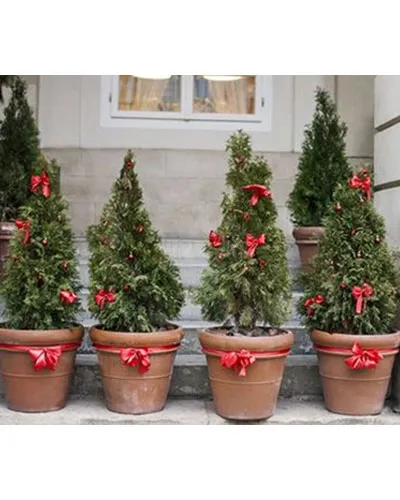 Do you want a small Christmas tree for bedroom? Here is a good idea. Buy mini plants from a nursery or anywhere. You can not only put them in the garden. You can place them on window sides or in your bedroom in any corner or side table.
Mini christmas tree planters look adorable. They are small, space-friendly and set the mood even further
38. Corner Wall Christmas Tree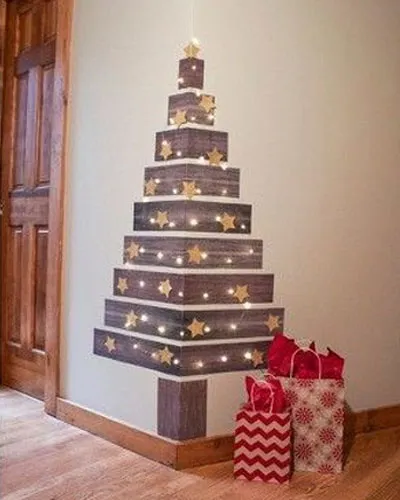 There are a lot of creative ideas. One of the best and really good places that have a very small area and no place to put anything extra.
You can cut some colored papers and stick them to the wall as shown in the picture. You can add 3d ornaments to make it look more attractive.
39. Garland Cage Christmas Tree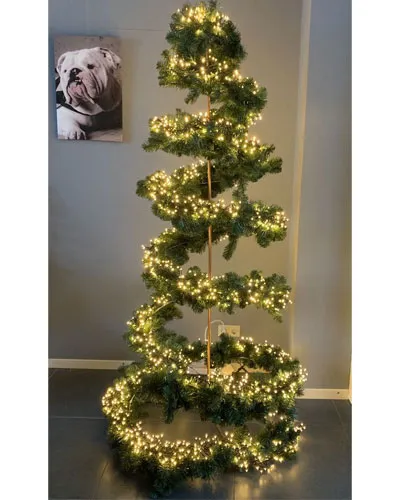 Buy some extra garlands to make a Christmas tree this season. Take a wire and make a rounded cage around the stick. Then attach the garland over the wire. Here is an example to give you an idea.
40. Balloons Christmas Tree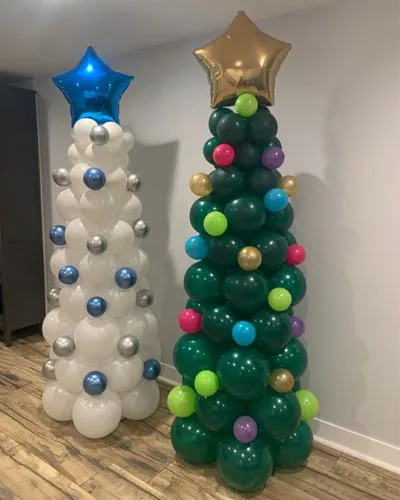 Who doesn't love balloons? And who knows balloons can help you make such creative DIYs?
Blow balloons of different colours and in different sizes. Stick them together round by round. You can size your tree smaller or larger as you want. And there you go. Put a foil balloon on the top or some ornaments if you want.
Conclusion
Now that we have presented you with a bunch of ideas you can imply them to your homes this season. You can get a lot of ideas from them in accordance with your own mind. By adding extra creativity and adding twists to the already-created products. You can design them as your own which shows your personality.
You can make your personalised trees and make a smaller tree stand out just like the bigger Christmas trees. And no one will notice small space issues. Let us know in the comment section if you have other creative christmas tree ideas to avoid small space issue.