Spooky, Knee-Slapping Hostess Gifts For Halloween Party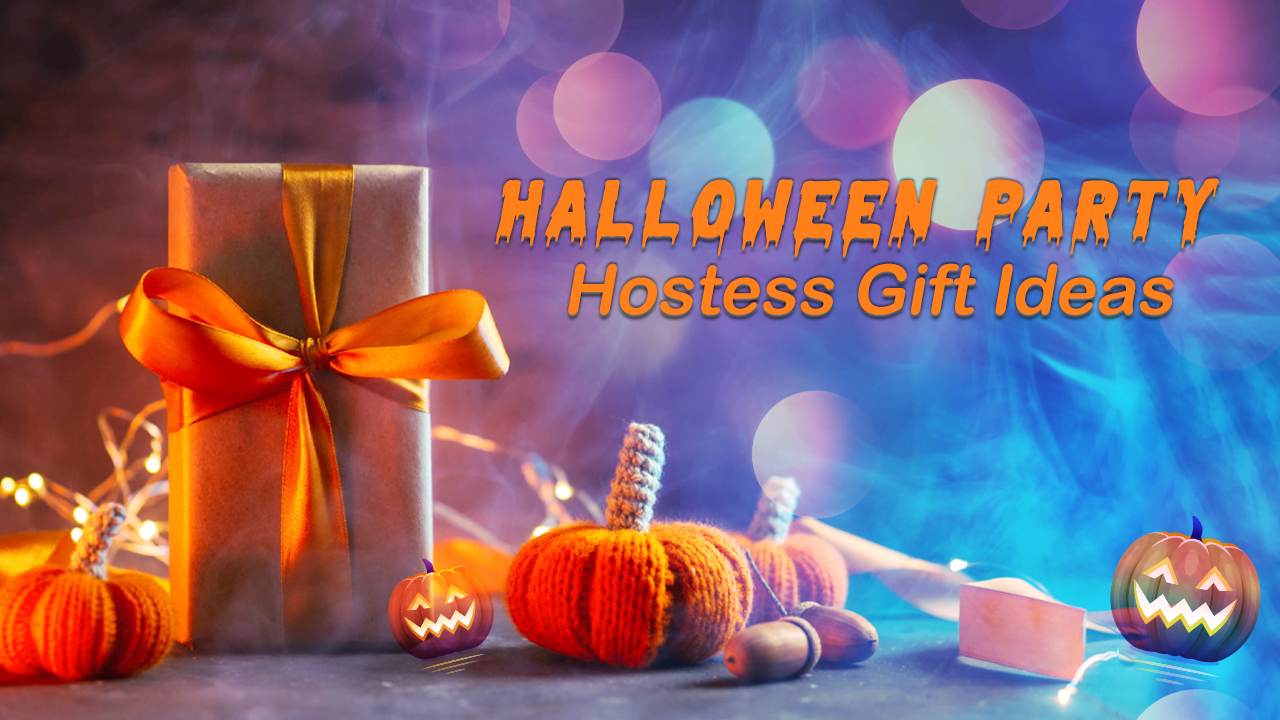 Have you ever listened from your friend "please don't come to my home without a gift"?😂
Be ready to listen to it again because Halloween is just around the corner and You don't have much time to think about what should I bring for the party hostess.
The most appropriate gifts that people usually buy are the things that are used at holiday parties and that are most entertaining for their family and friends. These could be:
Decorative wine bottles
Spooky coffee mugs and coasters
Party supplies that they can use to decorate their party
Any practical item for daily use (most liked by people)
A candy dish or a serving bowl
Candles etc.
Other than these, gifts could be as simple as a wish card with Halloween wishes. But Halloween is a big event so if you want to celebrate to its fullest then add something spine-chilling and knee-slapping to the Halloween gifts for party hostess basket.
Let's get deeper into the discussion to know what to bring to a Halloween party as a guest:
Halloween Gift Ideas for Hostess:
Here are the best Halloween gift ideas for your hostess that will make her scream but shall prove very useful for her.
Before going to a really expensive Halloween shop for the gift, you should mind these ideas below to get a very momentous gift for your beloved ghostess, we mean hostess.
Fingerless skeleton gloves are something we call haughty products to be worn on Halloween🧤. You may like to give it to your hostess for it is available for under 10$. You show her and then make her desperate for it. The fingerless skeleton gloves will perfectly combine with your hostess' costume.
Who would not love to take tea from an elegant pumpkin-shaped mug? Everyone will worship it, especially your hostess at the Halloween party who would specifically wait for you to come and you guys can exchange quirky Halloween gifts with each other.
This mug resembles the actual pumpkin. The mug will stay memorable as a spooky gift for her majesty, the hostess.
Bringing a Halloween skull soap dispenser to your hostess will make her think that you care about her hygiene a lot. Presenting her with a skull dispenser will automatically imply that you are a cleanliness freak.
She might accept the gift but insinuating to her the advantages of the dispenser will definitely make her think that your sense of humor is really sick.
The pumpkin shirt is a Halloween special shirt. It does not only allow you to fetch the best gift for the hostess but shall help you to put a smile on her divine face.
The pumpkin t-shirt is printed with the shiny orange pumpkin. It is made up of polyester and is washable. Keeping in view all these properties of the shirt, you starling girl will feel forever in love with you.
Flameless candles are here to increase the passion of the night. These lights are so realistic, and mesmerizing, and give the best scary effect on Halloween night.
You should gift it to your hostess at the Halloween party to make her feel cajoled in your love and gratitude and so that she can use these candles to arrange a candlelight dinner for you.
Give her the items to get into the costume. You would be thinking of a lot of hostess Halloween gifts but the skeleton jacket would stand out among other gifts for its uniqueness, and its vague expression. The gift would make your hostess a little more prominent among other girls.
Give it to her so that she could celebrate her individuality and peculiar sense of fashion.
Neon lights are a Halloween forte. They look sweet but wicked, cute but fierce. Whatever it is, they are considered crucial to the event.
If you gonna present the pumpkin neon light to your hostess as her Halloween gift then she's gonna ultimately love it. Gift it and awaits the magic to happen around you and your sweet hostess.
Jack o lantern is relevant to Halloween more than any other product. It is what we call a magically burning pumpkin.
Now, if you think that this pumpkin plush will not give goosebumps to your girlfriend/hostess then use some cricket or a cockroach to scare her off before offering her pumpkin plush.
Bring her fluffy and soft octopus puppet as a hostess gift for under 10$ and tell her that she has entangled you as the octopus retains its prey. She might smile, giggle, or show you anger but you know your life revolves around her and she deserves the care you are giving to her.
The pumpkin tealight holder is something that gives a very spooky effect to the surroundings. Your hostess will love to act bossy if she calls you into her haunted house. The tealight holder can support the candles in it. When the holder reflects light, the jack o' lantern-type effect would mesmerize you.
Inexpensive Halloween Gift Ideas For Hostess
Your hostess may like to see you bringing a gift for her. But it is not out of the blue that she might get angry about spending huge money on gifts. It should not bother you for there are a lot of inexpensive Halloween gift ideas for hostesses to make them feel special. let's see what we got in our pocket;
Imagine that you enter the house of your hostess and you see the ghosts flying and swimming over the walls😱. The ghosts' shadow reflects through the rattling of your teeth.
Would that not be scary? We want you to give such a window projector to your hostess. She would not open her mouth with fear and agitation.
This is not a typical doormat. The doormat asks for the approval of the owner to enter his house. If your hostess gets this doormat, she will get very evilicious👩‍💼. She would command you to get into the room and thus she would play with you the way she likes to.
Well, for a second, mind this urging and compelling pumpkin salt and pepper shaker that is cajoling and attractive in design and is relatable to Halloween in every aspect.
Hey, pumpkin! Ever wondered what should be the best item you can buy as a hostess gift that could be helpful to her in the kitchen as well as commemorates the spooky spirit of the Halloween party?
Make your hostess happy, glimmering with joy by giving her the deft bun. It will serve her best, keeping her mood fresh. Plus if she wants to use the bun with her costume of a 'crazy housemaid' and wants to allure you by showing her short skirt and deft bun, then it's already your Christmas before Halloween😉.
The legging is perfect for having coitus with your hostess at night.
You will be enticed towards her and thus leading to more intimacy as the night is already cold and something evil might lurk in the dark.
Lace-up leggings from which the sexy legs of your hostess can be read like a book are an immense gift for Halloween under 10$.
Well, your hostess is a busy woman. She might not have personal time. But you are her love, her buddy, and everything to her. So, you are going to give her an electric detangler. The detangler would make her hair straight and loveable. You would love to make her feel vital in your life.
The horns are LED-empowered and mounted on a hair band that will designate your hostess to the level of the unapologetic queen of her world.
Every woman needs to be this courageous and bold if she wants to live happily in life. Make her believe in herself by giving this outrageous light-up horn.
Women love crop tops. These tops let them express their body curves in a very beautiful manner. You can take a skeleton crop top as a hostess gift for a Halloween party.
She would love the crop top. Crop top not only has relevance with Halloween but its usage in daily life will make it more inspiring to your hostess.
The nipple pasties shall give way to your passion in a very sexual manner. These pasties are to be stuck on your nipples, giving you a headstart at your most intimate moments.
These nipple pasties can be passed as a hostess gift at the Halloween party by you. If you are closely related to your hostess then these pasties will take you on the roller coaster of pleasure and lust.
House Guest Thank You Gift Ideas You May Love To Know
You are at some host's house and have been enjoying Halloween night to the fullest. You have eaten the best food in the world, have drunk the most delicious wine, and what else can you enjoy? Well, you can enjoy showing gratitude and love to the host. Here are the house guest thank you gift ideas you might enjoy,
You are thinking about gifting your hostess something in return for her hospitality. Let it be some smiley, happy pendant. The pendant is conventional, and popular among people for its benefits and the charm it gives when worn by people.
Make her smile by gifting her the pendant. The memorable gift would stay with her as long as she keeps it safe and close to her heart.
What could be better than a rose bouquet for your sweet girl? The bouquet gives a stunning look to your face. Your hostess's face would blaze like fuchsia after seeing it. The led luminous rose bouquet will remind her of the bond that you two have with each other. The togetherness is itself a blessing and now you have the bouquet between you reminding you of the days of glory and love.
The stitch bite game is very recreational. It challenges the two partners not to be bitten by the dragon's teeth. You can give it to your hostess and can play together like children. You should know when a relationship has the honesty of children, it lasts longer. Keep the inner child alive and have fun together while you play the game.
Although it's Halloween and you are looking for an absurd hostess gift for a Halloween party but giving her the mushroom bed set will make her dream about heights of glory.
To make Halloween meaningful, a mushroom bedsheet will send a message to your hostess that someone loves her but that someone also wants her to grow strong like a mushroom by sleeping on the bedsheet.
Offer her the wicked, crooked-looking chicken leg socks as a hostess gift for Halloween. The socks are embellished with chicken bones and the feet appear really chickeny to be worn on Halloween.
Right after receiving your present, your girlfriend will be ready to bite you with her sharp toes and ulcerative nails.
Remote control candles will change the atmosphere into a scary and ghostly one. It's the best gift for the hostess at a Halloween party. The light coming from the remote control candles can be adjusted
You can play tricks with your beloved hostess and can make her exasperate on the fact that you have scared her well at the party.
Related read: Cool night lights for room
A bald cap is a very contradictory product to be presented as a Halloween gift for her. She would never like to get bald.
But for the sake of the party and the relevance of the cap with the surrounding, she would definitely put it on and will blend in like a very demonizing, mesmerizing corpse bride. Wait for a second, does not the corpse bride has hair too?
The cereal bowl is thought to be made to eat the cereal in it but when it is used as a simulated candle for Halloween. It is the best, clever Halloween gift a should give to the hostess of the party.
The party starter cereal bowl candle will attract the guest to eat the delicious cereals from it but they will taste the candle wax instead. Seem so lame but surely worth a menacing laugh.
You should fetch laser gloves as hostess gifts for the Halloween party just because she occasionally behaves villainously and demeaning.
We are just implying that you should take the laser gloves to the party to make her feel powerful and compelling, and persuasive.
This is the most fun product you will ever deliver as a hostess gift for a Halloween party. Ask why. You know you would realize soon that fake men's beer belly fanny pack is such a lame product and it should not be gifted to the hostess at Halloween parties?
But if you have taken it along and now you think that it's too late then don't worry. It is okay and you are ready to face the consequences.
Best Halloween Gifts For Pet Lover Hostess to make her fall in love with you
The best Halloween gifts for a pet lover hostess could be the reason for a smile on her face. The pets attach to the women in a very unique way. If you care about your hostess then you must be worried about her pet's well-being too. It's natural when we love a particular person, the strings attached to her automatically become our strings. Let's see what pet gifts you can give to your girl's pet on Halloween,
Enhance the scary effect of Halloween with this pet spider costume. In this costume, the hostess' pet will look like some supernatural creature. The hostess might cry out loud about the amount of scare she gets by looking at her pet.
A Pet pumpkin brush is a little more sophisticated gift for hostesses at a Halloween party. It is useful for her pet. It is electrically supported and massages the hair very well.
Don't forget to take the gift with you and make her (your hostess) feel special by taking care of her possessions and belongings.
The furniture bought by your hostess will be dear to her of course. She might also love her pet when it comes to her furniture being scratched by it, she would be furious. In order to keep her calm and satisfied with her house maintenance, give her a sofa scratch guard. It is a plastic board that would save the sofa from being molested by pet claws.
Make your beloved hostess who is in love with a pet happier by giving this paw print hat. It indicates a never-ending love for her. She will definitely be very happy after receiving this gift.
DIY Gifts for the Halloween Hostess
If you did not get time to buy gifts from the market for your hostess, Don't worry. Here you can have ideas on last minutes DIY Halloween gift ideas:
34. Halloween Tote Bag for Party Treats:
Everyone loves handmade gifts. So if you have white, yellow, or orange clothes, you can make this easy-peasy candy bag. Just need to stitch the clothes and your last-minute Halloween gift is ready.
35. A Candy Gift Basket:
It's good to take a gift basket when going someone home. For this purpose, you need a basket (it could be a used bucket. You need to wash it and wrap it in wrapping paper) candies and chocolates, paper sticks, and filling material.
Paste candies on paper sticks, fill the basket with paper shreds or tissues, and put candy sticks in it.
36. Handmade Cookies:
You can also make cookies if you have cookie cutters, all-purpose flour, baking powder, and sugar. Make cookies of your favorite shape and place them in a jar to take with you.
You can also place the cookie jar in your gift basket
Conclusion:
Skimming through the blog, you must have been able to grasp spooky gift ideas for the hostess at the Halloween party. These gift ideas will make your hostess love herself more because very few people in the world are altruistic and familiar with the nature of others.
You can definitely have an idea from the products of Saleison and can make your Halloween party a little more interesting.