42 Amazing Valentine's Day Painting Ideas for Kids and Adults
by
admin
January 7, 2023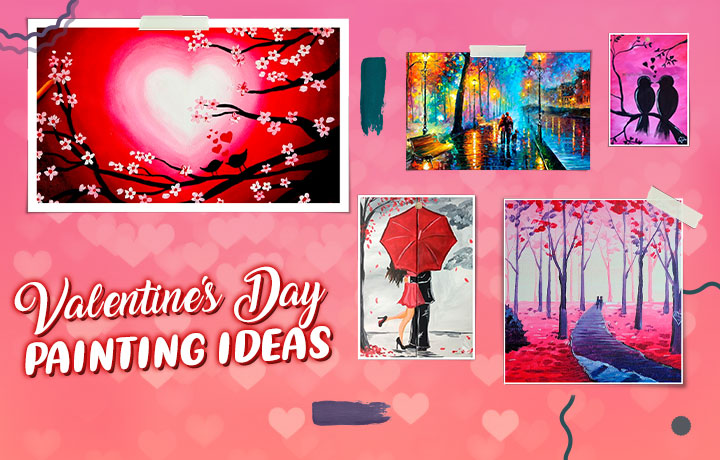 Valentine's day is about to come. Do you want to do something special this Valentine's Day? You can make paintings for yourself or for your partner. Painting is something everyone can make i.e. kids, toddlers, younger, and elders. It has many beneficial impacts on humans:
Promotes creative growth
Boosts memory and concentration
Improves motor skills
Encourages positivity
There are a lot of easy projects of paintings that everyone can try and they are not just simple to draw but they look appealing and fascinating. You can use different mediums i.e. pencil colors, marker colors, watercolors, poster paints, chalks, or pastels.
Here are some ideas related to valentine's day painting, choose the ones you find attractive and make them for this valentine.
Valentine's day painting ideas for kids/toddlers
Here you can find great ideas for teaching kids how to draw something for valentine's day:
---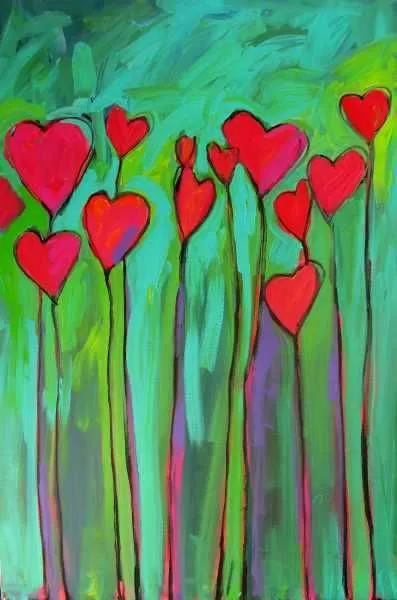 ---
Heart shape stamps from toilet paper rolls
It is the easiest DIY you can ever know. Take a toilet paper roll and give it the shape given in the picture. Dip the edges and your heart-shaped stamp is ready. Using this idea, you can make an all-over print on a canvas or make a Valentine's card.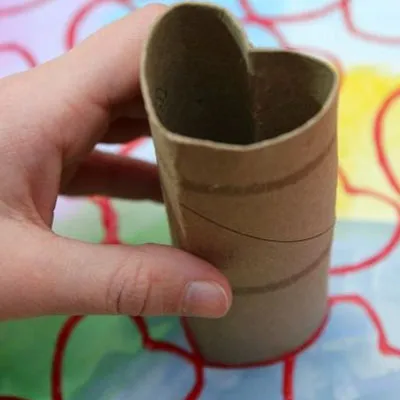 Watercolor heart painting
Take a piece of paper, and wet it with some water. Then start spreading watercolors in any direction you want. Let it dry and draw a heart over it. Toddlers can easily make this once you tell them how to do it.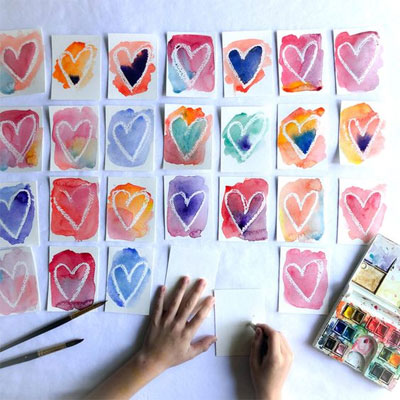 3. Heart with Finger painting
Want to know one of the best valentine art and craft ideas for preschoolers? Take watercolors or any other paint that is available. Mix water in it and dip your thumb in the paint. Then press the finger on the page. Keep doing it until your required shape i.e. heart/ tree heart is completely filled.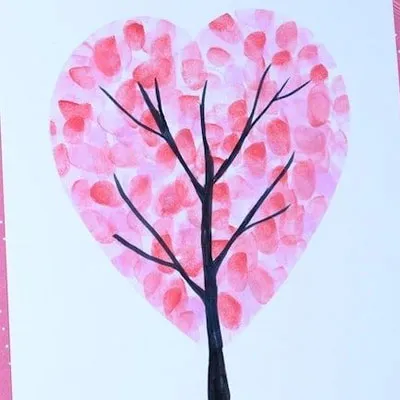 Shaving cream valentine's painting
Take a bowl and spray some shaving cream in the bowl. Disperse different colors of paints you like and press the paper over them. You will get a captivating print over the paper. Later on, you can cut the paper into heart shapes and use them as 3D painting hearts over something.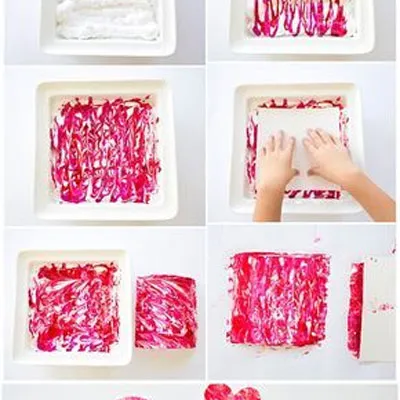 Chalk pastels heart art
It is one of the unique Valentine's day crafts for toddlers. Make a heart shape with pencil And rub pastel colors over the line. Then use the second finger to rub the chalk pastels in the outward direction as you can see in the image.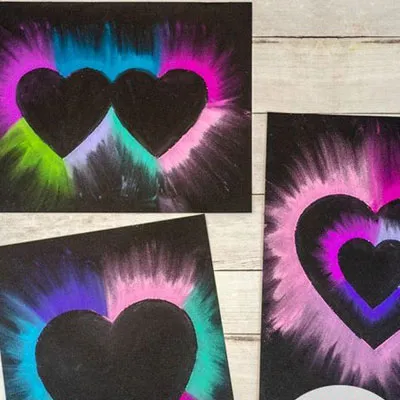 Heart painting with Cotton Swab
It is one of the mess free valentine's painting ideas for kids. Take a piece of paper or a canvas. Draw a heart with a pencil and use some cotton swabs dipped in poster paints. And start dabbing the Qtips again and again. After some time you will see the results really surprising.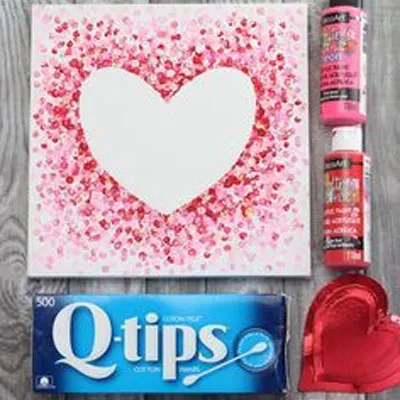 Valentine's canvas painting ideas
It's easier to draw on canvas rather then on simple paper. Below is the list of ideas for love day paintings:
---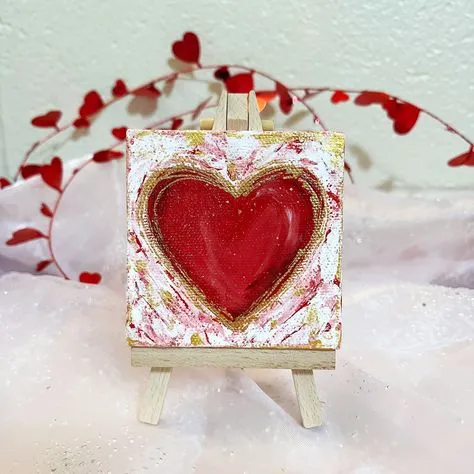 ---
Crayon rainbow heart painting
Want to know about kindergarten valentine's day crafts for kids? Take a lot of crayons and arrange them in the shape of a heart on canvas. Then use the hair dryer to heat the crayons. Crayons will start melting and splatter in an outward direction.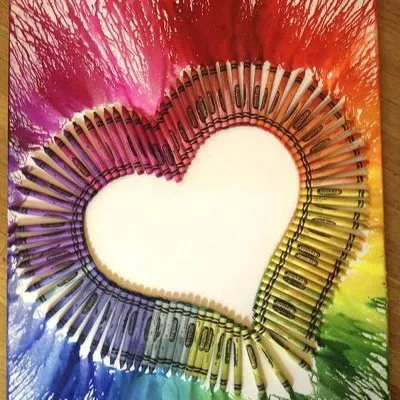 Dotted valentine's drawing
Take a canvas. Same as discussed in previous ideas, draw a heart shape with a pointer or marker. Then use the dotting technique to fill the whole heart. It is one of the unique valentine day drawings.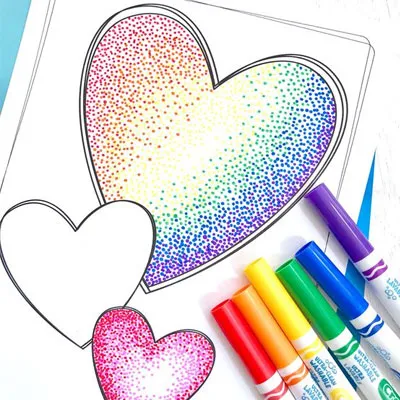 Birds in love happy valentine canvas
You can draw two love birds like you on canvas with vibrant colors. It can attract everyone quickly. Moreover, you can write happy valentines or any quote on it.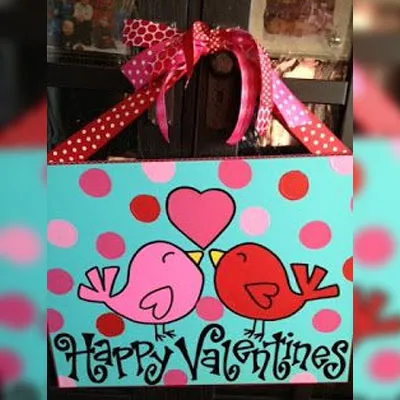 Splatter paintings
Cut out a heart-shaped piece of paper and put it in the canvas that will help in getting a negative space. Scatter the acrylic paints around the heart then use the blow dryer to mix and spread all the colors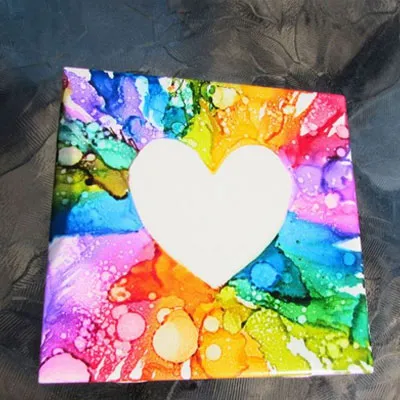 Bubble wrap heart painting
Bubble wraps are available at almost everyone's home. Put some paint over the bubble wrap in a heart shape and press it over the canvas. It is a simple and easy valentines day painting idea.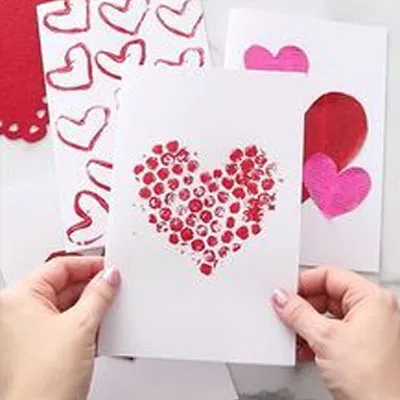 Toddler Valentine's Day handprint art
Squeeze paint on a plate and press your hands over it. Then take a canvas or a piece of paper and press your hand to leave your handprint. Overlap both hands to make it look like a heart as shown in the image.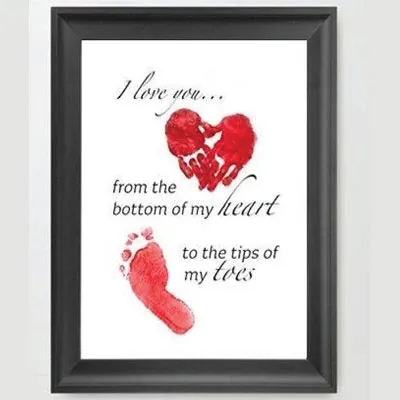 Shimmer paint valentine painting
Shimmer paint heart is one of the simplest yet unique paintings to do. Draw a single heart or as many as you want. Glitter-paint them. You can add other elements you want by being creative.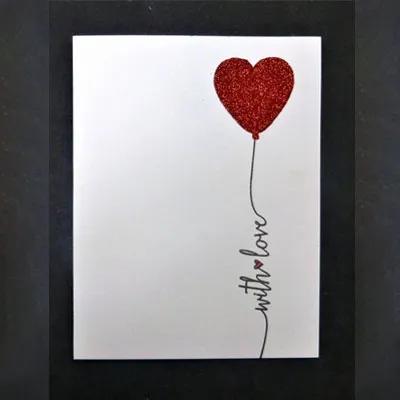 Valentine's Day Painting Ideas for Couples
For couples, valentine's day is the most important because it's the day of love. So show your love to your partner by drawing something unique and easy:
---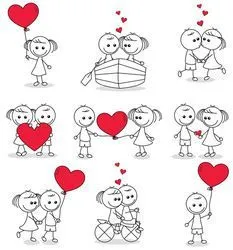 ---
Hold on: before showing your love with painting to your crush, you should know how to ask someone to be your valentine. It's the first step before drawing something special for someone.
Silhouette painting
Younger people can easily make this silhouette painting. Take small portions of acrylic in white and blue color and mix them for the background. Dry the paint and draw the silhouettes with paint and brush.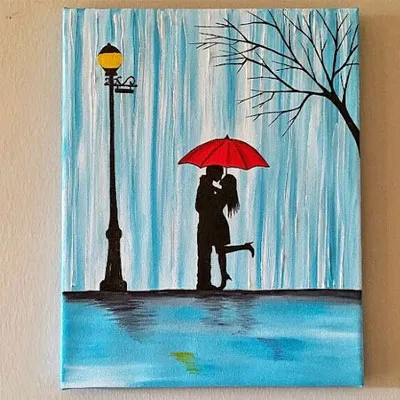 Valentine Splash painting
It is similar to the silhouette painting. There is only the change in the background. Use splashes of paint to make the background. Take a lot of paint in the brush and throw it over the canvas and you will get the same effect as in the image.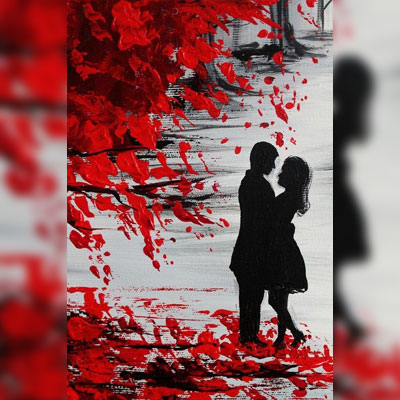 Related: Check our latest Couple photoshoot ideas to draw your silhouette painting accordingly.
Flamingo valentine painting
Do something unique this valentine. Flamingos are associated with hearts, romance, and relationships. So why not flamingos as a sign of love on valentine? Attach the necks of two flamingos in a heart shape and paint them.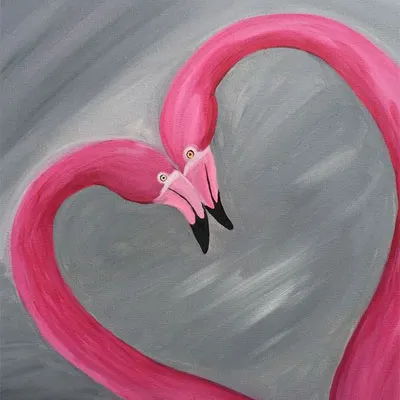 Couple Valentine hand painting
Use a paintbrush to paint your hands and then press the hands one by one over the paper making the shape of a heart. It is one of the perfect paintings for couples.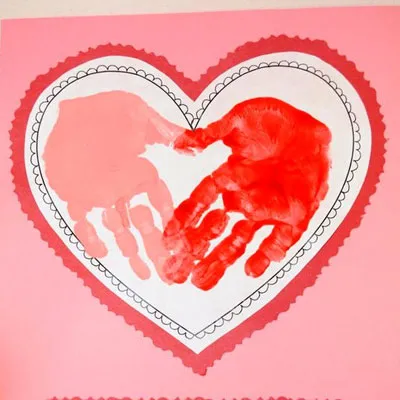 Watercolor printable effect drawing
Spread water over paper or canvas. Then add the drops to the water and let it disperse. Leave it to dry. Add your favorite quote that you both like and write on it.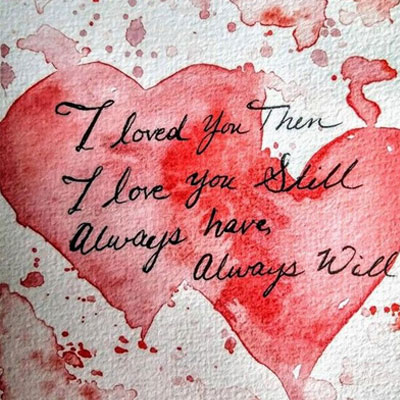 Easy heart painting ideas
Show your heatiest feelings to your loved on by drwing it on paper. Here are the heart painting ideas for love day:
---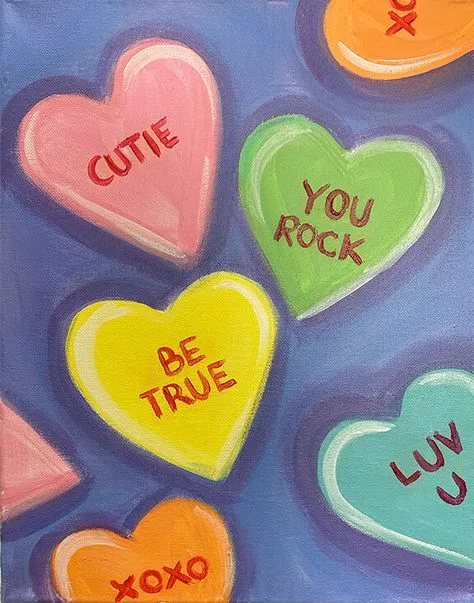 ---
Love heart drawing
Paint four portions of the canvas differently as you want. Write the words with poster or acrylic paints. You can use acrylic paints to give the words a 3D look also.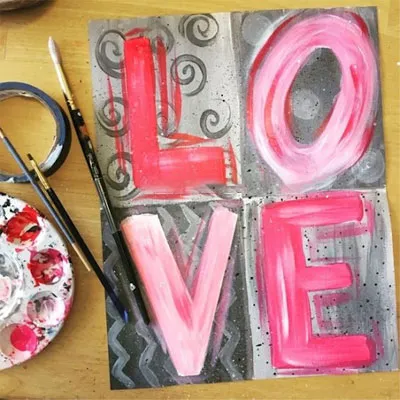 Striped heart painting
Striped heart painting is an elegant valentine's day painting. You can make it easily. Just keep in mind the cleanliness. Draw stripes in the background and make hearts in the foreground. Try not to change the colors as these colors look very sleek.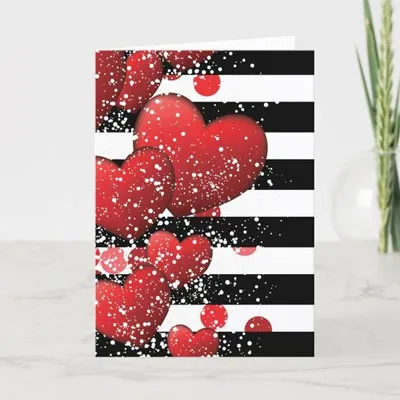 Lock and key painting
Want to make something special for couples on valentines day? It is a great idea that you can try. Take two canvases. Draw a lock on one canvas and a key on the other canvas. Both partners can keep each canvas. Or hang them on the wall.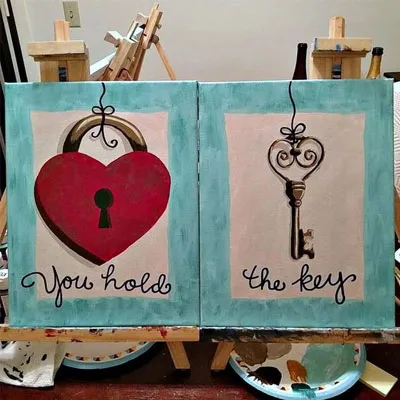 You can also give your partner lock and key earrings as a valentine's day gift to show her that you want to keep your relationship secure.
Toothbrush spray heart
Put a little amount of paint on an old toothbrush and start rubbing your thumb on the brush by keeping it near the canvas. This way you can easily get the splashing effect in your valentine's day painting.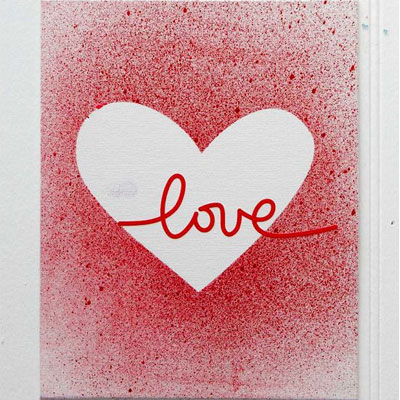 Rubber effect heart painting
There are many convenient ways you can try that are not time taking at all. One of these is you can utilize a pencil to paint. Everyone knows that some pencils have rubber on their back. You can dip the back rubber in paint and press it again and again to until it fills the whole part where paint is required.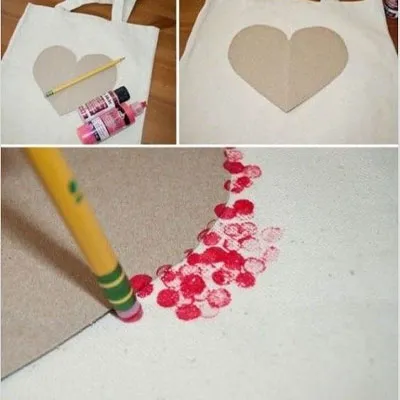 Valentine painted rockets
Other than paper or canvas, you can also use rocks to paint. Draw the elements that show your relationship. You can get the idea from the elements used on the rocks.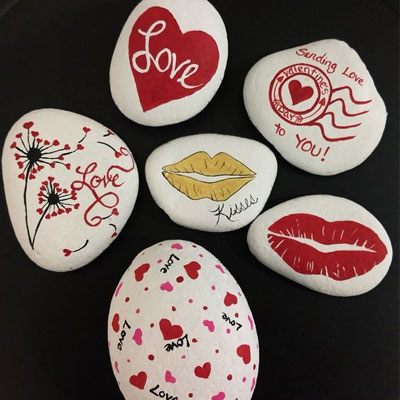 25. Heart on newspaper
Mixed media paintings look very aesthetic. And trying new mediums adds more creativity to your mind. You can use newspapers and draw components related to valentine on it with pencil colors or paints.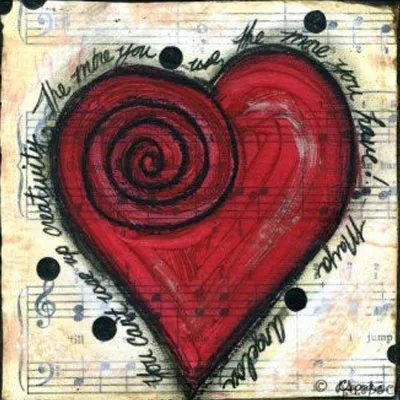 Rustic valentine painting
Use brown and orange colors to get a rustic effect. You can draw a girl and a boy as a silhouette drawn in the above ideas, or other elements as per your choice.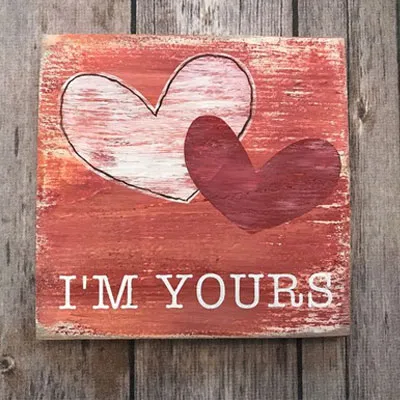 Cotton ball heart painting
It is one of the valentine art and craft ideas for preschoolers and the youngsters can also try it by merging it with other ideas of painting. Take cotton and roll it to make a ball, dip it in watercolor or other paints available. Then press the swab within the heart or outside of the heart. You can use darker colors other than pink and purple.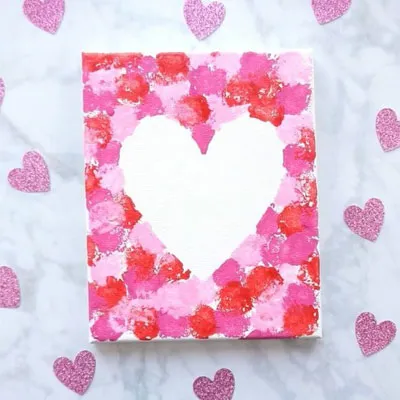 Valentine art project for kindergarten
It is an easy and uncomplicated task for kindergarten. Make a heart then make circles using any tool or cap of the bottle. Then ask them to paint the inside of their choice.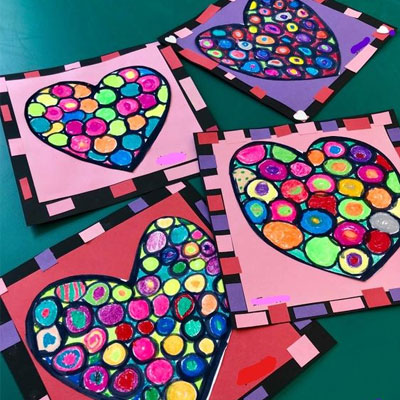 Cartoon valentine's couple painting
You can make cartoon characters in your painting. They make you fall in love with their cuteness and look really adorable.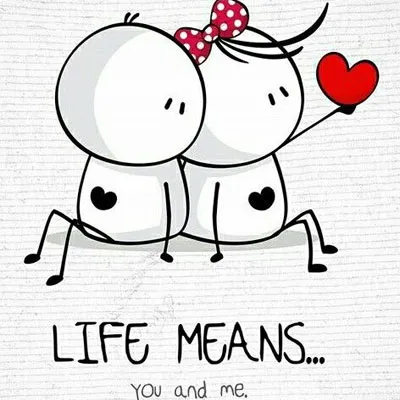 Hypnotic heart valentine poster
On this valentine, you can make a hypnotic heart using tints and shades of red color. Then write a valentine's quote beneath. The hypnotic heart looks really charming and catches the eye of the viewer immediately.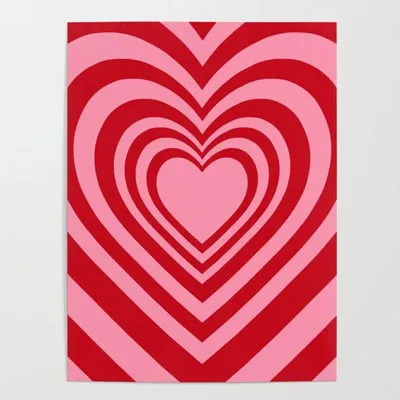 Final Words
Being creative is the key to making a painting. Show yourself through your paintings by using the elements that you prefer and that show yourself. There are plenty of ideas given from which you can choose to make amazing valentine's day paintings. Art is something that sees no one's age. Kids, children, youngsters, or elders can attempt to make one of these amazing projects and enjoy their valentine's day happily.
➡️Next Read: Valentine Week Gift Ideas