Different Types Of Tops For Women (Choose According To Your Personality)
by
admin
December 29, 2022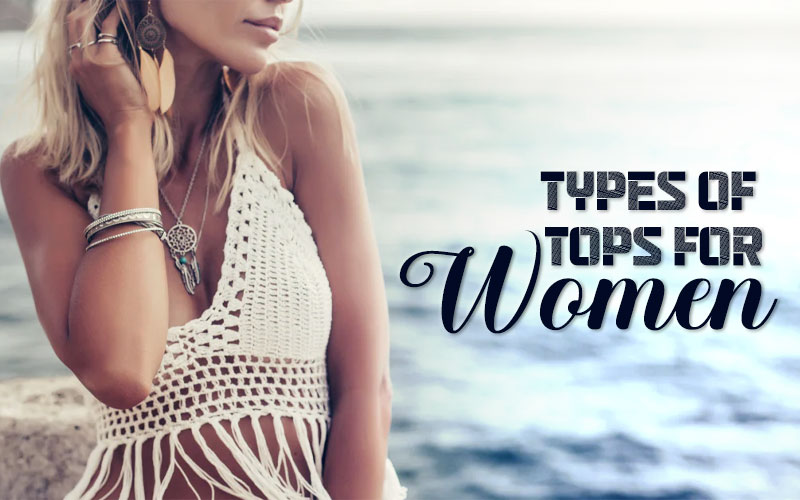 Every girl needs a chic and stylish top to wear. It is only possible if a girl knows different styles. With this knowledge, she could understand their styles and wear them at different events.
Here is a list of more than 55 types of tops for women that are trending nowadays. Try it your way and make your appearance memorable to everyone every day even casually or occasionally.
Types Of Crop Tops
"A crop top is a type of top that is short and is wear to expose waist or abdomen part of your body". It is usually used to expose your tummy. Here are different types discussed:
Tube Top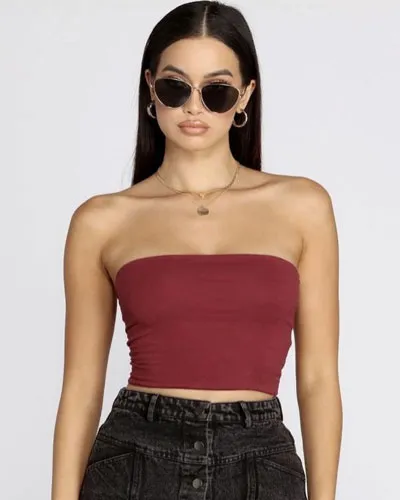 It is also called a boob top, or bandeau top. The tube top is tight-fitted. It has straps attached. And made up of stretchy elasticated fabric.
Tube tops extend only to the waist.
2. Tank Top
Tank Tops are sleeveless tops with scoop necklines. Mostly they are seen in rib-knitted fabrics. Tank tops extend to the waistline also similar to tube tops.
3. Tie-Front Top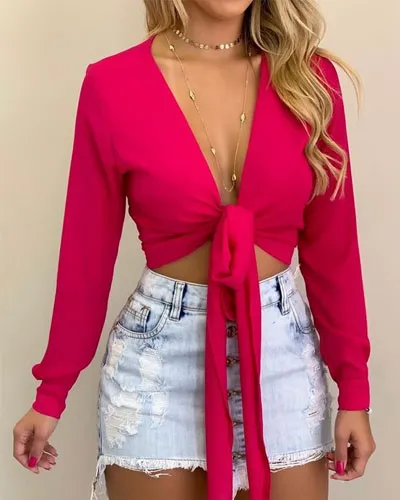 This type of top has sashes or ties at the hem. Both ties are knotted together and make a bow tie at the front. The length varies according to the person's style.
It can be cropped or it can be to the hip or waist.
4. Smock Top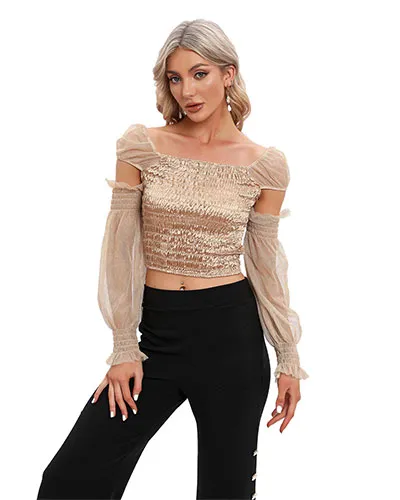 Smocking is a technique that gathers fabric with elastic. It can be stretched according to the size of your body. Smocking can be done in the bodice or the cuffs also.
Then a skirt type is attached underneath the smocked bodice to make it a top.
5. Spaghetti Strap Top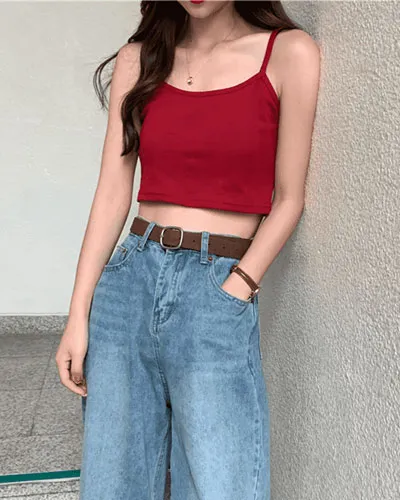 It has round spaghetti straps that attach both the front and back bodices and make it a top.
6. Princess Line Top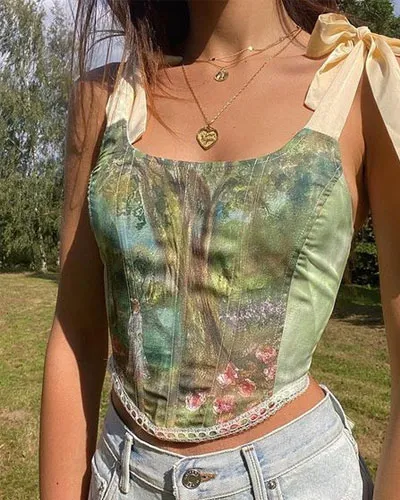 You must have seen such tops in barbie movies. It is a fitted top with front long vertical panels joined together.
The front has three panels and these front seams act as darts giving shape to the garment.
7. Lace Up Top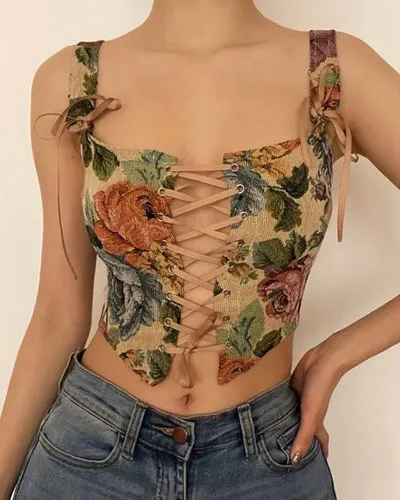 It has a tight bodice laced up the front, back, or side seams. It depends on the design of the top and how it was made.
8. Crop Top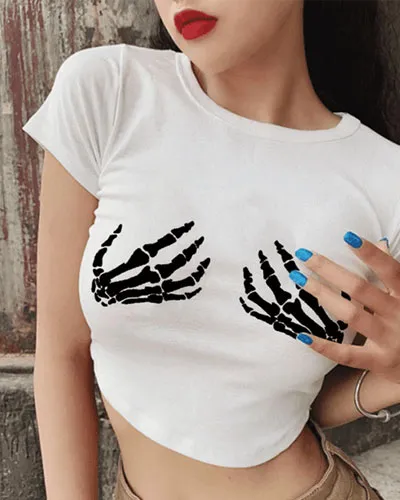 A crop top is a top that can be loose-fitted or tight-fitted, but it has a very short length that barely covers the stomach.
9. Bustier Top with Straps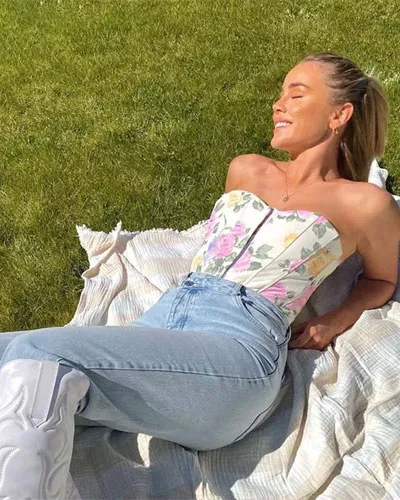 The bustier top is a figure-hugging tight-fitted top. It has brassiere cups attached to the bodice that adds shape to the bust.
It is similar to corsets but with cups.
Also Check: Different hairstyles to make according to your dressing.
Types of A-Line Tops
A-line tops are of different types. they can be short or long depends upon your choice. Here you can have an ideas of different types of a-line tops.
10. Yoke Top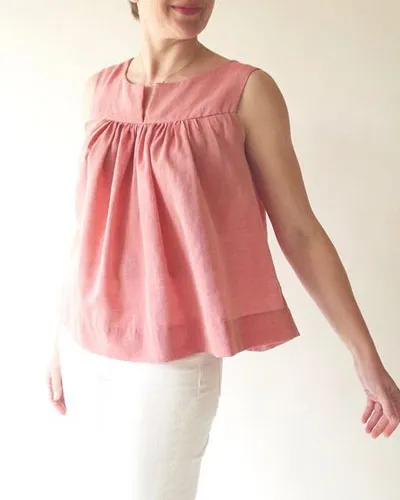 Yoke tops have a yoke added along the neckline and shoulders. The yoke added can be of different shapes. It can be U-shaped or V-shaped.
Yokes can be of contrasting colors, the same, or other printed colors.
11. Tunic Tops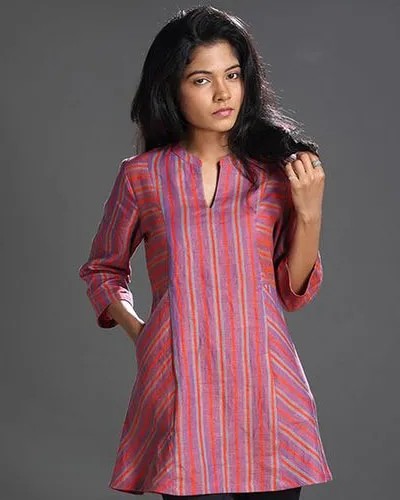 Tunic tops are loose-fitting shirts. They can look like long shirts and also look like short dresses. Tunic tops are comfortable to wear.
You can pair them with trousers or fitted pants if you want. But trousers are preferred.
It has been popular in ancient times, but this loose-fitted garment remains popular in modern times also.
12. Layered Top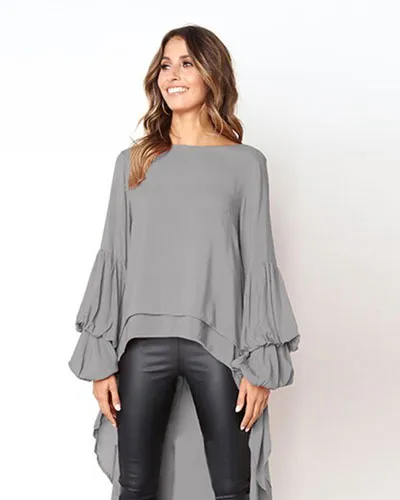 The layered top is made up of flowy fabric. It has more than one layer of fabric mostly made of chiffon fabric.
Also check: Different hair weaves types to give volume to your hairs naturally.
14. High Low Top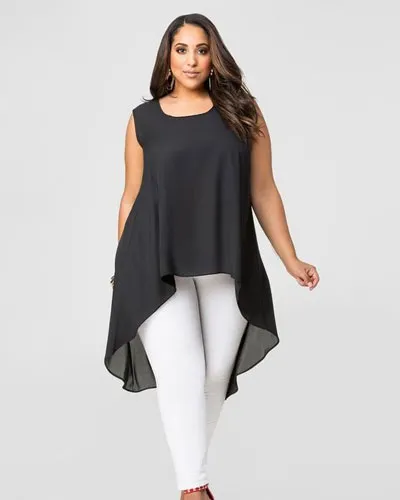 In a high-low top, the back bodice is much lower than the front bodice. It gives an irregular shape to the top.
The front bodice is higher and the back bodice is lower, giving a high-low shape.
15. Asymmetrical Top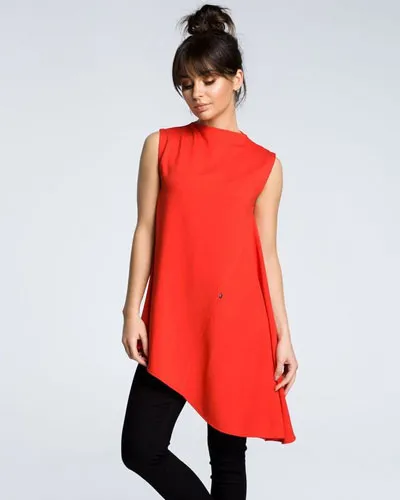 Asymmetrical tops do not have a straight hemline.
16. Peplum Top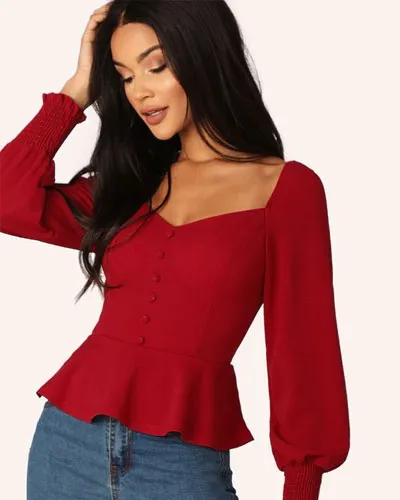 The peplum top has a tight bodice. A flared skirt is attached to it from the waistline. It is one of the unique tops for women that can be gathered, flared, and cut in a circular motion.
Types Of Shirts For Females
Women likes different types of shirts. The choice of shirt also depends upon the weather as well. Below are the different types of female shirts:
17. T-shirt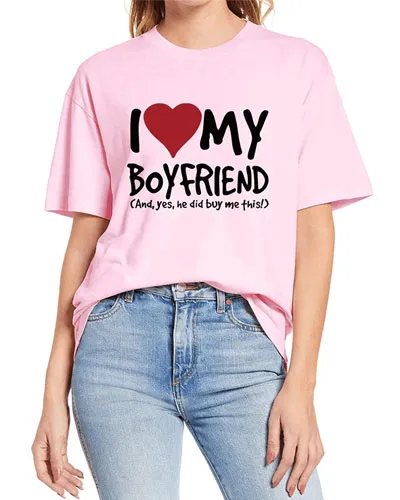 T.shirt is one of the basic types of shirts for women and everyone knows about it.
It can be a V neckline or a circular neckline. Or it can be half sleeves or full sleeves also.
18. Shirt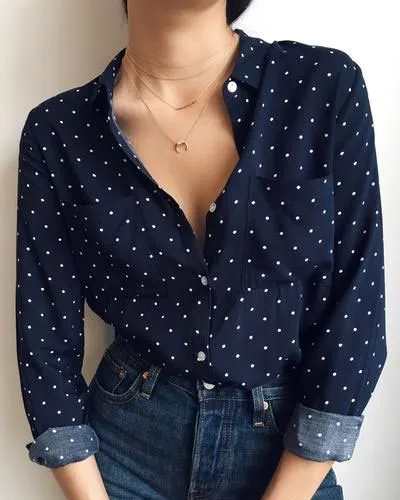 It is similar to the men's shirt or you can say dress shirt.
It has a front button opening, a high stand collar, a yoke at back, a left chest pocket and cuffs, etc.
19. SweatShirt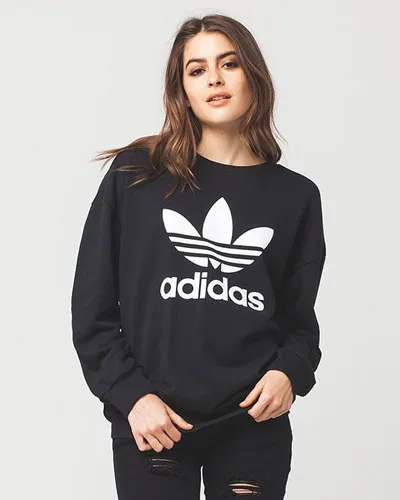 The sweatshirt is a loose-fitted and long sleeve pullover. It is collarless and has a ribbed cuff at the neckline, sleeve hem, and bodice hem.
20. Raglan Sleeve Shirt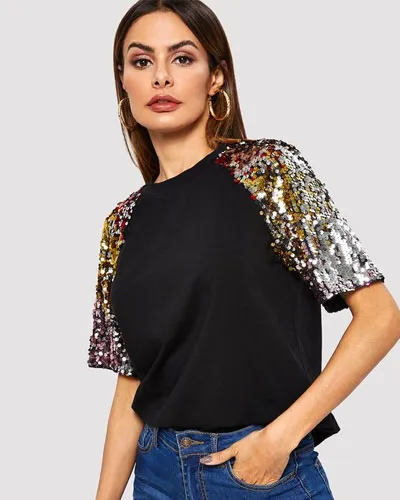 Raglan sleeves are sleeves that extend to the collar in one piece. Such tops provide extra comfort and are preferred by sports teams also.
21. Full Sleeves Shirt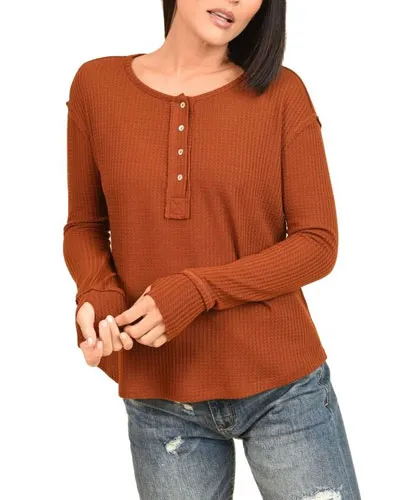 It is called a henley neck top as it has a button placket at the front having 2-5 buttons. It can be full-sleeved or half-sleeved, usually made up of cotton fabrics.
Different Styles Of Tops
Here we have discussed different types of tops:
22. X-ray Top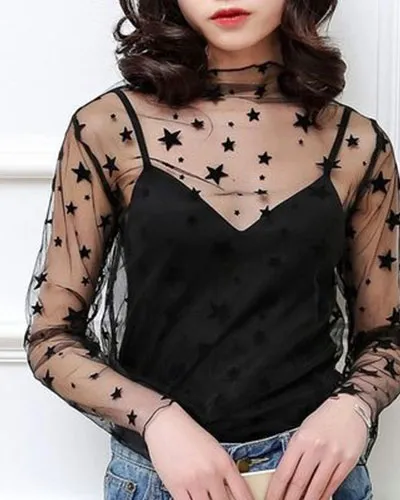 It is a see-through top giving a sheer look to your body. You wear a camisole or bra underneath. And the x-ray top made of thin transparent fabric is worn over the shirt.
Mostly these tops are fabrics like chiffon, net, etc.
23. Wrap Top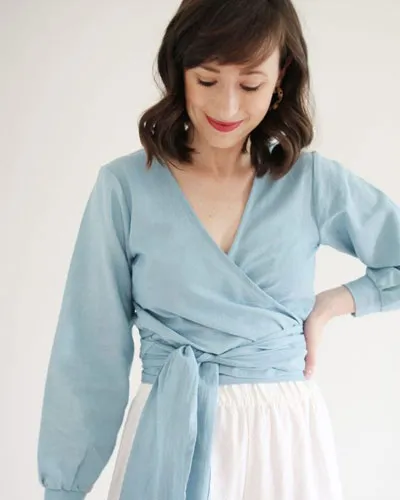 It is also called a Surplice top. In wrap tops, one side of the bodice is wrapped across the other, or both sides of the bodice are wrapped over each other. It can be tied at the front, or back, or it is attached with buttons somewhere depending on the design of the top.
24. Shell Top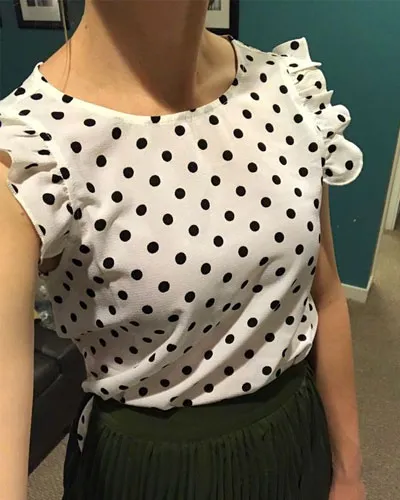 The shell top is sleeveless. It has a slightly loose shape and a crew neckline. You can recognize a shell top as it has button fastenings at the back of the top.
25. Swing Top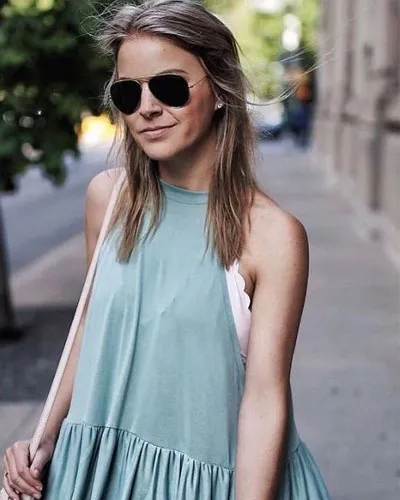 The swing top has a widely flared hem. A gathered hem attached to the long bodice.
26. Poncho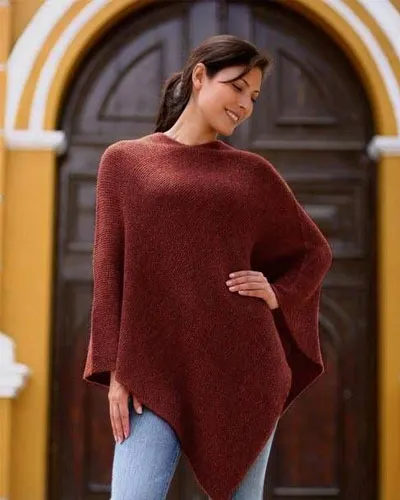 A poncho has no defined bodice, no sleeves, just a slit at the top to insert the head. It looks like a cloak. To wear it, just slip it over your head.
27. Peasant Top
It has elastic or smocking at the waist, cuff, or necklines; it has a wide neck, short and puffed sleeves, or full and long sleeves.
28. One Shoulder Top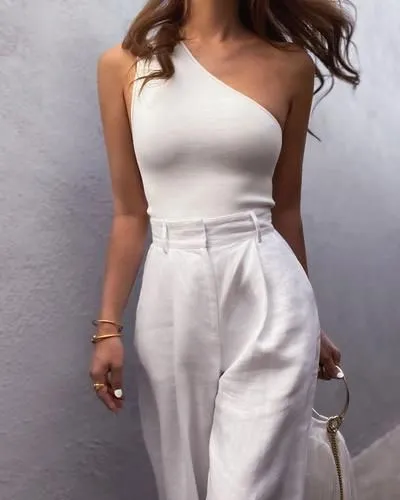 It has one shoulder uncovered. One shoulder top has an asymmetrical neckline, where the neckline goes diagonally under the one shoulder leaving the shoulder exposed.
29. Maxi Top
Maxi tops go to the ankles having a long length. They can have a bodice up to the waist or they can be simple.
30. Keyhole Top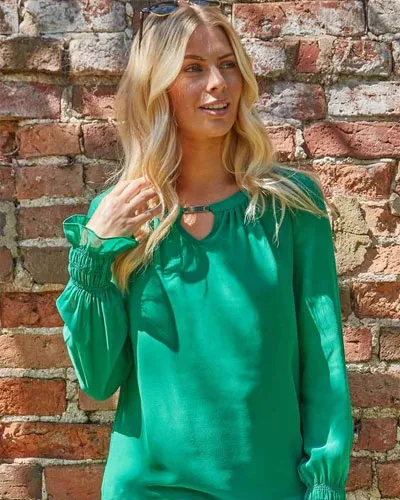 The keyhole top has a small cutout or keyhole-shaped opening on the neckline. Rather than round, it can be an oval shape or a triangle shape.
31. Kaftan Top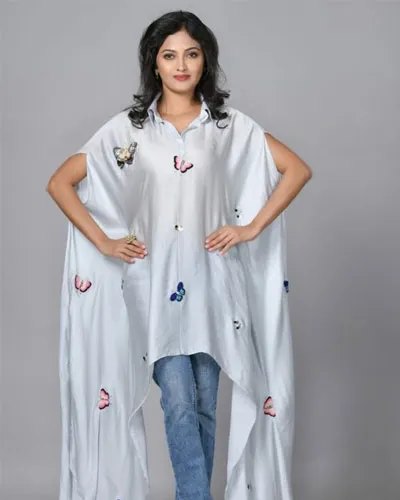 It has flappy sides. Sleeves are not separately cut out but with the bodice. It is a loose tunic-shaped top.
Different Kinds Of Tops for Ladies
Have an idea of different styles of tops for ladies by digging deeper into the discussion.
32. Halter Top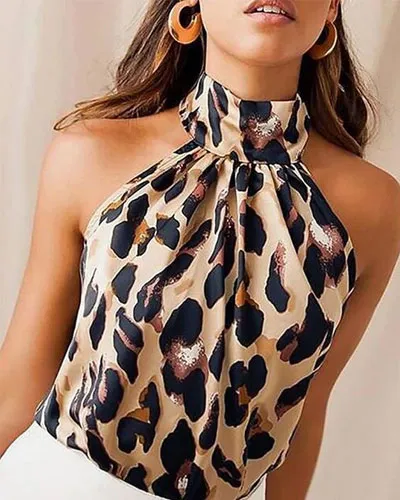 It has no sleeves. The halter top has a narrow band across the neckline keeping the bodice together. Instead of the band, it can be tied also.
33. Flashdance Top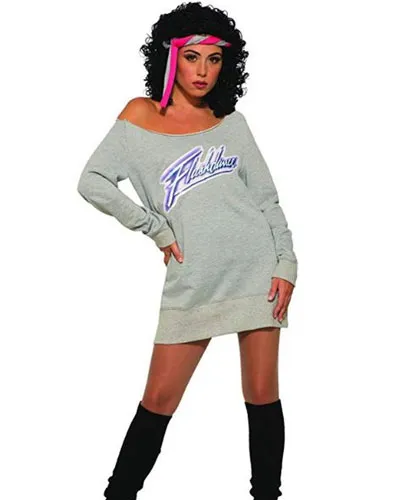 It is loose shaped top, having an unfinished edge of the neckline and long sleeves. It became popular in 1983 with the film Flashdance.
One side slides down the shoulder making it look off the shoulder. Its feature color is grey.
34. Empire Line Top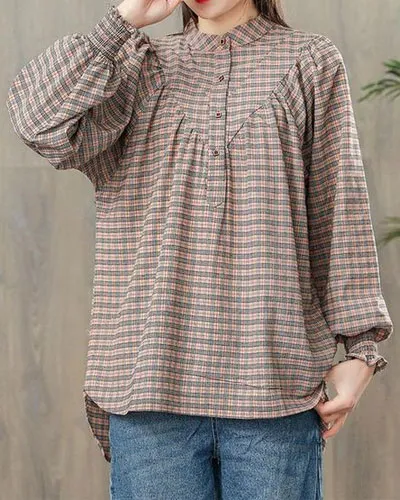 It has a fitted bodice. The Empire line top has a separate gathered bodice attached right under the bust to make it look like a high-waisted top.
It is also called a Cowl Neck Top. It is a top with draped folds (cowl type) that are usually at the neckline or the hem alongside the bodice.
35. Cold Shoulder Top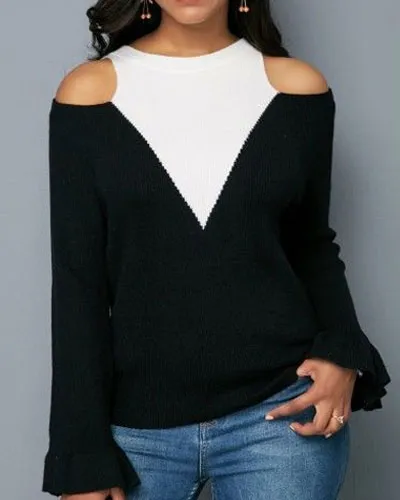 You can also call it an open or split-shoulder top.
It has a cut-out on top of the sleeves. The skin is seen bare between the strap of the bodice and the sleeve
36. Collar Top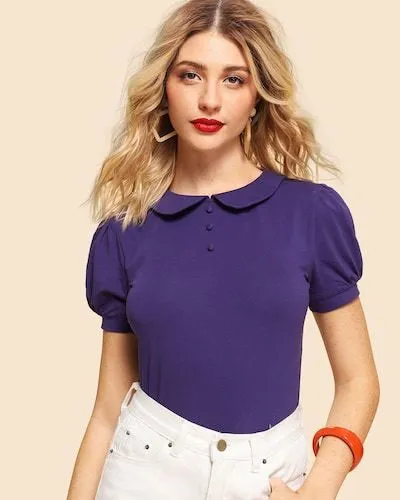 The collared top is understandable by just its name; it is a top with a collar. A peter pan collar or a polo collar is usually preferred in collar tops.
37. Corset Top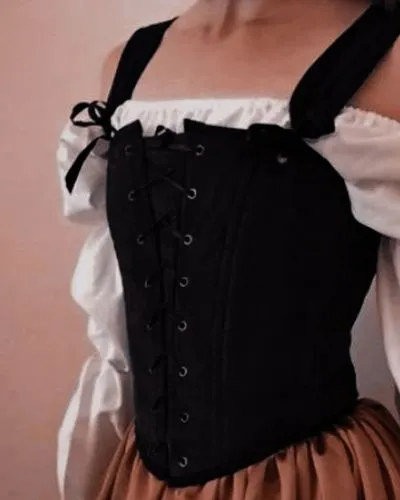 It is a strapless tight fitted garment, without sleeves. It is worn to give shape to the waist. It has steel boning in it.
It has a zip, hook, and eye closure, or lace-up closure to fasten the corset top.
38. Choker Top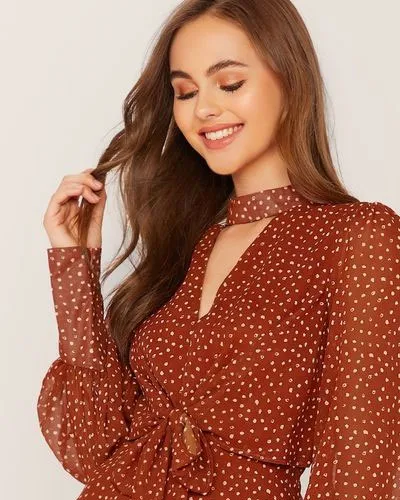 It has a band around the neck that is attached to the V-neck top. It seems like a cutout has been made in the neckline.
39. Cardigan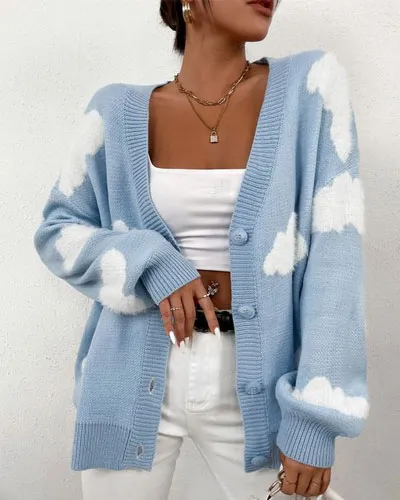 A cardigan is always in knitted fabric. It has a front button opening. Some people wear it as a top and some wear it over a high neck, tank top, or camisole.
It is worn in the winter season.
40. Sweater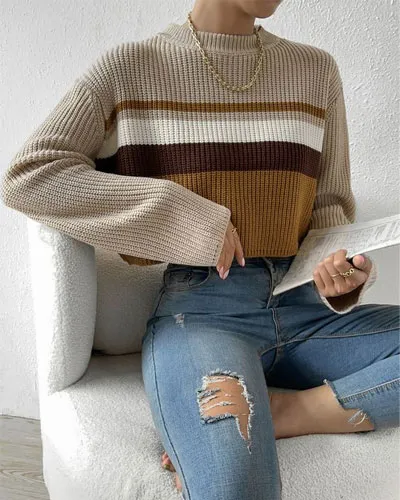 It is similar to the cardigan, made with knitted fabric but without any opening. A sweater is worn as a top or pullover in winter.
41. Cape Top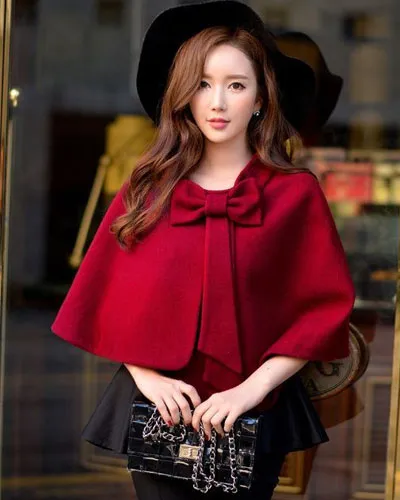 It is a top with a cape attached to the neckline. Or it is also worn over dresses separately, specifically in the winter season.
42. Camisole Top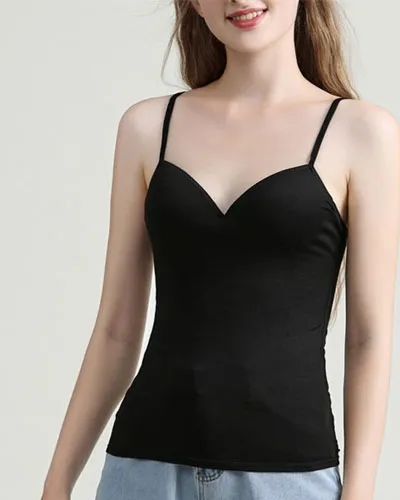 It is a sleeveless top with noodle straps attached to the bodice. A camisole is a tightly fitted top worn as an undergarment.
43. Bodysuit Top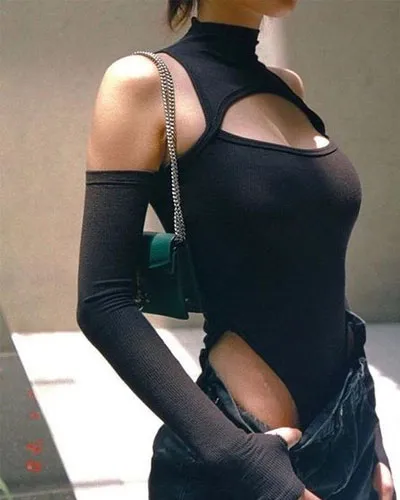 It is made up of stretchy fabric, having a form-fitting shape. It covers the torso and the crotch.
Such bodysuit tops can be worn as a top over pants, skirts, etc.
44. Blouson Top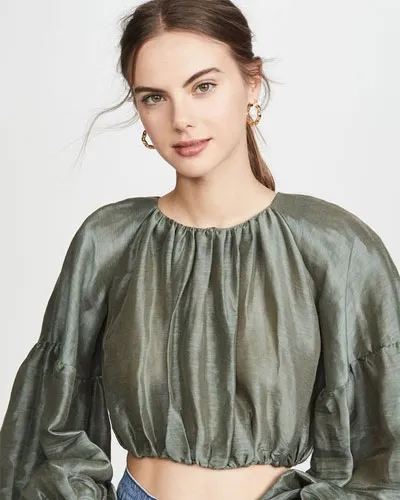 A blouson top has an elastic or drawstring on the hem or waistline, neckline, or armholes. The such cinched look is given to the top to add fullness.
45. Boxy Top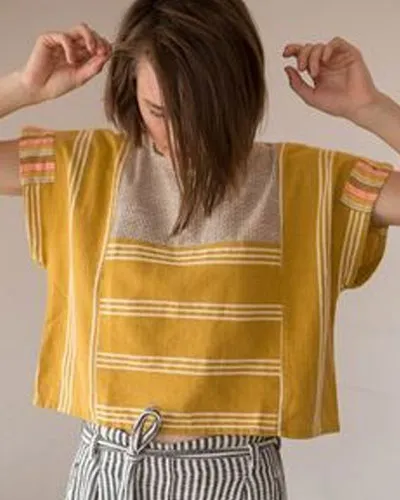 It has a squared shaped bodice usually made of thicker fabrics.
46. Bralette Top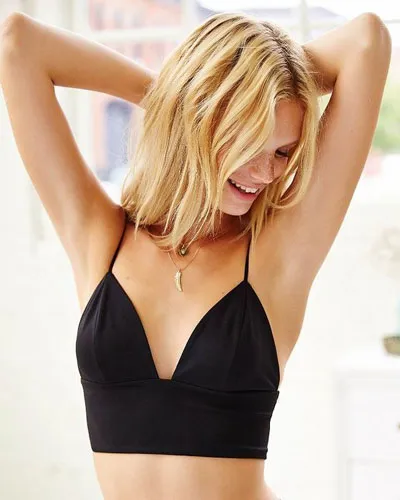 It is a cropped-fitting top that looks like a bra with thin cups but without a hook and eye closures.
Girls: Dont you like to wear bra everyday? Check here alternatives to conventional bras for a bra free day.
47. Batwing Top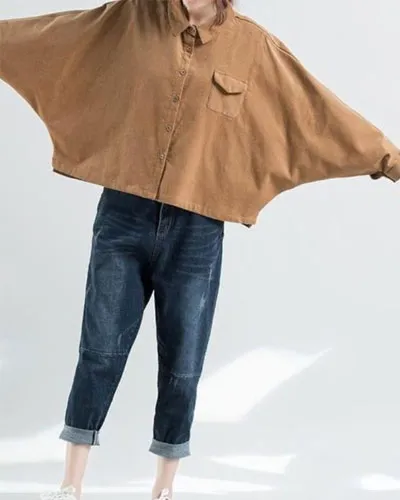 It is also called Magyar or dolman top. Batwing tops have a deep armhole going toward the wrist. It is usually made with a flowy drapey fabric
48. Bardot Top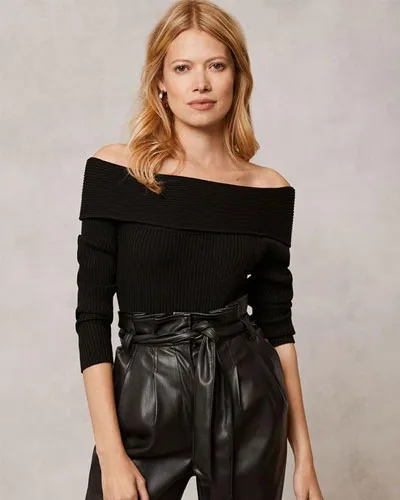 It is an off-shoulder top. Bardot top has a lower neckline that leaves the top of the shoulders uncovered.
Tiered Bottom Top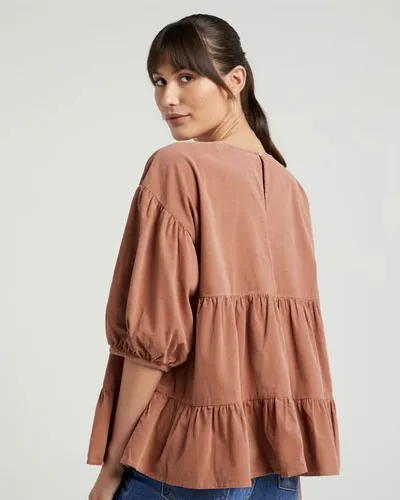 It is a top in which the frills are simply attached or layered at the bottom of the hem.
Y2k Top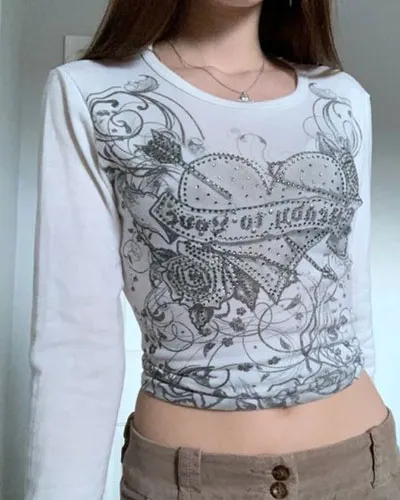 Y2k is a tightly fitted crop top that looks like a camisole. It got popular during the 2000s.
Hooded Top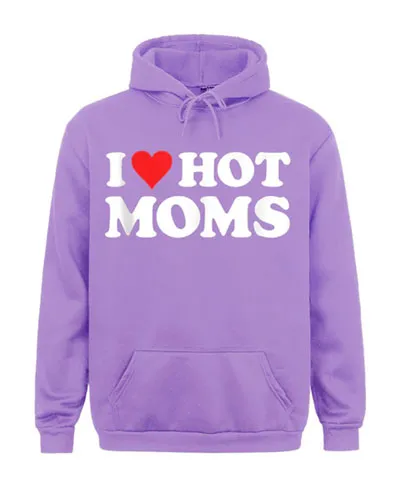 Hooded tops have a hood attached with the neckline that you can get over your head if wanted, or just leave the hood as it is. It is mostly made of stretched fabrics.
Lace Top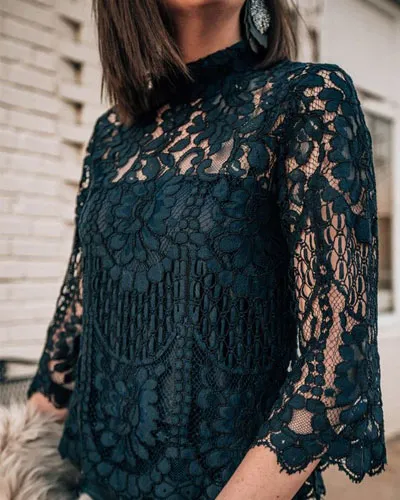 Lace tops look like a shirt piece made of a designed net or by combining laces.
Tulip Top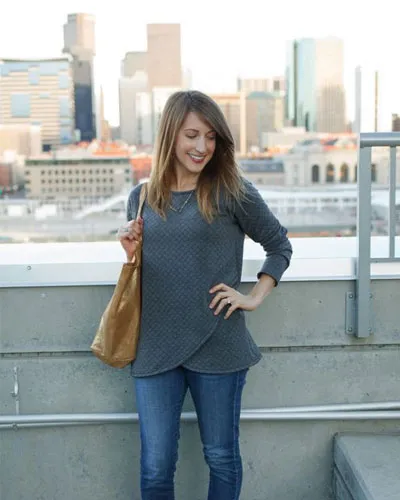 In the tulip top, two round cut flaps are attached to the side seams and overlap each other at the front.
Longline Top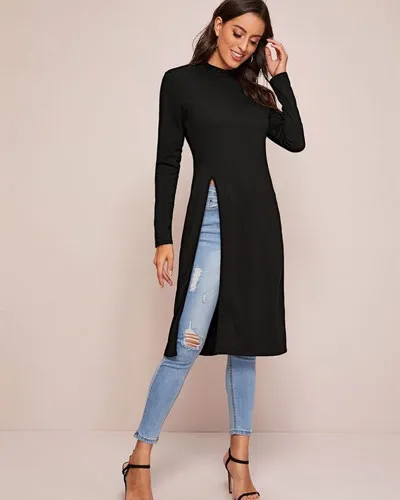 Longline tops have a front leg slit or side slits depending on the design. It is included in one of the basic types of shirts for females.
Ruffled Tops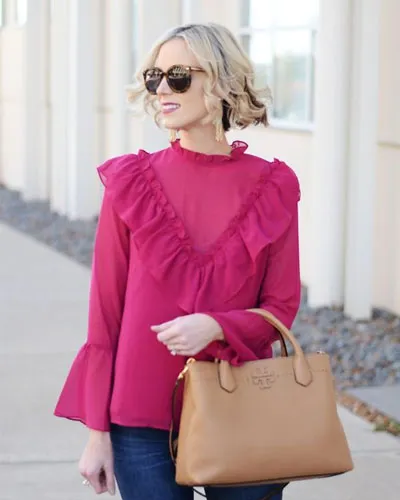 Ruffle tops have frills attached anywhere, to the neckline, bodice, hem, or neckline depending on the style.
Cinched Top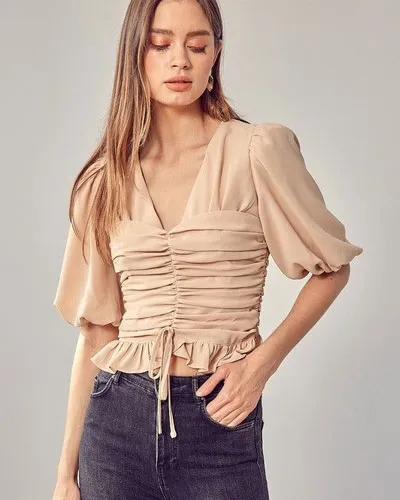 Cinched tops have drawstrings that are pulled to gather the fabric. It can be along the waist or in a straight line at the front bodice.
Conclusion
You can wear any style by adding your touch, style, and colors to the top according to the way you want. You don't have to copy the style as it is, but do it your way.
You don't have to doubt if a style will suit you or not, trying doesn't hurt. There are a variety of tops for women/girls given, you can find the one that can match your vibe.