4th Of July Hairstyles For Women To Try At Home (24 Unique Ideas)
by
admin
January 17, 2023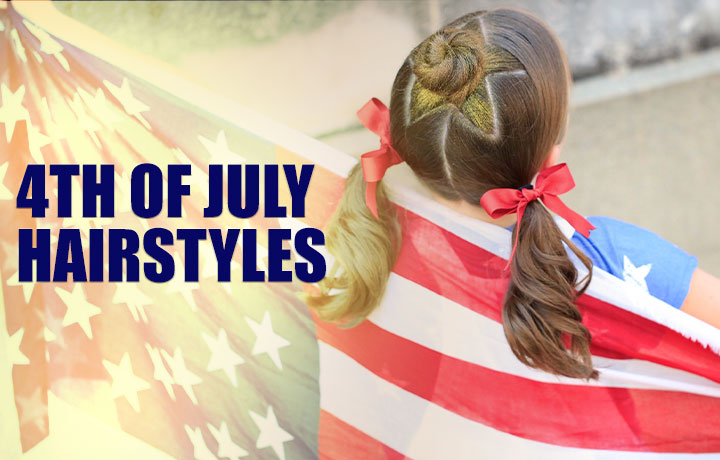 It must be confusing what type of hairstyle you want to have this 4th of July. It's the day that comes in hot scorching weather, so it is better to have tied hair. But we have also shown loose hair hairstyles and other different kinds. A variety of hairstyles from which you can choose easily.
By seeing so many 4th of july hairstyles, it is sure that you are never going to run out of ideas any time soon. So, don't wait, just decide which hairstyle you are going to try this 4th of July and enjoy to your fullest with amazing hairstyles.
4th Of July Hairstyles for short hair
If you think you cannot make any hairstyle with short hair, you are wrong, here are some ideas for the 4th of July hairstyles you can try this independence day.
---
Hold on: if you have short hairs and want to make a hairstle that you can not make with little volume, then check our different types of hair weaves and choose according to your choice to give volume to your hairs.
---
Glittery Hair buns
As you know the 4th of July is in the season of hot summer. So keeping your hair away from your forehead or neck will make you feel relaxed somehow.
You can try this patriotic hairstyle by making side buns on both sides with scrunchies on them. You can put some glitter between the hairline to make it look captivating and fancy.
Lacey braid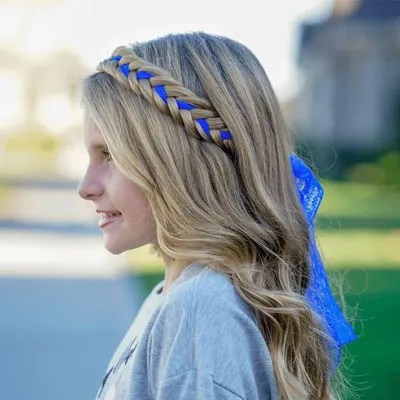 People are going to be crazy over your lace braid. It has a lacy blue ribbon braided right in, with long loose ends to tie in a big bow.
It's so fun, easy, and pretty looking.
DIY 4th of July Hairstyle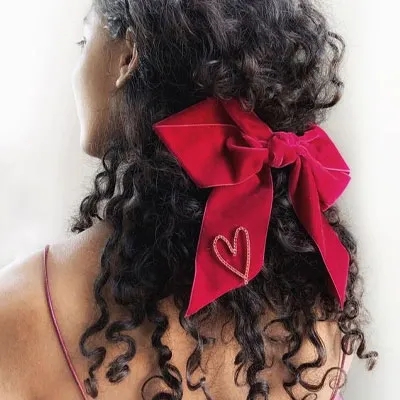 Want to go with a simple look? It is a good hairstyle idea you can follow. Either you can make this bow pin at home or you can buy it from a dollar shop. Just go with your easy-to-go hairstyle and adjust in any way you want.
It is better to use colors that are in your flag so that it can match the aesthetic.
Star Braid Hairstyle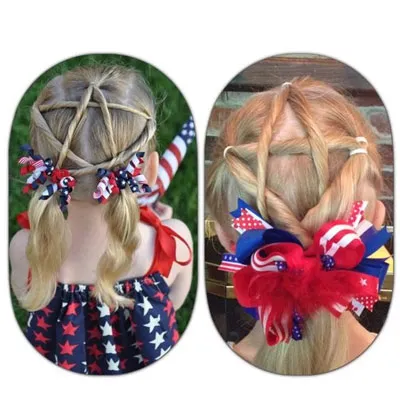 If you or your child has short hair, you can easily try this hairstyle. It is very easy to make, you can understand it by just looking at the picture. Why not try this amazing hairstyle on this celebration day? Don't think, just do it.
Star braided bun Hairstyle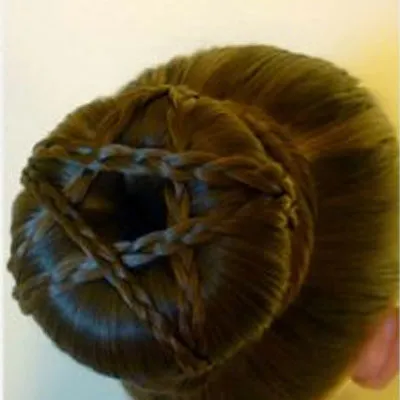 Do you have short hair and can't find any good hairstyle? Well, here it is. Make a simple bun by putting the foam hair bun beneath or if you have really short hair, you can also buy a synthetic hair bun that is very cheap and available easily in the market.
Use the slick stick to get rid of any baby hairs in front. Then at the back of the bun, you can make some braids of your natural hair and adjust them over your bun in a star shape.
You can also use some decorative pins or beads for your hair.
Dutch braid hairstyle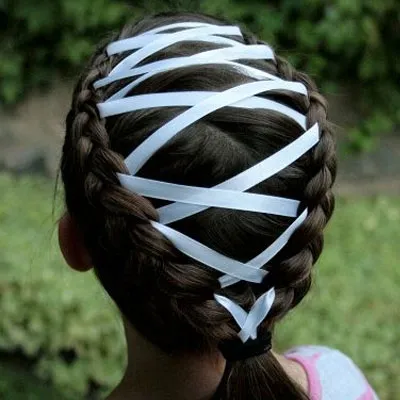 This hairstyle can be done both for long or short hair. After making this type of dutch braid, you can pass the colored ribbons through the braid twists. It is one of the trendy hairstyles you can try on your hair.
4th Of July Hairstyles for long hair
You can use a lot of accessories and try unique hairstyles with long hair. Here are some long-hair Independence day hairstyles that are going to make you look unique.
Rubber band/thread Hairstyle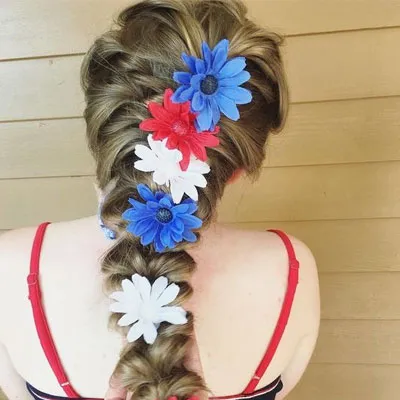 If you don't have rubber bands at home, go buy them or you can use threads also. Take a lot of rubber bands and make a low pony or use blue, red, or white colored clothes. You can see the image as a reference to this chic hairstyle that gets you in the mood.
Bobby Pin Hairstyle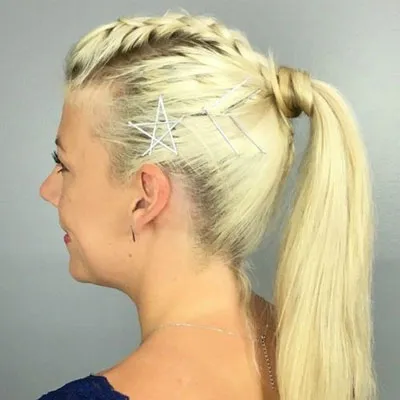 Do you know just some of the bobby pins can do magic? Just make any hairstyle you want, loose hair or ponytail.
Use some bobby pins to assemble them in such a way they make a star. You can use colored bobby pins also. I.e. red, blue, or white.
French braided Hairstyle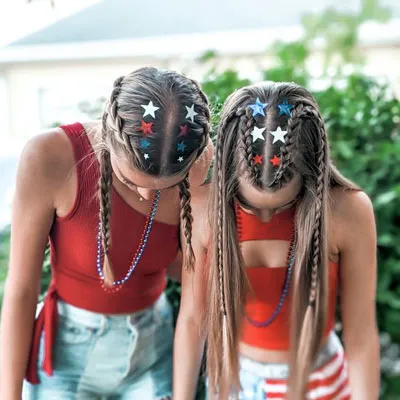 Do you have long hair? So why don't you try these amazing braided hairstyles? It is one of the most aesthetic hairstyles you can make. Such braids give a different look. Also, use some accessories to make it more of a 4th of July hairstyle.
Long hair crown craft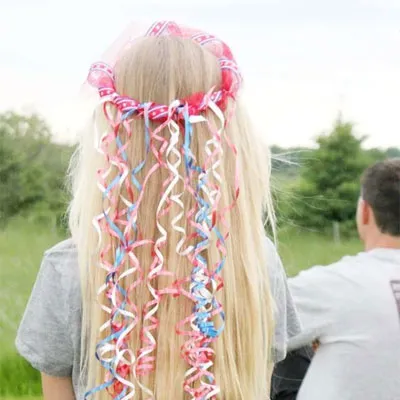 If you have long hair, this DIY crown is going to look amazing on your hair. Give it a try and you will not regret it. You can also curl your hair with a rolling brush from the tips to add an occasional touch.
4th of July Hairstyles with a bandana
Bandanas look fantastic in both short and long hair. Don't be doubtful about using a bandana on this occasion. Surely, you are going to catch the eye of so many people. Here are some ideas:
Bandanna with Bun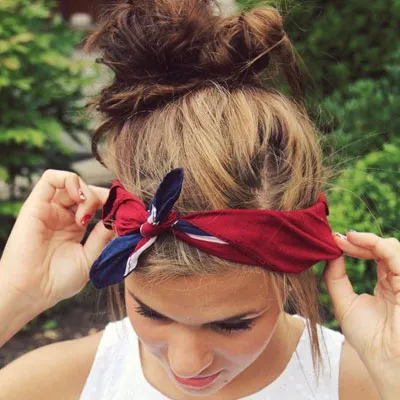 It's scorching hot on the 4th of July but still do you want to seem patriotic? Here is an excellent solution to that.
Make a messy bun. And as a hair catch, tie a bandanna over your head. It looks adorable and attractive.
Bandana braid Hairstyle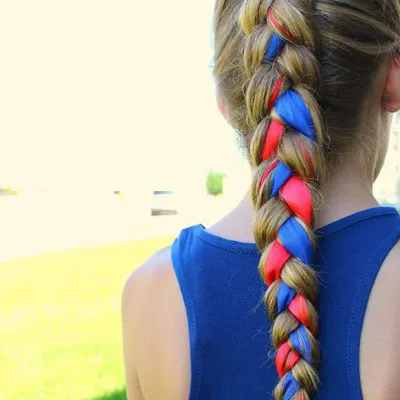 Instead of making a simple braid, you can use ribbon or bandanna within the braid to make it look like the 4th of July hairstyle.
Bombshell braid with a bandana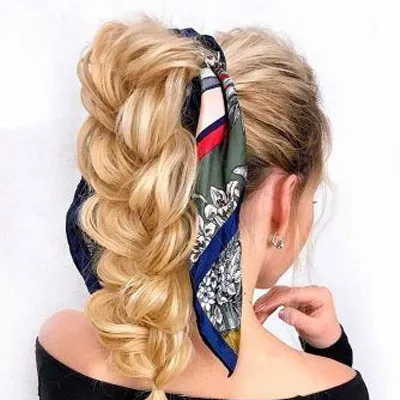 Hair updos are always interesting things to do. It can change your whole look. Bombshell pony braids with a bandana wrapped around them are one of the easy 4th of July hairstyles.
Just like a bandana, you can use a scarf to make your hairstyle. Just wrap the scarf along with the braid and you are good to go.
Open hair with bandana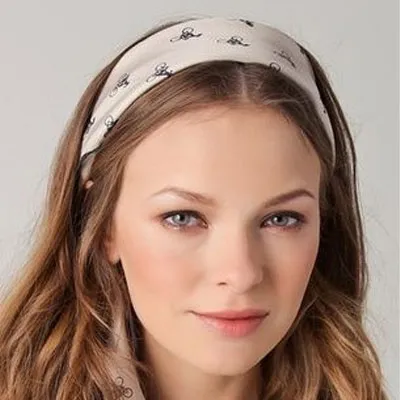 You don't like to tie your hair anyway? You can try accessories with open hair too. Just set your hair as you like. And tie the bandana going over your head and wrapped underneath your hair behind the head.
You can also tie your bandana at the front of your head making a bow.
9 easy 4th of July bandana hairstyles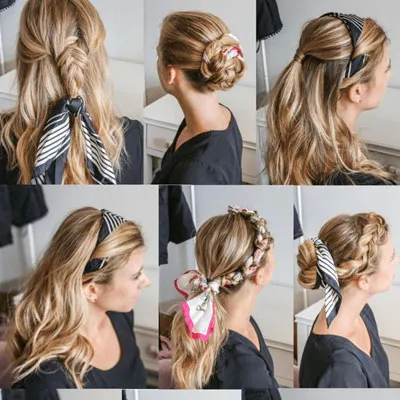 By using the specific colored bandana, scarves, or other accessories, you can make these beautiful hairstyles for the 4th of July. And enjoy all the fireworks and celebrations beautifully.
Trendy 4th of July hair looks
Some women/girls don't like to have hairstyles, they are more hair color fans. Everyone has their way of showing love. Some through hairstyles or some through hair colors. So here you are.
Color chalks Hairstyle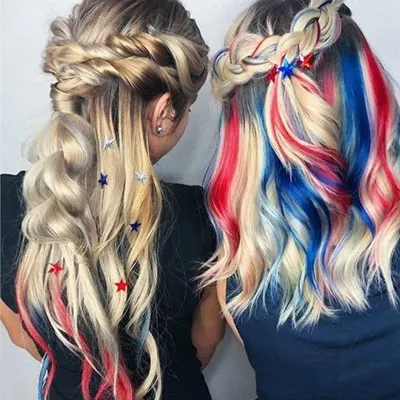 Want to light up the 4th of July firework show? You can use colored chalks to color the edges or some strands of your hair. Pin your hair any way you want or you can do it the way in the given image. Add some star beads with hair blinger to give a touch of fancy sparkle.
Ombre Independence day hair dye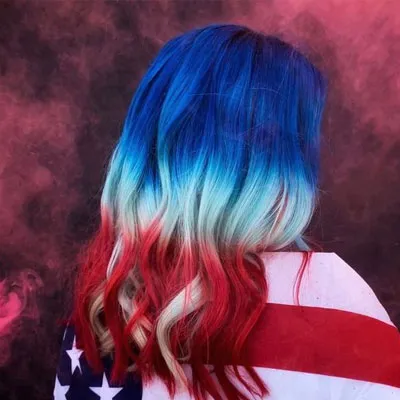 Some girls like being bold, and this hair idea is for those girls. Use the independence day colors as your next hair color inspiration. Dye your hair and show your patriotic spirit through them.
Dip dye hair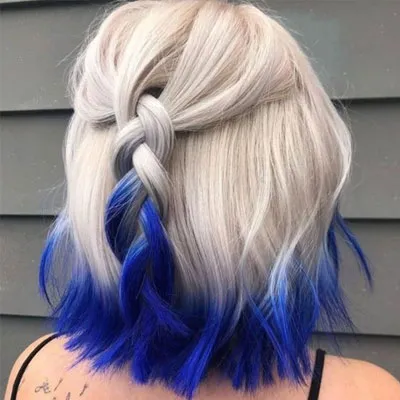 Other than dyeing your whole hair, you can only dye the tips of your hair. You can go with any color like red, or blue. And they look amazing.
Colored hair wigs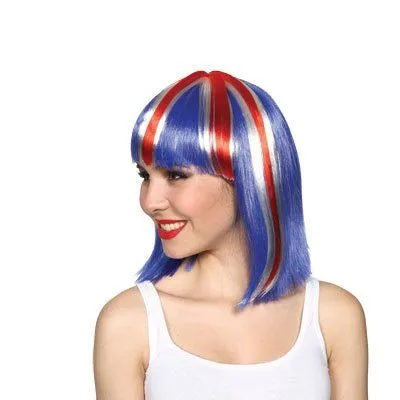 If you don't want to dye your hair, you can buy a wig for the time being to wear on occasion. It is one of the easiest solutions if you are already using wigs for different hairstyles.
You can use wig tape to give your wig a more natural look. Also, tape remover is the best tool to remove stubborn tapes from wigs.
Fourth of July hairstyles for black girl
Black girls have different kinds of hair textures and volumes. Thus, here are the 4th of July hairstyle ideas for black girls.
Crochet extension braids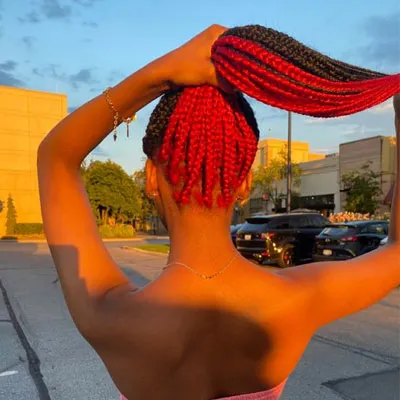 There are extension braids available in markets and online. Or you can use crochet hooks to make your braids.
Use different 4th of July accessories or colored extension braids along with your natural braids. And they are one of the great 4th of July hairstyles for adult black girls in town.
Passion twist hairstyle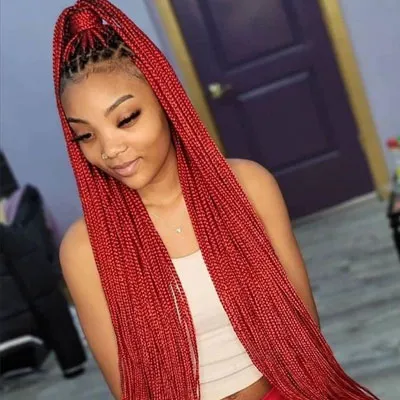 Don't have much heavy-weight hair? Passion twists can easily be braided into your hair and look impressive. You can keep them open or make a ponytail with added accessories related to the 4th of July celebration.
4th of July hair tattoos hairstyles
Rather than hair colors or hairstyles, one can also opt for having hair tattoos that are alluring and attention-seeking. Here are some hair tattoo examples, you can also recreate or try other ideas you have in your mind.
Backhead hair tattoo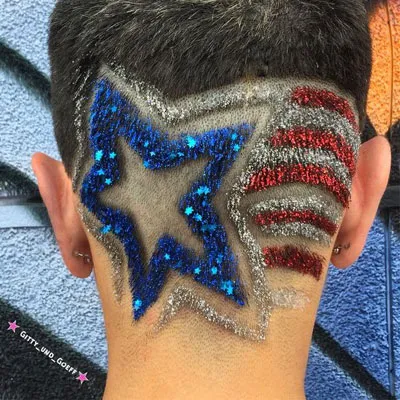 Many girls like to have short or no hair looks, so hair tattoos are for them as you can see in the image. You can also go for such 4th of July hairstyles.
Creative spike hair paint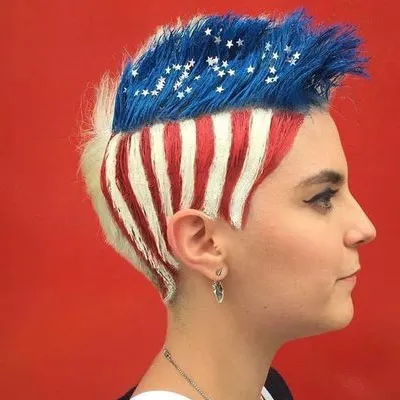 You can get a flag drawn on your hair. People who love their country and are bold enough to show their love very highly, tend to make such styles of hair and there is no shame in that. They look alluring.
Hair tattoo on long hair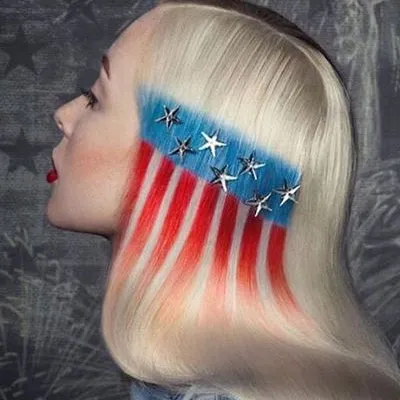 Not only girls with short hair can get hair tattoos. Girls who love to try unique things can try this too. It is eye-catching and you can easily stand out in a crowd
Conclusion
For sure, now you have some ideas in your mind that you can recreate. The 4th of July is all about being passionate about your country. And it is one of the ways to show your passion. Try these easy, cute, chic, and bold hairstyles, and enjoy every bit of it.
You don't have to exactly copy the style but you can recreate them by adding an aura of your personality. Make it your hairstyle and have fun!
➡️Next Read: Trendy christmas hair color ideas