Best Gifts For Siblings👩🏻‍🤝‍👨🏼To Snap Out The Feeling That You Don't Care About Them
by
admin
January 20, 2023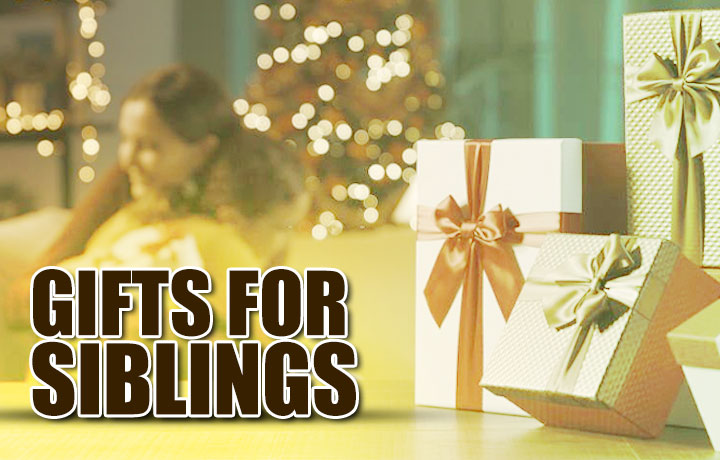 A sibling relationship is the most constant relationship of our lives. Siblings interact, argue, and have fun together. They are the people who teach us about fairness and cooperation, kindness and care quite often the hard way.
It is an emotionally charged relationship based on positive, negative, or uncertain qualities. But our siblings rarely receive the love they deserve.
Presents are a way of re-confirming and establishing a great bond between two persons. They allow us to communicate our feelings and appreciate others.
In order to set common ground with siblings or show your love for them, here is the list of gifts for siblings you can present to them:
👧Gifts For Sisters
Key chains
You can give your sister customized keychains or other beautiful brother-sister keychains available in the market or online. Keychain is a basic essential of life so the idea of gifting a keychain can never go wrong.
Brother Sister T-Shirts
A siblings themed T-shirt is one of the coolest ideas to gift your sister. You can customize any favorite words or quotes on the front/back of the T-shirt. It is sure that your sister will be overjoyed to get such a cool gift.
Air pods
AirPods are an excellent gift. People like looking modern and fashionable. And using AirPods is considered modern. So why not give them to your sister and make her feel delighted?
Mobile covers
Nowadays, everyone owns a mobile device. Nobody better than you can know about your siblings. There is a vast option of custom-made phone cases for every mobile device. You can choose any design or slogan custom-written over-the-phone case that suits your sister's personality.
Insulated stainless steel Mugs
It is one of the most useful gifts you can give your sister. Stainless steel mugs are versatile. The water remains hot and cold as per the condition, thus it is a life-changing present one can ever give.
Multi-purpose pocket knives
A multi-purpose pocket knife is a tool equipped with squeezers, tweezers, screwdrivers, and many kinds of knives. It is beneficial for both boys and girls. It is a portable tool that can be kept in a pocket easily and is worth buying. Moreover, it can keep you safe in dangerous or harassing situations.
Custom-made bracelet/pendant
Everyone is familiar with customized name bracelets and pendants. It is a distinctive present to give. Personalize the name or signature, or any name you use to refer to your siblings, and show them your love through this unique gift.
Bags/purses
There are different types of bags trending nowadays. Travel bags, mini bags, cross-body bags. Whether your siblings like being simple or contemporary, bags/purses are an excellent choice as a gift. Whether your sister is going to school, or to work, it is a mundane item.
Jewelry travel cases
It is a must-have item and looks really elegant. Every woman owns jewelry. And jewelry travel cases help keep everything organized. They help you stay stylish on the go. And your sister will adore it.
Scented Candles
Scented candles are a perfect aid for a relaxing routine. These types of candles are really soothing for the mind. Gift them to your sister and show how much you care about her.
Check Also: Fun Things to do for free when you are free at home
👦Gifts For Brothers
Perfume
Perfume is a universally accepted gift that is considered very special to gift any person. A guy can never deny perfume. It shows how much you put thought into buying something he might like.
Shoes
Many people feel shy about giving shoes but buying shoes as a gift can make for the perfect present. Boys play and go outside more often, thus shoes are an item they can use on a daily basis and your money will not be wasted ever.
Goggles
Boys spend more time outside than inside. Thus goggles are a perfect choice to gift your brother. It will protect him from harmful rays and other dust particles. Gift goggles to your brother and he sure can't deny such a thoughtful present.
Wallet
Wallets are undoubtedly practical gifts. After all, they carry money, credit cards, and transport cards. What could be a more useful gift than that? As a gift, a wallet is a helpful and personal gesture. So, If you want to make your brother happy, gift him a wallet.
Hoodie with a caption
The hoodie is a great item to give your brother. He can wear it pretty much everywhere. Whether going out or sitting on a couch, he can wear it. No other outfit can match a hoodie, because it is an ultra-comfortable and cozy thing to wear.
A Trendy Watch
Watches are a meaningful gift. It is a gift that shows someone you care about them and want to be present in their everyday life. So if you are thinking of giving a watch to your brother. Don't think and buy it already because it's worth it.
Beard grooming kit
Every guy should have a beard grooming kit. A well-groomed beard gives off a professional vibe and loses any old-fashioned reputation. So why not buy it for your brother and make him modernized?
Customized AirPods case
AirPods cases are worth investing in. They look sleek and have a reputation for durability. So if your brother has AirPods, buy him an AirPod case to keep them in the best working condition.
If he already has an Airpods case, buy him an airpod cleaning kit to make his old airpods look new.
Broadband devices
Giving your brother a tech gift is a smart choice. There is no question that a broadband device can't be a great gift for your brother. These wireless broadband devices can benefit him by connecting to the internet with high frequency everywhere.
Wireless controllers
Boys are gaming addicts. If your brother loves to play games, buy a wireless game controller for him. Such a gift idea works best for tech-obsessed boys. Surprise your brother with a wireless gaming controller and he will love it for sure.
Final Words
Gifting your siblings is somehow an unexpected gesture. Buy a present for your siblings from the given list of gifts for siblings, choosing one of these meaningful gifts to buy for your brother or sister will make them realize you care about them. And it will bring their happiness and excitement to another level. In addition to their happiness, it will also make you feel overjoyed.